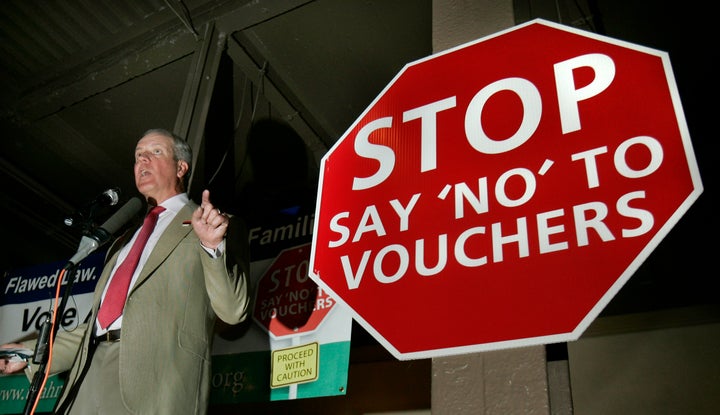 Cindra Barnard loves her district's public schools. That's why she's fighting the school board.
Barnard is a resident of Douglas County, Colo., where her daughter graduated from high school this year. Her son, Mason, is a rising senior at Highlands Ranch High School. Last year, Mason's school offered two Advanced Placement chemistry courses. Next year, it will only offer one.
Barnard suspects the limited AP offerings are because of a new voucher program in the high-performing, well-off Douglas County that allows students from all public school-enrolled families -- chosen via a lottery -- to attend private schools using public money.
Arguments for voucher programs stress that they don't suck resources from public schools since the public money allocated for educating each child follows that child to private schools. But Barnard says classrooms work on economies of scale -- removing one child from a public school classroom merely siphons off resources for that school.
"Your costs do not go down," she said. "What goes down is revenue. You're hurting the remaining students."
So when Barnard, who is president of the local group Taxpayers for Public Education, saw her school board moving closer to unanimously voting for the 500-student pilot program in March -- and earning accolades from former Washington, D.C., schools chief Michelle Rhee -- she felt she had to take action.
She started by writing letters and contacting her local representatives. On Tuesday, she joined the American Civil Liberties Union and other groups in filing suit against her local school board and the state board of education, seeking to halt the voucher program. The complaint she filed on her own and her son's behalf sums up her worries:
As Colorado taxpayers, Plaintiffs will suffer injury from the Voucher Program because it expends taxpayer funds in violation of the Colorado Constitution and Colorado statutory law. As residents and taxpayers within Douglas County and the Douglas County School District, Ms. Barnard, as well as her minor child, will suffer injury because of the loss of control over the education they are required to fund.
Douglas County officials ignored the suit, moving ahead with a lottery this week to fill the last slots in the program.
A groundswell of backlash and legal action, from Colorado to Wisconsin, is following the flurry of laws passed this legislative session that created or expanded programs that allow parents to use public tax dollars for private -- and, often, religious -- schools.
By the count of Robert Enlow, CEO of the Friedman Foundation For Educational Choice, five states, including Indiana and Oklahoma, passed new voucher-school programs this legislative session, and seven states, including Florida and Wisconsin, passed or are expected to pass laws that expand existing programs. Washington, D.C.. had its controversial voucher program reauthorized during the lead-up to what almost became a government shutdown.
Similar laws could be on the horizon in Pennsylvania, New Jersey and Ohio. Douglas County will have Colorado's first voucher program.
"I think what we're seeing with vouchers is really just part of the greater urgency we're seeing around education reforms in general -- across the country, parents, community members, school leaders, public officials -- they're all demanding change," Rhee said in an email statement to The Huffington Post.
The question of vouchers, or of any program that allows public money to fund private or religious schools, touches on the separation of church and state and well as the issue of school choice.
Charter-school and voucher advocates claim the right of school choice -- the ability of a parent to choose a school based not on geography, but on fit -- as key to their cause.
But the issues of vouchers cleaves the movement. The Obama administration, a champion of charter schools -- which are publicly funded but can be privately run -- has not publicly supported voucher programs. But some Republican governors have.
In the 1950s, Nobel-Prize winning University of Chicago economist Milton Friedman -- the founder and namesake of Enlow's foundation -- argued publicly that vouchers drive down costs while increasing competition among public schools. In a 1955 article titled "The Role of Government in Education," he proposed what later became the modern-day voucher system.
In 1990, Milwaukee, Wisconsin became the first city to implement a voucher program. It now has almost 21,000 students, comprising almost one quarter of the city's public school population.
Cleveland, Ohio, came next. That system set the stage for a pivotal Supreme Court decision in Zelman vs. Simmons-Harris, which greenlighted the implementation of further voucher systems. The Court ruled that the program, despite its links to religious school's, did not violate the First Amendment's establishment clause.
Yet despite expectations, the case did not lead to a tidal wave of voucher programs.
"Zelman didn't open up the floodgates," said Kevin Welner, a professor who heads the University of Colorado's National Education Policy Center.
"Before Zelman there was a buildup, this idea that there was a pent up demand for more choice, for private choice," said Luis Huerta, a professor at Columbia University's Teachers College who has researched voucher programs. "Once Zelman passed, many of the advocates talked about how this would allow so many of the people to begin the process. We still haven't seen that."
Foundations and lobbying groups like Friedman's and Rhee's StudentsFirst have thrown their support behind the voucher cause, capitalizing on an alignment of events that seems propitious for the expansion of voucher programs: the financial crisis and Republican-controlled state houses.
This April, a divided Supreme Court upheld Arizona's law that gives tax credits for contributions to scholarship funds for private schools.
"There needs to be an alignment between the politics and the law," Welner said. "The law was in place, but the politics changed last year."
Enlow called it a "perfect storm." In aggregate, state houses considered over 50 voucher-related measures this year.
"It's like the uncorking of the champagne bottle," said Susan Meyers, a spokesperson for Enlow's group. "Red states, blue states, everywhere. The tea party, and even Democrats are beginning to realize that school choice saves money and empowers parents."
The premise of vouchers began with the idea that low-income students in failing school systems should be able to choose to attend -- tuition-free -- a better venue for education. But the new laws, such as Indiana's and Douglas County's, expand their programs by not limiting vouchers or tax credits to special-needs students.
Huerta sees voucher growth as part of a broader development.
"It's a trend to expand the role of the private sector in education but funded with public dollars," he said. "We know that children who are participating in many of these voucher programs are not doing any better than traditional school kids. That's been shown in Milwaukee and Cleveland."
Rhee's group, StudentsFirst, worked to push voucher programs in Florida, Indiana and Nevada.
"We are advocating for a number of education reforms, including expanding options and choices for parents," Rhee said. "We're able to engage political leaders and communities and talk about how to improve school options for students.
VOUCHER BACKLASH: 'SAME OLD?'
As voucher legislation has swelled, so has its opposition.
"I think whenever you try to introduce something new or change up the status quo, you're going to encounter pushback," Rhee said. "These laws are passed with vocal support and coalitions as well -- so there are people on both sides of the voucher debate."
"In Douglas County, it's the same old, same old, we've had from opponents of school reform," Enlow said. "They're attacking school choice on the religion clause. They're confusing a simple fact. These programs offer aid to students and families, not to schools. Aid goes to families in Colorado who make their private choices."
Barnard and the ACLU are suing over the voucher program for different reasons.
"It's unconstitutional in two general respects: It violates the states' religious liberty provision. The second set of claims are more related to education law," explained Heather Weaver of the ACLU.
Barnard brought on a second suit. "When you're sending students to private school, what you're actually doing is lowering the amount of dollars for every student in the state of Colorado," she said.
In Indiana, a new group, the Indiana Coalition for Public Education, formed in light of Gov. Mitch Daniels' (R) education agenda. Indiana's new voucher law allows tax dollars to be diverted to private schools through vouchers, subject to rules made by the state board. It allows for the participation of 7,500 students in its first year, and 15,000 the next.
"We got together because we just felt like it was very important to help preserve and protect public education," said John Hand, a staff attorney for ICPE. The group gearing up for a fight.
"It's just unconstitutional," Hand said. His group is trying to raise money to sue the state to stop the measure's implementation.
Milwaukee, home to the country's first modern voucher program, is also home to the country's first formal voucher program complaint alleging that vouchers discriminate by segregating the public school district's special education students.
Earlier in June, civil rights groups requested that the Department of Justice investigate Milwaukee's voucher system for discrimination.
"This is creating a dual system of education and expanding it will make it worse," Karyn Rotker, Senior Staff Attorney at Wisconsin's ACLU, said at the time.
The request came in light of concerns surrounding the admissions practices of voucher-accepting private schools; the observation that while the special education population within Milwaukee has stagnated, their percentage as a population within the public schools has increased; and a push to expand the program.
This weekend, Wisconsin's Governor Scott Walker (R) is expected to sign the state budget, which includes a provision that expands Milwaukee's voucher program to more students by lifting the eligibility cap on income.
Popular in the Community