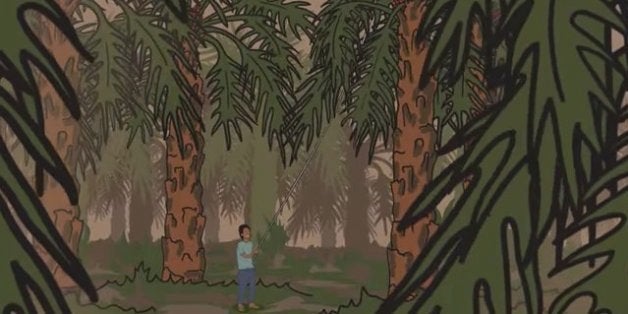 You may already be aware that many of your favorite snacks contain the controversial ingredient palm oil, since it can be found in roughly half of all packaged goods in your local grocery store. What you may not know, is that all too frequently that palm oil is produced with modern day slavery, child labor, and worker and human rights abuses.
Geographically and socially isolated, many of the millions of palm oil plantation laborers live in small villages embedded deep within a sea of tens of thousands of acres of oil palm trees. Their stories rarely make it beyond these seemingly endless rows of oil palm.
Meet Manik, Sutantri and Adi (names are pseudonyms). While their stories are individual, the conditions they face are all too common among countless workers in the palm oil industry.
Roughly 3.5 million people work on palm oil plantations in Indonesia and Malaysia and many of these workers live and die on the same plantations where they work. With few other options for employment, workers are often trapped by low wages and ever-increasing debts they could never hope to work off or earn enough to repay, and have little recourse to defend their rights if they are abused or exploited by their employers.
This June, RAN, OPPUK and ILRF released an investigative report that brought worldwide media attention to the widespread but little discussed issue of palm oil labor exploitation. Titled "The Human Cost of Conflict Palm Oil: Indofood, PepsiCo's Hidden Link to Worker Exploitation in Indonesia," the report reveals the findings of field investigations and interviews with dozens of workers completed on two palm oil plantations owned and operated by PepsiCo joint venture partner and palm oil giant Indofood. Key findings include child labor, exposure to highly hazardous pesticides, payment below the minimum wage, long-term reliance on temporary workers to fill core jobs, and use of company-backed unions to deter independent labor union activity.
Palm oil is beloved by food brands like snack food giant PepsiCo as a "cheap," trans fat-free and shelf-stable oil. Human trafficking, child labor, inadequate safety equipment resulting in routine exposure to toxic chemicals, union busting, and other labor abuses are sadly all too common on palm oil plantations, helping to keep the cost of this oil artificially low on the global market.
We can stop this. Help us tell Pepsi that cheap palm oil is not an excuse for human rights abuses: http://www.ran.org/solidarity
Related
Popular in the Community