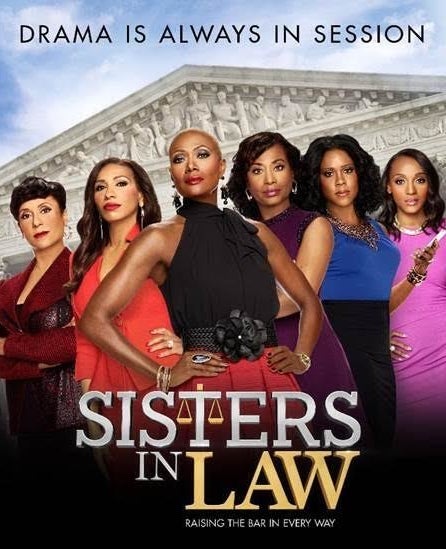 This is why Juanita Jackson wanted to create a show that displays them in a more empowering light. "Sisters In Law" is a Houston-based reality show coming to WeTV that follows six black female lawyers as they navigate through their careers, personal lives and friendships.
Jackson, who stars in the show along with her group of lawyer friends, said she was disappointed that there weren't many shows that depict the women cast members as being successful without having to rely on men. 
"I'd watched reality TV here and there and I'd be a little disappointed in the fact that I thought there could be other women out there," she told HuffPost. "I know people are fascinated with the drama in women's relationships, but I thought there was a niche out there missing of a show that showed successful self-made women."
"Sisters In Law" follows the format of many reality shows, exploring the trials and tribulations of the six women -- Jolanda Jones, Vivian King, Rhonda Wills, Monique Sparks, Tiye Foley and Jackson. Most of the cast members grew up impoverished and worked tirelessly to attain success, according to Jackson, whose former Black Panther father and debutante mother led her to become a public defender. 
Watch a preview of "Sisters In Law" below.
In addition to following the women's lives inside and outside of the courtroom, they tackle social issues near to their hearts. Jackson said this includes Black Lives Matter, racial injustice and domestic violence. 
Though Jackson boasts that "Sisters In Law" is a different kind of reality show, it isn't absolved of conflict and drama. And that's OK with her.
"We're not gonna be everything to everybody," Jackson said. "I think that some people are gonna watch this show and may think that it's all gonna be about legal, [but] it's not. A good 60 percent is legal. Some people might be a little disappointed [and say], 'oh they're showing women celebrating and being petty sometimes among each other,' but that's reality."
Jackson said that though conflict is inevitable, the ladies have "committed to keeping our friendship and empowering each other." 
In addition to teaching her audience about law, she hopes the show inspires black women to consider a profession that is often associated with being a white male.
"It's much more a subtle approach of getting the message out there that there are options, she said. "The people who are drawn to reality shows are probably a different demographic than would know about our lives... It's a really subliminal way to show young women that are normally drawn to [reality shows] that there are other ways and other options for them to live."
The eight-episode series premiered March 24 and will air each Thursday at 10 p.m. on WeTV.
Calling all HuffPost superfans!
Sign up for membership to become a founding member and help shape HuffPost's next chapter
BEFORE YOU GO