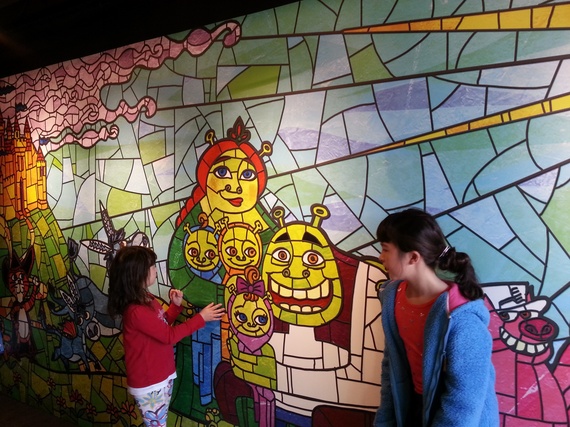 London is full of terribly old things, like Big Ben and Buckingham Palace, but just recently, a new Shrek Adventure! London has arrived, next to the London Eye. It's a good addition since plenty of kids visit the British capital, including my two children, who deserve a kiddie break after museum visits that I love. Plus,, the Harry Potter Studio tours has been a big success and Shrek is another beloved children's character that will draw kids to London.
Shrek's Adventure! London
At Shrek Adventure! London, we started off on a 4-D magic red bus ride with footage of us flying through the skies over London. With American-accented actors playing Fiona, Cinderella, and the bearded barmaid, visitors were shepherded along from room to room that looked like sets out of the movie on a trollish adventure. We also stepped into a discombobulating maze of mirrors. At the end, we took pictures with Shrek as well as checked out movie scenes from Kung Fu Panda and How to Train Your Dragon.
London Eye
Since we were right next to the London Eye, which is impossible to pretend isn't there, we took a ride 135 feet above the city on the world's tallest cantilevered observation wheel. Though I've been on it a couple of times, my 5-year-old thrill-seeker had never ridden on it. I had decided way back when that I was going to do activities over again because it didn't seem fair that my five-year-old was missing out on things I had already done. Isn't it a mom's job to make dreams come true for their kids?
We rose far above Big Ben, the Parliament building and St. Paul's Cathedral. Geared for kids, I would recommend the super-short 4D movie experience before riding the London Eye so children get a sense of what they're about to see. The audience is also sprayed with bubbles and mist, which is always a win-win for my kids.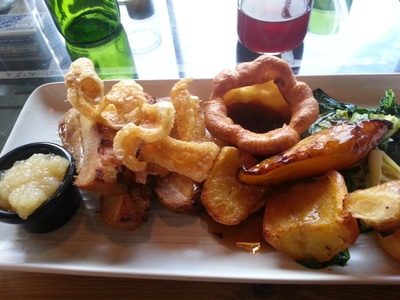 The Green Room at the National Theatre
After these Southbank thrills, we were in search of a family-friendly low-key restaurant. Next to the nearby National Theatre was The Green Room, a relaxed rustic-looking brasserie with windows along the walls for people-watching. The tables were filled with props from National Theatre shows and we hit the jackpot with a table with relics from The War Horse. My elder daughter had read the book and I had watched the Steven Spielberg movie. We hit the restaurant on a Sunday so the British Sunday Roast was a must. I ordered a classic British Pimm's cocktail to accompany my Sunday roast dinner of pork belly, Yorkshire pudding and crackling. Yes, I'm sure it wasn't the right pairing but wandering along the Thames on a sunny Sunday afternoon, I was reminded of when my husband said he would drink Pimm's. While watching rowing races between Oxford and Cambridge, huge metal buckets of Pimm's cocktails would be set out for spectators, much like beer kegs at American tailgating parties. The Green Room also had a children's menu of pint-sized Sunday roast dinners. Capped off with a dessert of chocolate torte, the kids were in heaven.
Stay Near a Tube Station
Get to Southbank on the London Tube by getting off at the Waterloo Station. It's super easy with kids, especially if you stay near a tube station. We stayed at the Grovesnor Hotel, which adjoins London Victoria Station. It's connected to the train and tube station through a private, almost secret passageway that first-class passengers used to use when the hotel was built in 1862. The railway hotel also lets you live out your Downton-Abbey dream. It's the ultimate period hotel that harks back to the Victorian gilded age when class granted you convenience. First-class passengers were "invited" to enter through the hotel's chandeliered foyer with cherubs painted on the overhead dome rather than walking through the main train station entrance.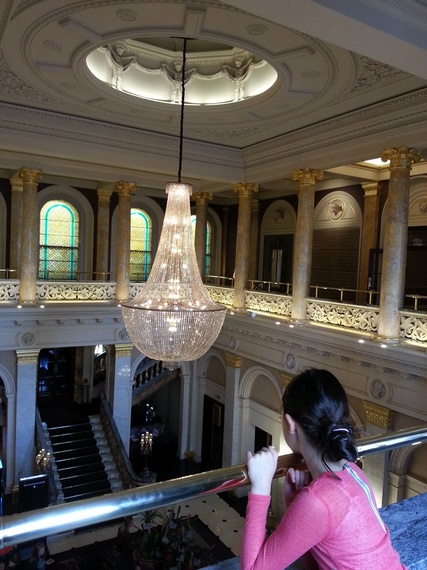 Tip for London Tube traveling: if you need to change subway lines, change at a less-crowded station, especially with kids. On the way to visit friends, we changed at the Warren Street stop instead of the busy Euston station to avoid the crowds.