Earlier this month, Europe's drug regulatory agency approved a new treatment for the deadly disease known as sleeping sickness. The medication is poised to help eliminate this ancient illness, which was detected in about 2,000 people last year, mostly in Africa.
The achievement was no small feat. And getting the drug into the hands of people who need it most could be a monumental challenge in the months to come.
Fexinidazole (fexi for short) is set to be distributed in the Democratic Republic of Congo, where the majority of sleeping sickness cases still occur, and other endemic regions in Africa by mid-2019. Health workers in Congo must navigate violent clashes, extreme poverty and minimal infrastructure, all of which can hinder drug delivery and patient checkups in rural and isolated areas of the country.
In Congo's volatile east, for example, the worst Ebola outbreak in the county's history is unfolding amid a longstanding conflict involving more than 100 armed groups. The violence has complicated efforts to contain the spread of the virus.
Still, researchers who successfully conducted a trial of fexi in the Congo and neighboring Central African Republic last year are confident about fighting sleeping sickness in the future.
"I feel indescribable relief and immense joy," said Dr. Victor Kande, who headed the clinical trials in both countries. "Fexinidazole is the answer to my dreams."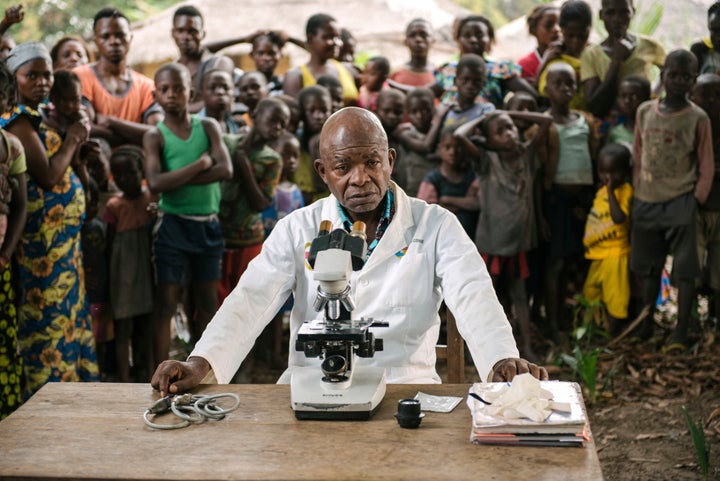 "Conflict is still there, and security is still one of the major threats," said Laurence Flevaud, diagnostic adviser at Doctors Without Borders (or Médecins Sans Frontières, MSF) who helped carry out the trials in Central African Republic against the backdrop of a civil war. Health workers are prepared to step up to help in the situation, Flevaud added.
Sleeping sickness—also known as human African trypanosomiasis ― is endemic across 36 sub-Saharan Africa countries, putting about 65 million people at risk, according to the World Health Organization. It is transmitted from one person to another through the bite of the tsetse fly. At first, flu-like symptoms may linger for months before the disease enters its second phase, affecting the brain and causing bouts of extreme sleepiness, insanity, coma and death.
Until less than 10 years ago, the only treatment for the disease was melarsoprol, an arsenic derivative so painful it was dubbed "fire in the veins." It killed 5 percent of patients. Then came NECT, an effective and safe treatment, but one that requires long hospital stays and is difficult to transport to remote areas. Each box of NECT weighs about 80 pounds and contains enough supplies for weeklong IV infusions.
Fexi, by contrast, is a daily pill that cures the infection within 10 days. It can treat both stages of the disease, eliminating the need for painful, specialized diagnostic tests. And it's a pill that patients can take at home ― essential for people living in places where the nearest hospital can be days of traveling away.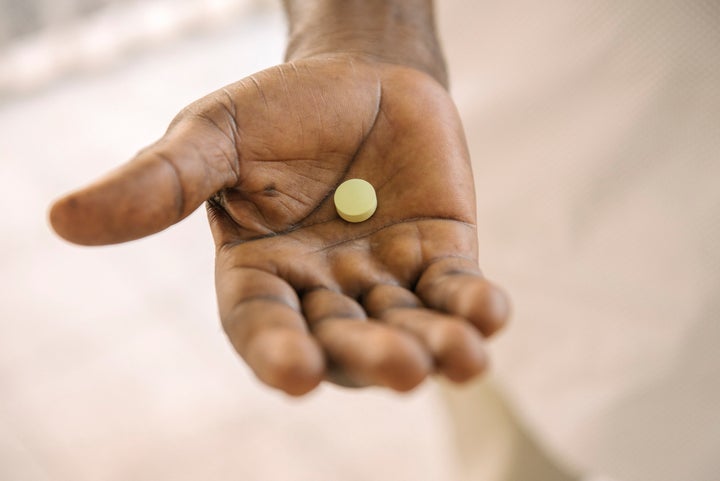 "When you are a doctor, you wish you could treat all patients with a pill," said Kande, who has treated thousands of sleeping sickness patients, beginning in 1977 as a local doctor at a remote region of Congo and later during his time as the head of the country's National Sleeping Sickness Program. "It was a long road to get there for sleeping sickness."
For centuries, the disease killed people by the hundreds of thousands during its worst outbreaks. In 1998, nearly 40,000 cases were reported, and estimates suggested 300,000 cases were undiagnosed and untreated, according to the WHO.
More recently, efforts to treat the disease and to control the tsetse fly population have brought the number of reported cases from 10,000 a decade ago down to 1,447 new cases in 2017.
Experts hope fexi will help reduce the number of new cases even further.
Until recently, fexi was a forgotten drug discovered some three decades ago. It was rediscovered during a painstaking search by researchers at the nonprofit Drugs for Neglected Diseases Initiative (DNDi), a medical discovery think tank founded by MSF. Once the drug passed initial testing, it was brought to Congo and Central African Republic to be tested by doctors on the ground.
A study published in The Lancet in 2017 showed fexi was safe and effective.
The researchers' experiences proved it's possible to conduct high-quality clinical trials in places without proper infrastructure and research capacities, Kande said. Nine hospitals in Congo and one in Central African Republic became the stages for the research ― many of these were located in remote towns or conflict zones. Preparing these locations for a project like this meant retrofitting local hospitals, training more than 200 local personnel and installing satellite dishes to bring internet service to the test sites.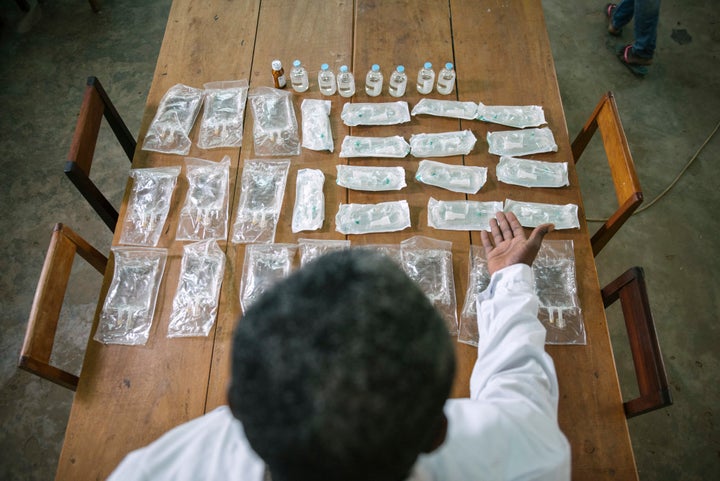 In Central African Republic, keeping up with the patients was particularly difficult because they moved often to escape the war. Sometimes MSF staff had to travel for days to find the patients for follow-ups and make sure the drug wasn't causing any adverse effects.
The researchers are still studying how the drug affects particular groups such as pregnant women and those with the less common but harder to treat variant of sleeping sickness. So far the results look just as good, said Dr. Nathalie Strub-Wourgaft, DNDi's director of neglected tropical diseases.
With reported cases at such low numbers and a new treatment arriving, the end to sleeping sickness may be near. But that doesn't mean the battle is over yet. The past century has shown multiple times the disease can rebound strongly even when the number of cases is low. If for any reason the screening efforts stop or if treatment becomes inaccessible, "that's exactly the recipe for re-emergence," Strub-Wourgaft said.
Political conflict in the region may only boost that risk. Eastern Congo has experienced decades-long ethnic conflict and bloodshed, a crisis that has worsened this year. The United Nations is concerned the recent surge in attacks may jeopardize the upcoming presidential elections. The elections themselves may fuel even more violence. Indeed, the country has never seen a peaceful transition of power since it gained its independence in 1960.
"Nobody has a clear view what the political situation in Congo is going to be in six months," Flevaud said. "But I would say that the experience we had in Central African Republic during the clinical trial could give good examples for alternative ways of reaching the objective."
Popular in the Community