Did you know that the first smartwatch was featured back in 1927?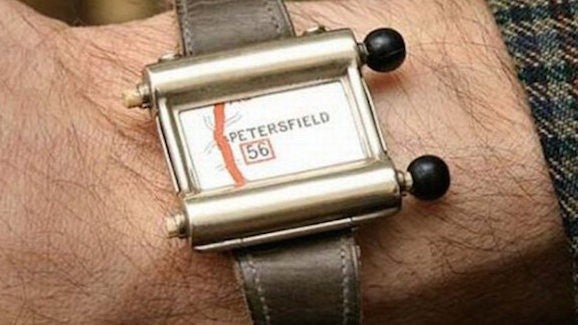 Yes, the Plus Four Wristlet Route Indicator allowed the wearer to insert a map cartridge that showed you the proper route to arrive at your destination. It did require the user to turn the knobs to scroll the map, but much more convenient than pulling out a huge map, right?
It was 1982 when James Bond wore the Seiko TV watch in the film Octopussy that amazed the audience with its required adapter and receiver box... but you could barely enjoy television in low-def glory and look like a super agent doing so.
Fast forward to 2013 when the smartwatch company Pebble launched a project in on the crowdfunding site Kickstarter and went on to raise over $10,000,000, breaking records along the way. It was around the same time that brand names like Sony and Samsung entered the ring, looking to dominate the fairly "new" smartwatch industry.
So when a new startup decides to compete in the land of tech giants, you wonder if they have what it takes to win. It would have to have some sort of compelling unique feature that would get people's attention and have massive broad appeal, right?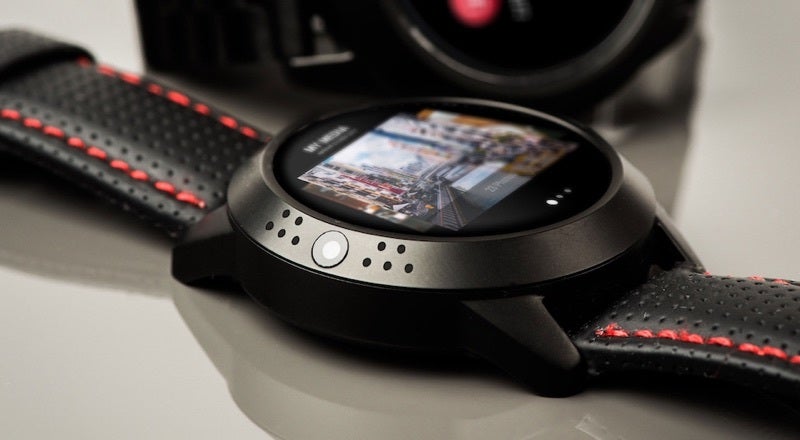 So what's makes the Arrow Smartwatch a true contender in the industry? It's their patented technology that uses a 360 degree ROTATABLE camera that produces 1080 HD video and stunning photos without having to scramble to grab your phone or camera.
In today's selfie-loving, Instagram-crazy world, it makes perfect sense that more than 2,500 crowdfunding backers are willing to part with their hard-earned money to acquire the world's first 360-degree camera that rotates in every direction while capturing high-definition photos and videos.
But what would motivate thousands of people to invest nearly $400,000 in a startup company when they could buy a smartwatch from the likes of Google and Apple?
Well, have you ever had the perfect moment appear right in front of your eyes and you excitedly reach to pull your phone from your pocket, but missed your chance to capture that moment forever? A mother, witnessing her baby's first steps, leaps for joy to grab her smartphone, but is disheartened as she misses the priceless moment... A father, watching his kid at the big game, misses the miracle when his child grasps victory from the jaws of defeat... it only takes an instant for that precious memory to evaporate into thin air. How many moments do you regret missing because you didn't have your camera, aka smartphone, handy?
Instead, can you imagine having your smartwatch camera on instant standby and all you have to do is point your arm in the right direction and never missing another moment again?
That's what Arrow's co-founder, George Popalis, is banking on. He believes that the future of smartwatches is going to be capturing image-centric, multimedia memories, in addition to the traditional fitness and tech applications that are currently popular.
When the startup co-founder revealed that Arrow Technologies Inc. was planning to take on industry giants like Samsung, Google and even taking a bite from Apple, I inquisitively asked him what his strategy was going to be and how they had created success using their current crowdfunding campaign.
"Our focus is on creating an exceptional product and making backers and future customers happy and that it gets people believing in us. We want to ensure a seamless experience that they can enjoy on a daily basis. Profit and glory is secondary to our customers and product experience," says Popalis.
So how does the Arrow plan to compete in the land of tech giants?
In addition to everything you'd expect to have in a high-end smartwatch, like fitness & health apps, calls, texting, alerts & notifications, it's their powerful camera that Popalis says offers a unique feature that can't be found elsewhere. The hardware is likely the first 5 Megapixel camera to be available in a smartwatch that captures HD Photos and 1080 video. The Arrow Smartwatch stores up to 8GB of memory natively and the photos and videos can be transferred using both WiFi and Bluetooth to the Arrow app. The wearer can then choose to instantly share the content socially from the app itself or save them to the camera roll and share them from there.
Popalis believes cameras are the future of wearables, which that he feels is validated by the overwhelming success of their Indiegogo crowdfunding campaign. According to a recent study, depending on the platform, anywhere from 69-89% of crowdfunding campaigns fail for various reasons. One of Arrow's strategic components to entering the competitive industry was to test the demand of their product first, while simultaneously raising funding to produce a meticulously engineered smartwatch.
Rather than list all the reason's why their campaign exceeded their goals and made it as an Indiegogo Team Favorite, Popalis revealed the biggest mistake to avoid when launching a crowdfunding campaign. "Most crowdfunding campaigns fail because people think it's easy and they don't have a plan. My advice is to NOT rush it. You need to have a strategy and figure out how to get people to trust you," Popalis advised.
It was a late night in 2014 when fellow co-founder Daniel Kiriakou, a former investment banker, shared the smartwatch idea with Popalis, who also left a lucrative career in the television industry to pursue their mutual passion. Ever since, they've laid the groundwork and foundation for the past 3 years to craft this new patented technology, including bringing in a partner, Morgan Lee, who has important connections to manufacturing and technology overseas.
It's this synergistic team and technology that Popalis feels will give them a solid chance to gain serious market share in the competitive smartwatch industry. Popalis hopes to change the way people will capture and share their social experiences forever and believes the Arrow Smartwatch can even transform the landscape of multimedia for smart wear in the future.
"Just imagine being with friends a restaurant," says Popalis, "and another friend calls and wants to say hi to everyone. You simply rotate your Arrow Smartwatch to show each person and they can FaceTime or video chat with each other... streaming isn't here yet, but it's going to happen soon."
"This is the beginning of multimedia for smart wear," says Popalis. "When Digital Trends states, 'A camera on a watch hasn't made sense until now', you know you're off to a good start. We just upgraded the Arrow Smartwatch to include an even more powerful battery for all our fulfillment units too!"
With only 2 days left before the Indiegogo campaign expires, Popalis expects a strong surge of new backers to buy now, since people don't want to be left behind or have to pay more for the Arrow Smartwatch after the campaign ends. Statistics confirm his expectations; According to an analysis of over 100,000 crowdfunding campaigns, 42% of the funds are raised in the first and last 3 days of the campaign. Once the campaign ends, the Arrow Smartwatch will transfer into Indiegogo's InDemand portal where the product will still be available, but likely at a higher price point. The innovative Arrow Smartwatch is expected to start shipping in early 2018.
REAL LIFE. REAL NEWS. REAL VOICES.
Help us tell more of the stories that matter from voices that too often remain unheard.
This post was published on the now-closed HuffPost Contributor platform. Contributors control their own work and posted freely to our site. If you need to flag this entry as abusive,
send us an email
.