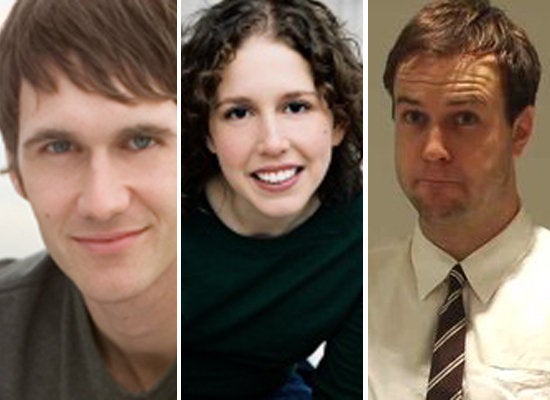 UPDATE: Via Chicago live magazine The Paper Machete we bring you this hilarious audio file of Paul Brittain, one of three comedians slated to become part of this fall's "SNL" cast, doing a character called Ed "Sex Ed" Vincent. The audio and accompanying photo are from a live Paper Machete show on July, 17 of this year. Since Brittain has had little national exposure, this bit where he impersonates a sex ed teacher discussing the "Exxxstacy" porn trade show in Illinois, sheds some light on his comedic style.

LISTEN:
UPDATE: According to a New York Post report today, all three suspected new cast members - Taran Killam, Paul Brittain, and Vanessa Bayer - are now confirmed to appear on the upcoming season of "Saturday Night Live," according to "several reports over the weekend." The Post also speculates that this means several other cast members, aside from Will Forte, will not return, and noted that "Seth Meyers, Andy Samberg, Jason Sudeikis and Kenan Thompson are among those who have not yet said if they are being re-hired."
PREVIOUSLY:
Since Will Forte announced his departure from "Saturday Night Live" yesterday, rumors have been flying about who will replace him. The Comic's Comic has the scoop on who the most likely candidates are. Right now it looks like they will making up to three new additions to the cast: Chicago-based improviser and sketch comedian Paul Brittain, Vanessa Bayer - another Chicago-based improviser and stand-up comic - and Taran Killam, a member of The Groundlings in L.A.
According to Sean L. McCarthy at The Comic's Comic, Killam (photo: far right) has the most credentials under his comedy belt, with appearances on both "Mad TV" and Nick Cannon's "Wild 'N Out," as well as a recurring character named Blauman on "How I Met Your Mother."
As for Bayer and Brittain (photo: center and far left, respectively) "SNL" is no stranger to Chicago talent. Both comedians are veterans of improv, sketch, and stand-up comedy at notable Chicago venue iO Chicago, and Bayer runs with Second City's Touring Company. Brittain has also made several appearances on NBC's improv/mockumentary show "Sports Action Team," currently in its second season.
It seems like "SNL" has some pretty talented people in mind, albeit not very diverse ones. "SNL" has always skewed young and white, and these comics reflect that trend.
We'll keep our ears open for any new cast member buzz, and if you think you've got a tip, email comedytips@huffingtonpost.com!
Related
Popular in the Community