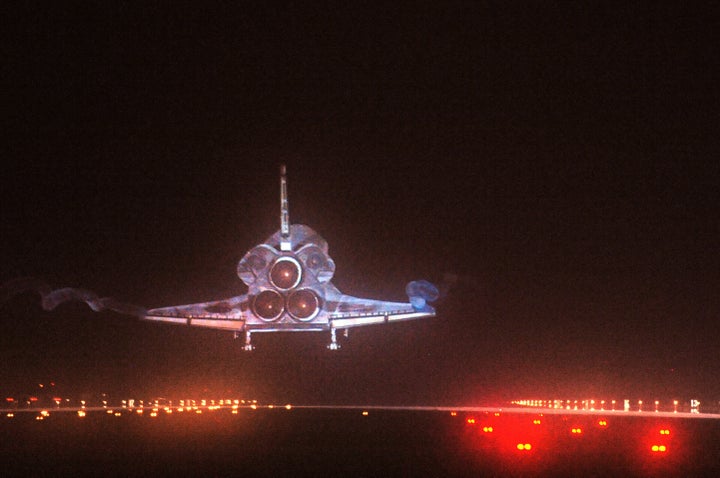 Early Thursday morning, Naveen Jain switched on his iPad and watched the Atlantis space shuttle glide onto the runway of the Kennedy Space Center in Cape Canaveral, Fla.
The landing elicited "mixed emotions" from him, he said. On the one hand, he was watching a thirty-year chapter in the history of space travel come to a close. Never again would a NASA space shuttle take flight.
On the other hand, the end of the NASA space shuttle program means the dawn of a new era of space travel -- one that may prove very lucrative to him.
Jain is the founder of Moon Express, a company that specializes in what it describes on its website as "lunar transportation." It's developing a system that will allow an unmanned spacecraft to land on the moon. Such a spacecraft could be used to gather platinum and other rare and valuable minerals for consumption back on Earth, said Jain.
"The moon has never been explored from an entrepreneurial perspective," he said.

So far, Jain added, his company's progress has given him cause to believe it may be the first. Hardly had the shuttle landed in Florida when Jain threw a party for employees and members of the press at the company's headquarters in Mountain View, Calif. They raised glasses of "nitrogen-infused" champagne to what he described as a successful test of the company's "Lunar Lander" system.

But Jain's company is by no means the only for-profit company in the space business. With NASA's space shuttle program over, the future of space travel, now more than ever, is in the hands of the private sector. A company called Astrobotic Technology is creating a lunar lander of its own, which it says could touch down on the moon's surface by 2013. And Richard Branson, the founder of Virgin, is at work on a project that will allow tourists to orbit the earth for $200,000 a trip.

Other companies are taking over some of the NASA shuttles' less glamorous duties. Orbital Spacecraft, a manufacturer of satellites and rockets for military and commercial uses, is one of several businesses that NASA has contracted to deliver food, scientific supplies, and other cargo to the International Space Station.

The deliveries are set to begin next year. Barry Beneski, a spokesman for the company, said, "In a much bigger and higher-tech sense, it's very similar to how you would hire Federal Express to deliver a package from New York to L.A."

Another company taking over some of NASA's delivery responsibilities is Space Exploration Technologies. Elon Musk, the company's CEO and chief rocket designer, and the founder of PayPal, started the business in 2002 with 100 million dollars of his own money.
Musk has said that it was his passion for space that inspired him to start the business. If he cared only about making profits, he said, he would have done something else.
But the business is proving to be successful anyway -- it has posted profits for the last four years. NASA recently awarded the company 75 million dollars to make upgrades to its Falcon 9 rocket, so that it will eventually be able to carry astronauts into space.
Boeing, one of NASA's partners throughout the space program's history, is developing another spacecraft designed to send astronauts to the International Space Station. The company says it expects to send people to the station by 2015.
The spacecraft -- which visually resembles the Apollo spacecrafts -- will also send crew members to a private space station being built by Bigelow Aerospace, a private startup based in Nevada.
As NASA shifts the weight of what are known as "lower-orbital" space missions onto the shoulders of commercial companies, the agency is also working on new projects that will allow it focus on "deep-space" exploration. Orion, a project headed by Lockheed Martin, is testing a new series of spacecraft capable of traveling distances previously limited to unmanned ships. Larry Price, a project manager for Orion, said the world's first "human interplanetary spacecraft" could carry out its inaugural mission in 2015.
Price said that by 2019, the Orion project may be used to send astronauts to a nearby asteroid. Crew members would be able to gather scientific information by drilling into the asteroid -- sort of like Bruce Willis in "Armageddon," except without the fate of humanity hanging in the balance.
As Price pointed out, NASA is shifting its focus away from space station deliveries and other fairly monotonous jobs as well as redoubling its commitment to scientific inquiry, a difficult undertaking that Price feels may have fallen by the wayside.
There's a widespread feeling in the space travel industry, Price said, that NASA should "consider science and exploration again and get out of the day-to-day operations after 50 years."
"Other companies could pick up that business," he said, while NASA could concentrate on "the harder job: supporting science."
Calling all HuffPost superfans!
Sign up for membership to become a founding member and help shape HuffPost's next chapter