Laura Koven and Melinda Agron are the designers of AVA Yoga Bodywear, a line of yoga apparel that eliminates the need for yogis to carry around mats, straps and blocks while still allowing yoga enthusiasts to focus on three key elements of AVA's vision: alignment, assistance and awareness. Thanks to the clarity of their vision, pledges have supported the product line to the tune of over $35,000 in pledges. For those really interested in trying a new approach to their yoga routines, here's a breakdown of what AVA Yoga Bodywear has to offer.
Anybody who has practiced yoga on a regular basis learns quickly that maintaining poses in proper alignment is a big key to experiencing both the physical and mental benefits that this meditative practice has to offer. Laura, Melinda and the rest of the AVA Yoga Bodywear team clearly recognized that when planning out the product's hand and footwear. Little Chevron's stitched on the outside of the material let you know when your hands and feet are in line with the rest of your body as you perform your poses.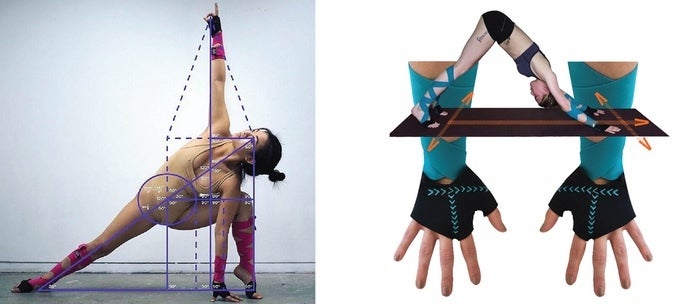 Not only does this line of hand and footwear remind yogis to align themselves properly, the neoprene material the apparel is made out of helps to keep your body from sliding around when holding some of yoga is more challenging poses. This means that you always feel supported, but don't feel the need to use bigger props and support tools that often get in the way of maximizing the benefits of your routine. No matter what position you're holding, you'll always be able to feel a sense of traction underneath you as you challenge yourself to push your body and your mind and expand your horizons as a yogi.
As we all know, one of the biggest reasons people take an interest in yoga is to improve their sense of self-awareness. With the crowdfunding campaign that Koven, Agron and their team have put together, they have extended their level of awareness beyond the self and aimed to be kinder to the Earth and to those of different levels of ability. It's estimated that 50 gallons of water are used every time somebody does laundry. As an active, daily practitioner of yoga, washing your yoga wear and any aides you use can become quite a consumer of H2O. AVA Yoga Bodywear curbs the need for that, as the hand and footwear only needs to be washed with water.
As the inventors move beyond the crowdfunding campaign, they've recognized that AVA and the support straps that come with it offer the opportunity for people of all levels and all abilities to try yoga and experience what a life-changing impact it can have. It is with this forward thinking attitude that a new spin on a timeless form of exercise and meditation has come to fruition. As a person with cerebral palsy myself who has always struggled in attempting to improve muscle coordination and balance, I must say having added support in any slow moving form of exercise is of utmost importance.
Find that out for yourself and see why this line of yoga body wear has created such an exciting buzz among yogis everywhere.
REAL LIFE. REAL NEWS. REAL VOICES.
Help us tell more of the stories that matter from voices that too often remain unheard.
This post was published on the now-closed HuffPost Contributor platform. Contributors control their own work and posted freely to our site. If you need to flag this entry as abusive,
send us an email
.