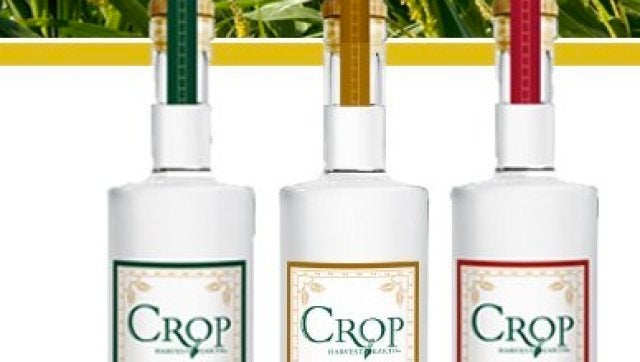 Ah, the Sequester. A catchy name for one of the lamest and most depressing of the many, many budget battles that Obama and the "Rethuglicans," as HuffPo readers like to call them, have engaged in over the last four years. If the debt ceiling crisis was like trying to avoid a fiscal death sentence, this Sequester business is like trying to avoid, I don't know, a decade-long fiscal stomach flu? Most of us only know for sure that waiting on security lines at airports is going to be even more unbearable than usual, and that alone is enough to drive one to drink.
Which is where I come in. Having done the appropriate research, I've come up with a healthy helping of the finest new spirits to hit liquor store shelves over the last few months. From whiskey to vodka to mezcal to cider, there's something here for everyone to love, no matter what side of the aisle you're on. Unless, of course, you're Mitt Romney. And no matter how bad things may seem in Washington right now, let's at least be grateful we didn't elect a teetotaler to the White House. Bottoms up!
ANGRY ORCHARD ELDERFLOWER HARD CIDER (5% alcohol by volume, $9). I don't like beer. (I don't like coffee, either. I'm weird that way.) On the rare occasions when I'm coerced into going to places that only serve drinks of a sudsy nature, I can usually count on them having a few brands of cider. I love cider because it looks vaguely like beer (though sadly without the foamy head), you can drink it like beer, it's alcoholic like beer. But instead of the bitter taste of hops you get the sweet, vibrant tang of apples. One sip and I'm transported to New England on a crisp autumn day.
I've been a Woodpecker Cider guy since I started drinking the stuff because, well, it's the brand that everyone knows, it's the brand that most places stock, and it's good. No muss, no fuss. But Angry Orchard, a newcomer to the scene, gives the 'pecker a run for its money. It's a little sweeter but a lot fuller and richer. Angry Orchard's new Elderflower Cider scared me a little -- I feared it was going to be syrupy and cloying, like a sparkling St. Germain rather than a cider. But it actually works quite well, adding pear and lychee notes to the crisp apple flavors. Angry Orchard helpfully provides cocktail recipes for the mixology set, but I say go for what you know and drink it straight from the bottle or a chilled glass.
THE BALVENIE 12 YEAR OLD SINGLE BARREL FIRST FILL SCOTCH WHISKY (47.8% alcohol by volume; aged 12 years, $70). I feel like every other week or so there's a new expression of the Balvenie coming out -- not that there's anything wrong with that. David Stewart, the Balvenie's longtime Malt Master, has relentlessly experimented with different methods of aging and finishing this classic honey-sweet Speyside malt for decades now. Peated casks, Madeira casks, port pipes, rum casks, ages ranging from 12 years to 50 years -- and I haven't tasted a bad one yet. That's because the Balvenie is a genuinely great whisky that retains its essential... Balvenie-ness, no matter how it's finished or how long it's aged.
Which is why it's such a delight to try this latest expression. It's aged for a cool dozen years (at least) in first-fill bourbon barrels (meaning the barrel has only been used once previously, to age bourbon). Each bottle comes from a single barrel, which means the taste from one batch to the next won't be exactly the same, though Stewart strives for uniformity. But whichever barrel your bottle is from, you'll get perhaps the quintessential Balvenie expression -- rich with honey, vanilla and oaky notes, all in perfect balance. A brilliant bottling of a brilliant whisky.
BULLEIT 10 BOURBON (45.6% ABV; aged 10 years, $45). Bulleit makes a mighty fine bourbon which over the years has become one of my favorites. It's a light, easy-to-drink whiskey that also has a lot of depth and complexity if you're looking for it. And of course it has one of the best looking bottles in the business. Standard Bulleit doesn't carry an age statement, but Bulleit 10 states loud and proud that it's been aged in wood for a full decade. The company's bean counters have decided that the extra aging is worth a full $20 more than standard Bulleit, which is causing its share of grumbles among whiskeyphiles on a budget. Of course, the big question is, how does it taste? And the answer is pretty damn good. The extra wood aging, unsurprisingly, results in amped up oaky notes and muted vanilla notes. I was surprised at just how dry Bulleit 10 tasted compared to standard Bulleit, though the wood is balanced out by a mouthful of cinnamon spice. The ride is remarkably low-burn considering its 90 proof-plus status, even on the finish where high alcohol content is hard to hide. I'd rather spend $25 on standard Bulleit than $45 on Bulleit 10, but if the price comes down or you've got a few extra bucks burning a hole in your pocket, it's definitely worth a try.
CROP ORGANIC MEYER LEMON VODKA (35% alcohol by volume, $20). I am not the world's biggest vodka fan. And I am really, really not a fan of flavored vodkas. But I make an exception for Crop. Their standard, organic grain-based vodka is smooth and lush and satisfying as any brand out there. Their two flavored variations, tomato and cucumber, are tremendous, perfect as mixers or on their own with a couple of ice cubes. The Meyer Lemon -- bottled at an unusually low 70 proof -- is sweet and aromatic, without tartness or acidity, the same characteristics that distinguish Meyer lemons from their yellow-peeled kinfolk. It goes down ridiculously smooth on the rocks, but I prefer it in a vodka-tini with a dash or two of dry vermouth. It's better yet in a tall glass with club soda. I'm still not a fan of flavored vodkas, but this is one of the few I'd drink voluntarily.
MICHTER'S US-1 SMALL BATCH SOUR MASH WHISKEY (43% ABV; age not stated, $50). What makes a sour mash whiskey a sour mash? Certainly not the flavor, which is anything but sour. The sour mash process simply means that each batch of whiskey uses a little bit of the previous batch's "mash" (pre-distillation whiskey) to help kickstart the fermentation process before distillation. Michter's Sour Mash was a big hit back in the '70s, but when the original Pennsylvania distillery went under in the late '80s, the sour mash went with it. It's available again for the first time in almost a quarter century, and it was worth the wait. This stuff is delicious -- big, rich, spicy, full of dark fruits, toffee, dark chocolate and just a hint of tobacco. It makes a mean Manhattan, but I could sip it neat all night long. Brilliance in a bottle.
MONTELOBOS MEZCAL (43.2% ABV, not aged, $50). Mezcal is finally having its moment in the sun. Long shunned in favor of its smoother, sweeter offshoot, tequila, it was known as the cheap stuff with the worm in the bottle (actually a moth larvae that lives on the agave plant) you'd find in Mexican restaurants. Which is sad, because good mezcal is a fascinating spirit -- smoky, earthy, vegetal, challenging. In recent years, the spirits and cocktail renaissance has led drinkers to become more simpatico to complex and distinctive flavors. The big companies which bestride the spirits world have figured this out, which explains why the mighty William Grant & Sons has launched its first mezcal, Montelobos.
They did it right, too, using 100% organic agave espadin harvested in the traditional method by fifth generation mezcaleros, but distilled using rigorous modern quality controls. I'm no mezcal expert, but Montelobos makes me want to become one. It's got the agave sweetness reminiscent of tequila, but there's so much more going on as well. It's funky in the best possible way, with vegetal notes that remind me, weirdly enough, of asparagus. And weirder still, it's delicious. It's a beauty sipped neat and tremendous in an Ultima Palabra cocktail. Montelobos is a mezcal to try whether you're an aficionado or a newcomer to the spirit.
MYER FARM WHITE DOG WHEAT SPIRIT (44.2% ABV; not aged, $25). I'm not sure I've ever tried a white dog (a term which refers in general to un-aged whiskeys) that wouldn't taste better after being aged in wood for a few years. But this one, made in upstate New York, is a little different. It's not a whiskey -- it's made from winter wheat (organic and locally grown in this case), like many vodkas. Unlike vodka, however, it's distilled in a pot still rather than a column still, to a lower proof (about 80% alcohol rather than the 95% that's standard for vodka). Which means that the flavor and character stay in the spirit, rather than getting cooked out. Unlike most corn-based white dogs, which taste sickly sweet to my palate, White Dog Wheat is dry, crisp, and utterly elegant. It's got tons of wheat flavor balanced out by hints of rich cocoa sweetness, with a long, smooth finish that belies the "white lightning" nickname given to the genre. This is a brand even white dog haters can love.
OLD PULTENEY 40 YEAR OLD SINGLE MALT SCOTCH WHISKY (51.3% ABV; aged 40 years, $2,400). I'd never tried Old Pulteney until recently, and after quaffing the 12 and 17-year-old bottlings I couldn't figure out why the hell I'd ignored it for so long. Distilled at the northernmost point of the Scottish mainland, it doesn't fall into any neat categories. It's a little sweet, a little salty, a little nutty, a little spicy... and all good. The new (and very limited) 40 year old, the oldest of Old Pulteneys to date, was laid down in 1968, but it's still got a youthful joie de vivre, especially on the front end, which is loaded with sweet refrains of vanilla, honey, melon and a little citrus. But it soon asserts its maturity with forceful notes of wood and cinnamon spice, with a little cocoa and citrus zest as well. The finish is long and dry and, um, did I mention long? It just keeps on coming long after the last swallow. The packaging is as handsome as you'd imagine for a $2,000-plus whisky, with a handblown silver-and-glass bottle in a lacquered wooden gift box, complete with a book detailing the brand's history. Those who think of $2,400 as rent money rather than whisky money can content themselves with Old Pulteney's stellar 17 Year Old. But if you've got the money and the hankering, get your credit card ready, because this one won't be around for long.
PAPA'S PILAR DARK RUM (43% ABV, solera aged, $40). I don't know much about Ernest Hemingway's taste in rum, other than he drank a lot of the stuff, much of it in the form of daiquris. So I really can't presume to tell you whether he would have liked Papa's Pilar, inspired by both Papa himself and the yacht which carried him on many an expedition of fishing, drinking and other manly stuff. But for what it's worth, I think it's fantastic.
Papa's Pilar is a blend of rums from Florida, the Caribbean and Central America which are solera aged (a method which blends older and younger rums over time) in traditional used bourbon barrels as well as port wine barrels. Finally, it's finished in sherry casks. The result is an insanely rich and luscious rum, with notes of toffee, dark chocolate, vanilla and coffee, along with enough bite to keep it from tasting like a dessert in a glass. Whether or not you care about the Hemingway connection, a snifter of Papa's Pilar and a copy of A Moveable Feast or The Old Man And The Sea are a great way to spend an evening. And if you want to make your own Hemingway daiquiri, try Papa's Pilar Blonde, a light rum that's almost as good as the dark.
RUSSELL'S RESERVE SINGLE BARREL BOURBON (55% ABV, age not stated, $50). The newest release from Jimmy and Eddie Russell, the legendary father/son team that creates Wild Turkey, is a curious one, at least when it comes to the labels on the bottles. No age statement and no info on which barrel the whiskey came from or when it was bottled? Yes, you can live without this knowledge, but whiskey geeks -- whose numbers are legion and growing fast -- will definitely notice its absence. Stranger still is the fact that it's called a "Small Batch Single Barrel" bourbon. That's sort of like saying "Scotch Whisky From Scotland."
But when you get right down to brass tacks, it's what's in the bottle that counts, not what's on the bottle. And this is one powerful locomotive of a bourbon. It starts off with sweet toffee and vanilla notes, followed by a blast of heat revealing its high alcohol content (110 proof). I often like to be all macho and not add water to high-proof spirits, but I like Chuck Cowdery's observation that high-proof simply means you get to add the water yourself, without paying the distiller to add it for you. While water doesn't help with every high-proof spirit, here it tamps down the alcoholic heat while boosting the flavors, especially the fantastic buttery and tropical fruit notes on the finish. So, yeah, I'd like to know more details about Russell's Reserve Single Barrel. But ignorance of the details won't stop the bliss that comes from drinking it.
TANQUERAY MALACCA GIN (40% ABV, $28). In 1997, when the cocktail renaissance was in its infancy, martinis meant vodka and "vintage spirits" meant a bottle of Pucker that had been sitting on the back shelf of a bar for too long. And then along came Tanqueray Malacca, a sweet, delicate gin utterly unlike anything else on the market at the time, developed from a recipe that Charles Tanqueray himself created in 1839. Malacca was the first of what are known today as "New Western Dry" gins, meaning it toned down the juniper that dominates in London Dry gins in favor of other flavors -- in this case, clove, cinnamon, lemon and grapefruit, to name a few. The tiny but burgeoning cocktail community loved it. The larger gin drinking populace ignored it. By 2001, Malacca had been quietly discontinued.
Fast forward a decade and the whole scene has changed. You want a barrel-aged Martinez cocktail? Is that with early or late 19th century style Old Tom gin? It is into this much friendlier environment that Tanqueray Malacca re-enters the fray, with a limited edition re-release of 100,000 bottles. Malacca may have been gone, but it wasn't forgotten, at least by the right people. Thanks to a vociferous cult following among bartenders and spirits collectors, posthumous print endorsements by cocktail luminaries such as David Wondrich, and a concerted effort spearheaded by Tanqueray brand ambassador Angus Winchester and Steve Olsen (co-creator of Tanqueray Ten), Tanqueray Malacca is far more popular now than it ever was during its first run.
Given how many noteworthy new gins have hit the market since the Clinton administration, how does Tanqueray Malacca hold up today? Beautifully. It's a much softer and sweeter gin than standard London Dry, with cinnamon, clove and citrus notes standing proudly alongside the piney flavor of the juniper that's so prevalent in classic Tanqueray. It makes a stellar martini, a tremendous Pink Gin, and works well in old classics like the Last Word and the Turf Club. It's even delicious sipped neat -- something you can't claim for many London Dry gins. Most of this run is earmarked for the hospitality industry (read: bars), but it's well worth tracking down, for historical importance as well as the deliciousness factor.