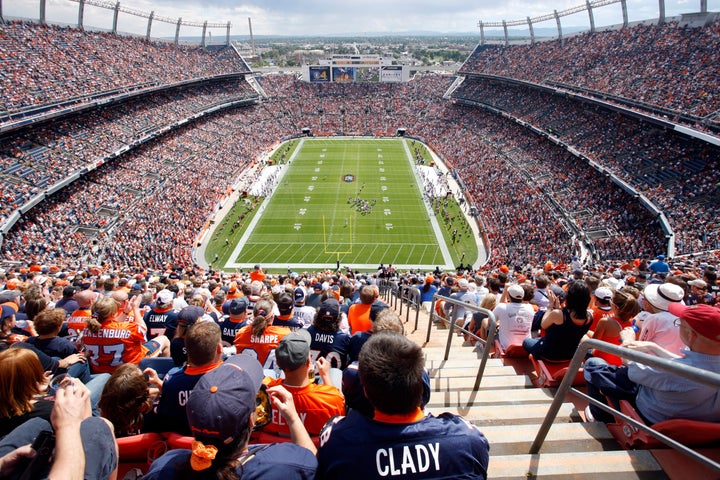 Mile High Stadium is just hours away from the official unveiling of its long anticipated new sign from Sports Authority. Work on the new "Sports Authority At Mile High Stadium" sign is expected to be completed Wednesday with the unveiling scheduled for Thursday, The Denver Post reports.
The sign will be ready just in time for the regular season opener against the Oakland Raiders, Monday night.
7News reports that the new Sports Authority Field sign is red, white and blue -- not Broncos orange and blue as many fans had hoped -- but it does now say "Sports Authority Field at Mile High."
The sign and other planned changes at the field will be discussed at the official unveiling Thursday.
Sports Authority was quick to put up a temporary sign and it quickly had many fans frustrated, according to 7News. Mostly red, reading "Sports Authority Field" it lacked the "at Mile High" and reminded many Broncos fans of the Kansas City Chief's colors, not the Broncos' orange and blue.
"The [temporary] signage we put up we didn't like," a Sports Authority spokesperson said to Fox31. "We're fans, too. We'll put up a new sign that's more representative with the stadium." The new sign that will be unveiled Thursday will apparently feature the Broncos colors prominently, according to Bronco Talk.
That may not be enough though, according to CBSDenver, some fans are still seeing red over the Sports Authority logo that will still appear, in red, on the stadium's roof. And Bronco Talk had heard rumors that there is "Sports Authority red" inside the stadium as well that could upset fans all over again.
In August, the Metropolitan Football Stadium District unanimously agreed to have Sports Authority to take over the last 10 years of Invesco's $120 million, 20-year naming rights agreement, Associated Press reported.
Calling all HuffPost superfans!
Sign up for membership to become a founding member and help shape HuffPost's next chapter