For donors who want to know exactly how their money's being spent, there's a new transparent nonprofit that allows its supporters to rest easy.
New Story, an Atlanta-based group, identifies families in need, shares their struggles via moving video stories and then solicits donations from supporters. But what distinguishes this initiative from other similar-sounding ones is that every dollar goes right to the profiled family and donors are kept abreast of the developments every step of the way.
"For donors, it's cool to say 'Hey, I went on and gave $50, and in about two months I'm getting an email with a video of the family I funded in their new home,'" Brett Hagler, one of New Story's founders, told Fast Company.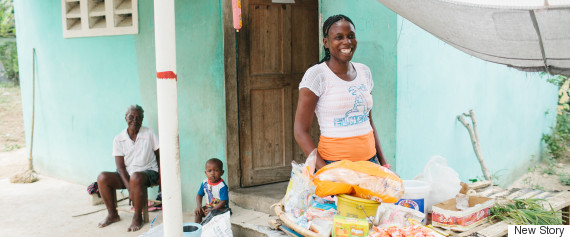 In a matter of seven months, New Story raised more than $200,000 and funded 34 new homes in Leveque, Haiti, according to a press release. It partners with reputable local organizations to build the homes, offering the added benefit of employing Haiti's residents.
The group has set an even more ambitious goal of erecting 100 homes in Haiti over the course of the summer. And then, the plan is to go global.
One such recipient includes Maria-Rose, a widow and mother of four who was displaced after the 2010 earthquake, according to New Story. For four years she resided in a tent and still took in children with nowhere to go.
The group got support early on from Y Combinator, a group that invests $120,000 twice a year in a number of startups. The groups move to Silicon Valley for three months to get training and help in pitching investors.
New Story hit the scene at a time when the need is still great in Haiti, but donors are wary of nonprofits working in the impoverished country.
But a groundbreaking investigative report recently revealed that even charities as well known as the American Red Cross can't necessarily be trusted to deliver on their promises.
The three founders, two of whom come from tech backgrounds, plan to sidestep such corruption by running their group the same way they would run a startup.
"This is an alternative to many charities in this space that are slow to innovate and where donors don't know where their money is going, and what it is (or isn't) accomplishing," the founders said in a press release.
To take action on pressing poverty issues, check out the Global Citizen's widget below.
Related
Before You Go

Haiti