Nuart 2011, the annual Street Art festival in Stavanger Norway, just wrapped with a small tight roster of international artists putting new murals and installations around this waterfront city of 120,000. An inventive late "Summer Camp" that has brought worldwide attention and fame to the city in the last decade, Nuart continues to creatively stretch and challenge its participants while putting them on the street, in the gallery, and in front of the classroom.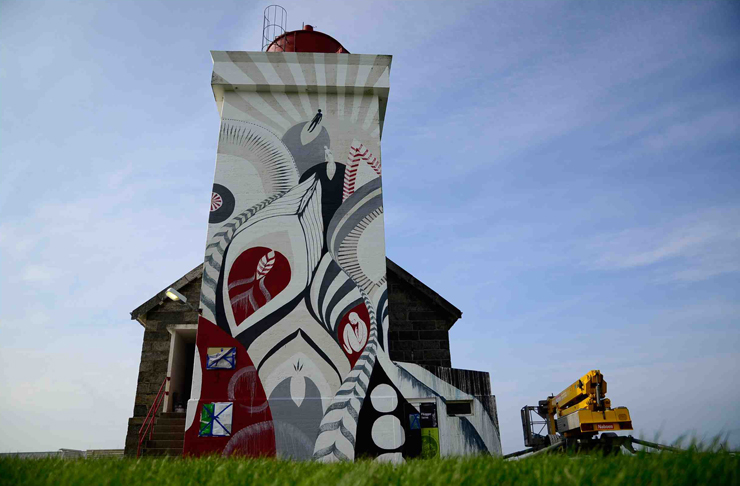 Street Artist Lucy McLauchlan from Birmingham England completes her mural on a small tower that is iconic to this seaside Nordic city of Stavanger for Nuart. (Photo Courtesy of Nuart11 © Mookie Mooks)
It could be the electronic music festival, the wicked history of goth and black metal spawned here, or the nearly thousand-year-old cathedral downtown, but something smart skews the outlaw impulses of artists toward exploration here. Perhaps it's just the contrast of this sharply manicured capital of culture playing host to an art movement associated with urban decay that feeds the uncanny tension in some of the work. Whatever it is, each year there is something of high caliber that helps keep Nuart fresh and relevant.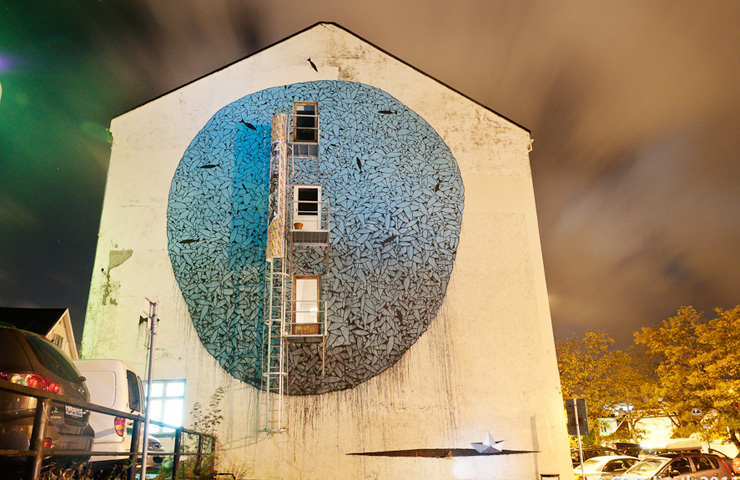 Italian Street Artist Tellas created a monocromatic fish ball in this port town well known for it's herring. (Photo Courtesy of Nuart11 © CFSalicath)
For Nuart 2011 eleven artists from seven countries worked to create installations, including an indoor exhibition in a complex of buildings that formerly housed a brewery. Participating artists were Dan Witz (US), David Choe & DVS1 (US), Vhils (PO), Herbert Baglione (BR), Dolk (NO), Lucy McCluchlan (UK), Herakut (DE), Tellas (IT), Escif (ES), HYURO (ES), and Phlegm (UK).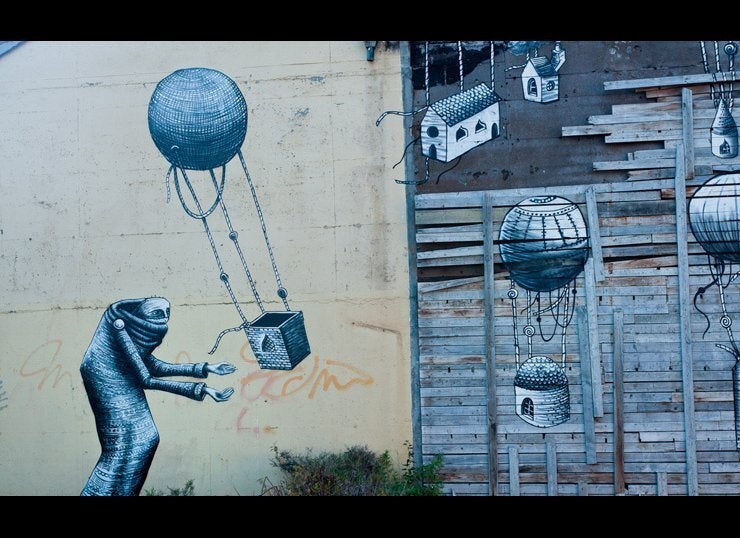 Nuart 2011 Street Art Festival
Popular in the Community