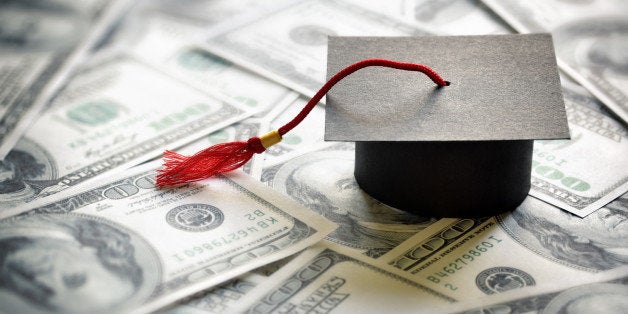 Recently, the Institute for College Access & Success (TICAS) released its tenth annual Project on Student Debt report focused on recent graduates of four-year colleges. Like previous TICAS reports, "Student Debt and the Class of 2014" provides a comprehensive overview of the student debt crisis by combining a bird's eye view of the national scope of educational debt with state-by-state data.
Here are a few highlights from the report:
Student debt is still on the rise for new graduates. Sixty-nine percent of 2014 college graduates had student loan debt - the same amount from 2013. However, this year's class of college graduates averaged nearly $29,000 in educational loans, a two percent increase from the previous year. TICAS President Lauren Asher said, "Borrowers are graduating with a lot more debt than they did 10 years ago, and the Class of 2014's average debt is the highest yet." It is important to note that the data only shows student debt from public and nonprofit colleges - virtually no for-profit colleges reported what their graduates owe.
About 17 percent of 2014 graduates' debt was in private loans. These are more costly than federal loans and offer much less protection in terms of debt relief options. This means that if students start to struggle with their monthly payments, there may be no repayment plans to provide them support. Private loans are much riskier than federal loans, so we encourage all students to avoid them if possible!
The report found considerable variation in the amount of student debt among states as well as colleges. State averages for student debt varied from $18,900 to $33,800. In six states, average debt was more than $30,000. TICAS released a chart that shows high-debt states are concentrated in the Northeast and Midwest; low-debt states were mainly in the West. TICAS released a companion map to the Class of 2014 report showing data from all 50 states, the District of Columbia, and more than 1,000 public and nonprofit four-year colleges - check it out to see how your college ranks.
2014 graduates are more likely to have student debt than their peers in 2004. At the national level, 69 percent of the class of 2014 graduated with student debt, as compared to 65 percent ten years ago. Of those who borrowed in 2004 and 2014, the class of 2014 left school with a lot more debt. The average amount rose 56 percent, from $18,550 to $28,950 - more than double the rate of inflation (25 percent) over a 10-year period. In some states, debt grew even faster, at more than triple the inflation rate.
The 2014 unemployment rate for young college graduates was 7.2 percent. The Great Recession officially ended in 2009, but since then the unemployment rate has been above 7 percent, with a peak of 9.1 percent in 2010. The 2014 unemployment rate for college graduates shows a slight decline from previous years, but is still far higher than the average unemployment rates before the recession. On the up side, four-year college graduates are experiencing far less unemployment than their peers with only a high school education, and are also earning higher salaries.
If you need help understanding your student loans or want to learn about debt relief options, download our free e-book Take Control of Your Future or listen in on one of our monthly webinars. We provide in-depth information about income-driven repayment plans and Public Service Loan Forgiveness to help students and graduates better manage their debt, so they can take control of their financial future.
Ashley Matthews is a Program Manager for Law School Engagement & Advocacy, managing the Student Debt and Student Engagement programs. Prior to joining Equal Justice Works, she worked as Communications Manager for Legal Services Corporation where she helped design strategies to increase congressional awareness of federally funded civil legal aid. She also led the digital content and communications team for PSJD.org, a public service initiative of the National Association for Law Placement (NALP). Ashley received her J.D. from the University of Miami School of Law.
Calling all HuffPost superfans!
Sign up for membership to become a founding member and help shape HuffPost's next chapter