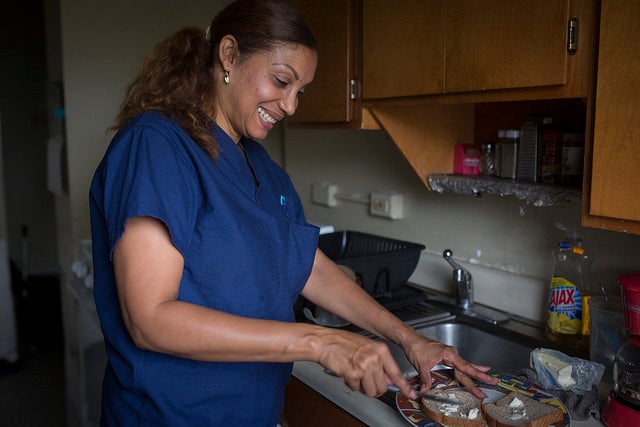 Immigrants are a key part of the U.S. economy and the future of long-term care, says a new study on immigrants in the direct care workforce from PHI, the nation's leading expert on direct care.
According to the study released this week, more than 1 million immigrants work in direct care, a rapidly-growing sector that includes about 4.4 million home care workers and nursing assistants employed in nursing homes.
Immigrants in this workforce come from 151 countries representing many regions of the world, though more than half come from the Caribbean, Central America and Southeast Asia—the study reports.
Unfortunately, many of these workers work in jobs characterized by low pay and marginal benefits, which forces them into poverty and requires them to access public assistance to survive.
The heightened attacks on immigrants under the Trump administration, as well as escalating anti-immigrant sentiment in this country, are making it difficult for immigrants to work in this economy, which ultimately exacerbates the growing shortage in paid caregivers.
Robert Espinoza: Tell me about your work at the National Domestic Workers Alliance.
Sameera Hafiz: Thanks for the opportunity to share information about our work with your readers. I'm the Advocacy Director at the National Domestic Workers Alliance (NDWA). In my role, I lead our policy and legal team, direct the Beyond Survival anti-trafficking campaign and help develop the policy strategies for the We Belong Together immigrant women's campaign.
RE: What's the "Beyond Survival" campaign?
SH: NDWA's Beyond Survival campaign began in 2013 and is powered by nine community-based organizations from around the country engaged in organizing domestic workers who have survived human trafficking. The campaign seeks to build the capacity of communities to respond to domestic worker human trafficking and lift up the voices and vision of survivors.
RE: PHI just released a study on immigrants in direct care (i.e. home care workers and nursing assistants employed in nursing homes). The study found that one in four direct care workers in this country is an immigrant, and in states such as New York and California, the ratio increases to one in two. Why are immigrants an integral part of the direct care workforce and more broadly, the domestic worker population?
SH: Congratulations on PHI's new and important study on immigrants and the direct care workforce. As your research shows, approximately 1 million immigrants, 85 percent of whom are women, provide direct care to the elderly and people with disabilities. Immigrants, and especially immigrant women, play a key role as caregivers in the United States today – whether as direct care workers, nannies or housecleaners – they are the ones caring for our loved ones and our homes.
RE: The study also found that immigrant direct care workers too often struggle with poverty and rely on public benefits to survive. Is this a common story for immigrants in the U.S. workforce?
SH: Though there are millions of immigrant women in the American labor force, immigrant women earn less than native-born men and women, as well as foreign-born men. Black immigrant women earn even less. Immigrant women workers are concentrated in low-wage occupations, with 42 percent earning $20,000 or less per year. The largest number of immigrant women workers are domestic workers. Within the domestic work sector, low wages are a systemic problem and many domestic workers experience acute financial hardships with their most basic needs going unmet.
RE: The Trump administration has heightened its attack on immigrants, including a court-blocked executive order limiting travel from six predominantly Muslim countries, a proposed wall between the U.S. and Mexico, and a more aggressive use of federal resources to find and deport undocumented immigrants. What effects do these actions have on immigrant direct care workers?
SH: Trump's immigration policies and rhetoric have countless impacts on immigrant direct care workers. Many people of color and immigrants, be they undocumented, with legal status or even U.S. citizens, feel that they could be targeted by Trump and his agents – creating a sense of insecurity and fear among the immigrant direct care workforce. This atmosphere makes it harder for immigrant direct care workers who are experiencing abusive or exploitative working conditions to come forward and assert their rights as workers.
RE: What can federal and state government leaders do to support immigrants in the direct care workforce?
SH: State and local jurisdictions can play an important role in the lives of direct care workers. Local governments should ensure they are not entangled with federal immigration enforcement, and state agencies should play an active role in enforcing worker protection laws. At the federal level, all branches of government must ensure that our immigration policies are lawful, humane and support the growing care needs of our country's population. All our government leaders should commit to advancing political rhetoric that promotes a diverse, vibrant and inclusive democracy.
RE: What is one hope you have for domestic workers in the upcoming year?
SH: One hope I have for domestic workers in the upcoming year is that their leadership, powerful storytelling and strategic organizing continue to awaken the American public and policy makers to the key role they play in powering our communities, caring for our homes, facilitating the independence of our loves ones with disabilities, and adding to the depth and richness of our country.
Sameera Hafiz is the Advocacy Director and the Beyond Survival Campaign Director at the National Domestic Workers Alliance.
Popular in the Community