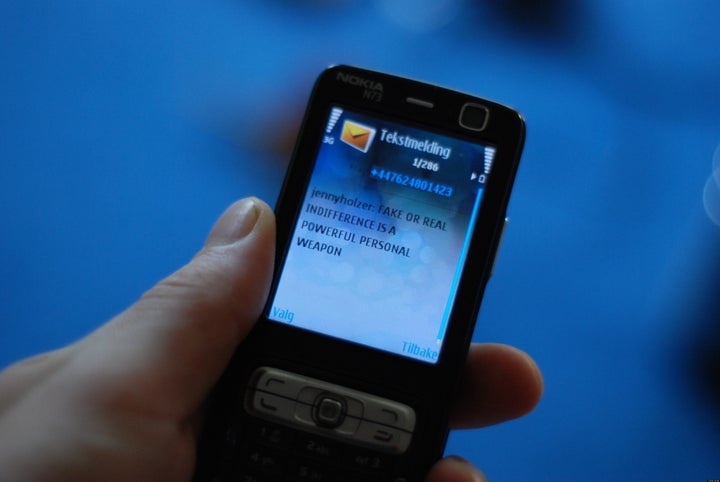 According to a recent Wilkes University study, 91 percent of students text during class.
Two Wilkes psychology professors, Deborah Tindell and Robert Bohlander, circulated a survey that questioned respondents on their text messaging habits and attitudes toward texting in class among 269 students. They found that:
99 percent of students think they should be allowed to have their cell phones in class
95 percent bring phones to the classroom
62 percent believe texting should be allowed in class, provided it doesn't distract others
Around 10 percent have sent or received texts during exams>
3 percent used texts to cheat during exams
Close to 25 percent of respondents said that others' texting has made it difficult to focus in class and 75 percent reported being distracted by a ringing phone.
Tindell decided to perform the study when she realized how unaware she was of the texting that occurred during her class. As a result of her findings, she's implemented a no-texting policy during class. Syracuse University's Laurence Thomas took the no tolerance stance to another level when he walked out on his lecture last week after catching some students with phones in hand, reports the Associated Press.
Others have decided to embrace texting in the classroom. According to the AP, New Zealand researchers recommend "encouraging students to bring their mobile phones out in the open and to use them to contribute to the class, and to their own learning -- that is, by joining them instead of trying to beat them." Some professors send out assignments via text, and encourage them to text questions or comments throughout a lecture.
For those fearful of incorporating cell phone use into class, Tindell and Bohlander offer ways of combating the phenomena. They recommend professors enforce clear cell phone policies, circulate classrooms and maintain eye contact with students.
What do you think about texting during classes? Let us know in the comments section.

Calling all HuffPost superfans!
Sign up for membership to become a founding member and help shape HuffPost's next chapter