Of the estimated 7.6 million animals who enter animal shelters each year, approximately 2.7 million are euthanized. You may be familiar with that harrowing but well-known statistic - as well as the critical need for adoption and spay/neuter efforts to counter it - but you may not realize how many of these vulnerable animals were once owned by people who loved them, and the circumstances that catapulted them into crisis.
Our Study

This question inspired us to conduct a major research study on "re-homing" - or giving up - a pet. Published in the peer-reviewed Open Journal of Animal Sciences, the study surveyed owners who reported having re-homed a pet within the last five years, and revealed important insight into how and why people give up their animals.
What we found is that, on average, more than one million owners re-home their pets each year. What's more, many pet owners give up their animals due to their economic circumstances. They love their pets, but face financial and logistical challenges that put the necessary care of those animals beyond their reach.
Among the specific findings:
• Re-homed pets were most often given to a friend or family member (37%), closely followed by being taken to a shelter (36%). Other re-homing options included being taken to a veterinarian (14%), being given to someone not previously known (11%) and being set free (1%).
• The most common primary reasons for re-homing a pet were related to the pets themselves (46%), followed by family situations (27%) and housing issues (18%). For those living in rental housing, housing issues were the top reason for re-homing.
• Of the 46% who responded they'd given up a dog or cat due to a pet-related issue, 26% said they could not afford medical care for their pets' health problems.
• When pet owners with incomes lower than $50,000 were asked which service might have helped them the most, the majority indicated free or low-cost veterinary care (40%). Other resources included free or low-cost training or behavior help (34%), access to pet-friendly housing (33%), free or low-cost spay/neuter services (30%), free or low-cost pet food (30%), free or low-cost temporary pet care or boarding (30%), and assistance in paying pet deposits for housing (17%).
One of the most telling discoveries from the study was that people with incomes below $50,000 were significantly more likely than their wealthier counterparts to re-home animals due to cost and housing issues. They were also more likely to re-home all pets in the household at once.
Helping Owners and Shelters

This data paints a dire picture for pets whose owners experience hardships or challenges that prevent them from keeping their animals, but many of these challenges can be mitigated or resolved through affordable and accessible veterinary care, increased access to pet-friendly housing, and better access to other supplies and necessities. This is especially promising in communities with high poverty rates and limited access to important resources.
This effort also saves a shelter's valuable resources and cage space for other animals, and gives it more time to perform critical functions like reconnecting families with lost pets and caring for victims of cruelty. And when you crunch the numbers, the cost of sheltering and re-homing an animal is substantially higher than the cost of keeping one at home.

The "Safety Net"
The idea of helping pets by assisting their owners is not a hypothetical. In June 2014, the ASPCA launched a "Safety Net" program at two of the highest intake Los Angeles County shelters in partnership with the Los Angeles County Department of Animal Care & Control and the Los Angeles County Animal Care Foundation. Since its launch, the program has assisted over 4,100 animals previously at risk of entering the shelter system.
At these shelters, ASPCA staff helps pet owners keep their animals by providing vital supplies and subsidizing critical services like spay/neuter surgeries, vaccinations, and other types of veterinary care. Early follow-up with a sample of Los Angeles clients reveals that well over 80% of these pets still remain in their homes.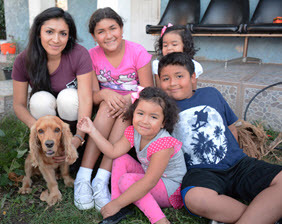 Stories make the case even better than statistics. Last August, a cocker spaniel named Dodger was brought by his owner, Jeanette, to one of the L.A. shelters where the ASPCA safety net program is stationed. Dodger was infested with ticks, and Jeanette couldn't afford Dodger's necessary treatment. She thought the only responsible option was to surrender the family dog.
But with the help of one of our Safety Net managers, Jeanette made an appointment with a veterinary partner, where Dodger was treated, vaccinated, and neutered, at no cost to Jeanette. As a result, Dodger was able to stay at home with his family, and Jeanette's family was able to stay with Dodger.
But with the help of one of our Safety Net managers, Jeanette made an appointment with a veterinary partner, where Dodger was treated, vaccinated, and neutered, at no cost to Jeanette. We also teamed up with Downtown Dog Rescue to provide Dodger with a new doghouse and fumigate the house. As a result, Dodger was able to stay at home with his family, and Jeanette's family was able to stay with Dodger.
Another L.A. County resident, Jaquelina, had a different kind of challenge. She couldn't afford to license her family's two dogs - Pelucas and Lucas. As a result, she was fined by animal control, adding yet another expense, another challenge, to her ownership.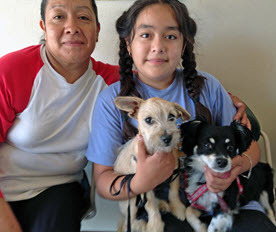 Like Jeanette, Jaquelina had no alternatives, and reluctantly brought the dogs to the Downey shelter to surrender them. But our safety net team again intervened, providing Jaquelina with a voucher to cover the cost of licensing both dogs.
Thanks to these crucial services, two families were kept together, a crowded shelter's resources remained available, and the well-beings of three dogs - as well their futures - were preserved.
This is not just a Los Angeles exercise. In New York City, we recently launched a pilot project to provide critical resources and services to pet owners in East New York and other parts of Brooklyn. We've also teamed up with the NYPD to hold community events that provide free vaccines, microchips, ID tags, food, and doghouses for at-risk pets.
And over the past five years, the ASPCA has distributed nearly $4 million in grants to over 300 organizations in 46 states to support similar safety net programs.
What's clear is that vital help for pet owners can take various forms, which is why listening and learning - while putting judgments aside - is as important as delivering the care itself. Sometimes the difference between an animal staying at home and entering a shelter is the cost of a spay/neuter procedure or a vet visit to resolve a skin issue. And sometimes it's just helping to repair or install a fence.
Truly Humane Communities

With help, these communities can become more than simply places where animals are statistically safer. They can be places where pets and people have access to needed services, support is available in times of crisis, and acts of animal cruelty are recognized, reported, investigated and prosecuted.
Committed action on this front by shelters, community leaders, and animal advocates is critical to keeping more animals in the most ideal place they can be: a safe and loving home.
Support HuffPost
The Stakes Have Never Been Higher
Related
Popular in the Community