Mom shaming is a special form of bullying (October is National Bullying Prevention Awareness Month), and you know that it's a serious yet unresolved issue when bully-in-chief Donald Trump can tell a breastfeeding mom, "you're disgusting" and still become the GOP front-runner in the presidential election.
Motherhood is meant to be a wonderful time in a woman's life but, all too often, it comes filled with shame, guilt and frustration. Even celebrities such as Chrissy Teigen aren't safe from it, as pointed out by the Scary Mommy blog last week.
Shame on you for breastfeeding in public!
What do you mean you missed the PTA meeting?
I don't think you're holding your baby right!
How could you go back to work after baby was born.
A date night with your husband while your little one is at home with a sitter? Unthinkable.
Really, you don't bathe your children each night. Poor things.
Mommy shaming is a big deal. In fact, according to a survey of 227 moms conducted in early October by mobile app mom.life , 80 percent of moms (that's 4 in 5 moms) have been victim of mom shaming.
Let that number sit with you a minute. 80 percent of moms (that's 4 in 5 moms) have been victim of mom shaming. UNACCEPTABLE.
Some additional key findings?
67 percent of those who had been shamed, were shamed by other moms
64 percent of those who had been shamed, were shamed for their feeding choice
4 in 10 moms have been shamed online and 1 in 3 moms have been shamed via phone or text
But here is the point. Mommy shaming may make the "shamer" feel righteous and the shamed horrible, but less than 0.5 percent of moms changed their behaviors because of mommy shaming.
38 percent try to explain themselves
29 percent just ignore the comments
Only 16 percent snapped back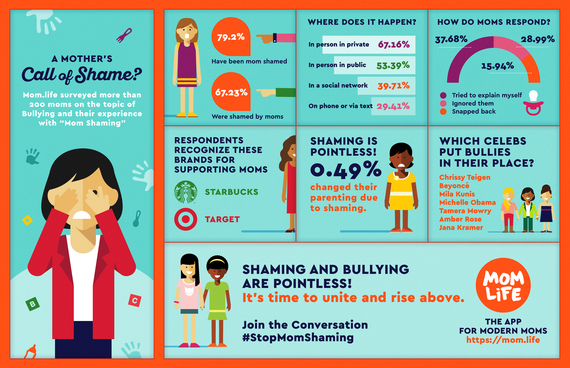 Those numbers are disheartening. Motherhood isn't meant to be full of shame, and yet, the numbers speak for themselves.
Have you ever been mommy shamed? If yes, share your experience in the comments section below. To make an even bigger statement, share your story on your own social media using the hashtags #StopMomShaming, #huffpost
About mom.life
mom.life is a free mobile app where modern moms meet, chat, support each other and tap the parenting wisdom of the community in a supportive environment that respects and celebrates the authentic and individual parenting decisions that moms make every day.