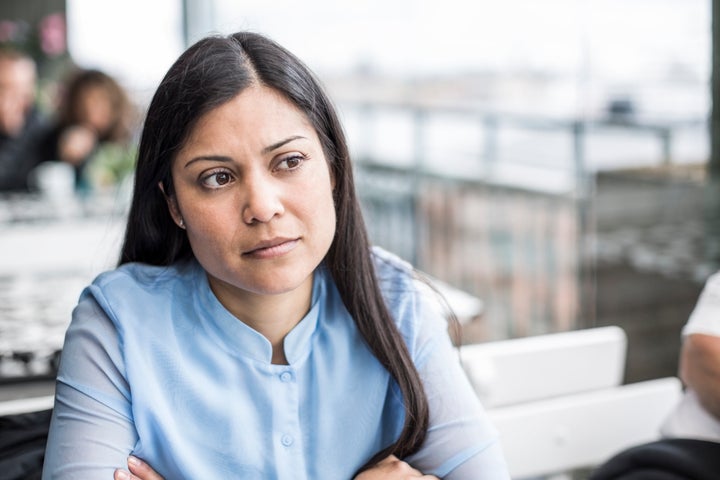 The struggle to fit in is real for many bicultural Latinas, according to Latina@Work, a workplace survey released Monday by People en Español and Lieberman Research Worldwide.
The study, which surveyed 500 Latinas and 250 white, non-Latina women ages 25 to 54, underscores "how today's Latina is living in two worlds, struggling between two identities yet yearning for the opportunity to 'just be herself,'" according to a statement released by People. This feeling of "otherness" is especially acute in the workplace. 
One of the key findings of the study was that though an overwhelming number of Latinas (80 percent) agreed with the statement, "At work, I want to be seen as who I really am, including being Latina," many of them felt they had to change some aspect of themselves in order to be taken seriously. 
According to the study, 31 percent of Latina women surveyed feel they need to dress more conservatively than their peers in the workplace in order to be taken seriously, and 35 percent said they feel the way they style their hair impacts how successful they are at work.
The study also found Latina respondents were twice as likely as their white, non-Latina counterparts to agree with the statement: "I have to work twice as hard as my co-workers because of my cultural background."
The purpose of the study was "to uncover how Latinas, who are experiencing more professional and educational growth than ever before, are modulating two opposing versions of themselves," according the statement. 
"Our Latina@Work study highlights new insights depicting the struggle faced by today's Latinas as they battle disparate perceptions, overwhelming stereotypes and pre-conceived notions in a corporate environment," said People en Español brand sales director Monique Manso. 
Manso went on to explain that the study will "lay the foundation for a critical conversation among corporations and brands around the success, equality and inclusion of Latinas in the workplace."
REAL LIFE. REAL NEWS. REAL VOICES.
Help us tell more of the stories that matter from voices that too often remain unheard.
BEFORE YOU GO
PHOTO GALLERY
12 Latinas Who Understand The Strength That Lives Within Every Woman