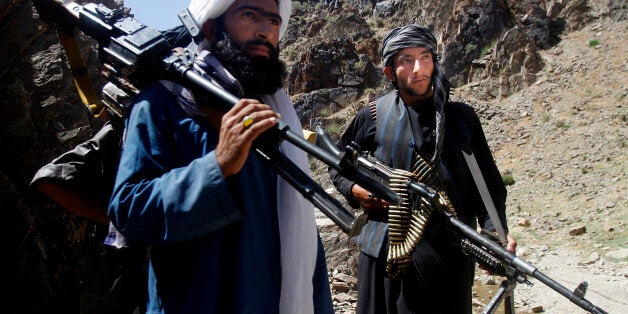 The recent U.S airstrike targeting Taliban leader, Mullah Akhtar Mansoor, and the appointment of Mullah Haibatullah Akhundzada as the new Supreme Leader have raised important questions regarding the development of an already fragile peace process in Afghanistan and the future of the Taliban. Akhundzada's accession represents a calculated and strategic move by the Taliban: a militant group that has seen tremendous rifts this past year and continues to vie for influence and control against ISIS gains in north eastern Afghanistan, near the porous border with Pakistan.
The drone strike on Mansoor marks the first, publicly disclosed U.S military action in the southern Pakistani province of Baluchistan, believed to be home to many senior Taliban leaders. The fact that Mansoor was traveling on a Pakistani passport and returning from Iran when his car was targeted on Route N-40 (the road that cuts between Taftan on the Iranian border and Quetta, the provincial capital), raises serious questions regarding the Taliban's Iran connection as well as intelligence sharing between Iranian authorities and the U.S, injecting yet another element into the regional dynamic.
Mullah Omar's longtime deputy, Mullah Akhtar Mansoor, emerged the controversial leader of the Taliban in July 2015 soon after it was discovered that Taliban leader, Mullah Omar, had died two years earlier; a fact that Mansoor along with a handful of other Taliban senior leaders had kept hidden from the rest of the militant group. In this past year, the Taliban have seen tremendous internal rifts as well as face a new rival with the arrival of ISIS in Afghanistan; a group that has managed to attract numerous defectors through its more rigid ideology, brutal and publicized atrocities, and by offering greater monetary compensation.
Mansoor's succession to the leadership certainly widened the rift between those who seeked greater territorial control as a stronger bargaining chip in the Afghan negotiation process and those who were committed to the insurgency with the sole aim of overthrowing the Afghan government. Though Mansoor was initially viewed as amenable to peace talks, and somewhat pliable by Pakistan, he quickly adopted an irreconcilable attitude thus consolidating his position driven by a strong desire to claim legitimacy. Despite numerous, devastating attacks in Kabul and attempts to regain territory in other parts of Afghanistan, Mansoor was never able to successfully prevent fragmentation.
Akhundzada has no such problem to deal with. A religious scholar known to be close to Mullah Omar is considered to represent members from the founding generation of the Taliban. Akhundzada is precisely what the Taliban need to quell desertion and turmoil within the group. An ideological figurehead will provide legitimacy and unity to the group and a swift appointment has left little room for a power vacuum to be exploited or internal rifts to occur. Furthermore, with Sirajuddin Haqqani as his supreme deputy, Akhundzada's prime duties will likely be to return the Taliban to their united, ideological strength following the tumultuous period under Mansoor, while relegating tactical and military strategy to more lethal deputies, ensuring success on multiple fronts.
The Taliban already control units in Helmand that allow the group monetary access to profits from the global opium trade. There is little incentive to participate in peacemaking, especially for a leader who will not want to appear weak. An escalation in violence in a country where 11,000 civilians have been killed or wounded in 2015 - the highest number recorded since 2001 - is likely in the short run. Furthermore, is the interesting timing of the airstrike. Peace processes and negotiations, especially with warring parties, require both commitment and patience. In the absence of a ceasefire and a growing threat from ISIS, the Taliban grew increasingly violent, readily mounting attacks in Kandahar and Kabul. By killing Mansoor as peace talks remained on the table, the U.S has provided a convenient way out for any future Taliban participation. Use of force seldom brings parties to the negotiating table and any U.S expectation of Mansoor's removal creating further disarray within Taliban ranks, prompting them to come to the table, have been banished by the alacrity at which Akhundzada's accession was announced.
However, militants have rarely ever kept their side of the bargain or been amenable to peace negotiations. This is not the first time a senior militant has been targeted in a drone strike, while peace talks have been on the table. After signing the Shakai Peace Accord, in June 2004, Nek Mohammed (a prominent Pashtun militant) was killed in the first CIA drone strike in Pakistan. Mohammed refused to halt his support for Al-Qaeda and the Taliban and failed to banish foreign fighters from Pakistan's tribal areas. At the time of his death, he was at odds with the Pakistan military which had revoked his amnesty. Mullah Nazir (senior Taliban leader) had negotiated numerous peace agreements with the Pakistani state but openly supported Mullah Omar and Osama bin Laden, while advocating for jihad in Afghanistan and providing safe havens to senior Al-Qaeda leaders in Pakistan. He was also led the 2012 ban on polio vaccinations in South Waziristan. In January 2013 he was killed by a CIA operated Predator in the Birmal area in South Waziristan. In November 2013, Hakeemulah Mehsud (Pakistani Taliban leader) was killed in an airstrike, a few weeks after giving an interview to the BBC, stating that the TTP was open to participating in peace talks with the government.
Needless to say, none of these senior militants or the groups they represent are Afghanistan or Pakistan's best hope for peace. They are responsible for the deaths of thousands and continue to pose a global security threat. The only time they are likely to come to the table is at a time of weakness and the recent change in the Taliban's leadership along with its favorable ground position may very well prove to deliver the opposite result.
Popular in the Community