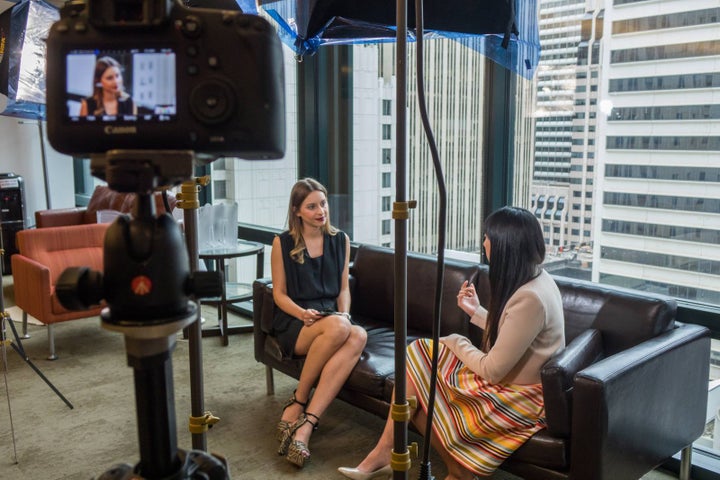 Sylwia Gorajek knows exactly what it's like to pick up and move to a new country to start a career. Sylwia, a native Polish woman, came to Silicon Valley 5 years ago to grow her video production business that she manages with her husband. After just one year of living in the Bay Area, Sylwia had already co-founded a startup. A few years later, she began working on corporate projects for Apple and Netflix.
Shortly after gaining startup experience, Sylwia created Valley Talks, a Silicon Valley talk show that features real stories from startup founders and thought leaders. Sylwia wanted to create a talk show that highlights "real-life" struggles and rewards that come along with having a startup, providing stories directly from the source - startup founders.
I had the pleasure of interviewing Sylwia to learn more about how she got her start in Silicon Valley and the messages she promotes on Valley Talks. The video interview is below, followed by a written Q&A.
What inspired you to create Valley Talks?
I moved to Silicon Valley 5 years ago without any prior knowledge of startups. My husband and I moved to the bay area to expand our video production business, which we started together in Poland.
During our trip down Route 66, I had an idea to create a hyper-local messenger platform. Even after opening our film studio in Silicon Valley, the idea I had for a messaging platform stuck with me. And since it was the era for messaging and location-based apps, I knew that someone would eventually build this if I didn't take the plunge.
One year later, I co-founded my own startup to build the messaging platform I had thought of. Although it was exciting and empowering, I encountered a great deal of turbulences that I later found out are typical for early-stage businesses. At the time though, all of these challenges were new to me, especially since I was a first time venture-backed founder.
I often felt depressed when things weren't going right and I thought that all these struggles were only happening to me. After all, the media portrays the success, glamour and glory of scaling a startup. We raised funding and launched the product, but since certain basics were not right, I had to make the tough decision to leave after a year and a half.
After leaving my startup dreams behind, I began to work on corporate projects for Apple and Netflix. However, I kept exploring the startup world. I learned that other startup founders in Silicon Valley had been going through very similar struggles to those I had encountered.
This was shocking to me, yet also inspiring. As a result, I really wanted to share "real-life stories" of startup founders that would inspire, empower and educate other entrepreneurs around the world. As an entrepreneur, blogger and video producer, I decided to combine all my talents to start spreading the word on the "real" world of startups. That is how Valley Talks was created
Who are some "heroic" entrepreneurs you've recently featured on Valley Talks?
I consider all of the guests I've featured on Valley Talks to be heros. Each have gone through certain struggles to achieve their goals. As an expat woman who started from scratch in Silicon Valley, I feel that entrepreneurs are rockstars even when they're just at the beginning of their startup journey.
That being said, I've hosted talks with Y Combinator and 500 Startups alumni, as well as founders whose startups have been acquired. For example, I interviewed Russ Heddleston, CEO of DocSend, whose former startup got acquired by Facebook, and I am currently releasing a talk with Ranidu Lankage, who co-founded Whale with Justin Kan.
I can also spill the beans that there will soon be an exciting Valley Talks episode featuring Michael Perry, Founder of Kit, which was acquired by Spotify.
And, I need to to highlight Mark Howitson, the man who represented Facebook in the famous co-founder lawsuits against Mark Zuckerberg. Mark shared some awesome insights on how to avoid legal mistakes upon co-founding a startup!
What message are you promoting through Valley Talks?
There is much more involved with growing a startup that goes well beyond the glamour and beauty of having your own company. For instance, it's unlikely that the world will start using a product the day after it is launched.
Through video interviews with startup founders and experts, Valley Talks focuses on the real-life challenges involved with building a startup. Valley Talks also educates others about solutions to combat these challenges. Thousands of early stage founders, aspiring entrepreneurs and startup enthusiasts are watching Valley Talks around the world to learn more about startup life and culture.
What is the best piece of advice you've heard on Valley Talks about how to start a company?
Most of the founders featured on Valley Talks make valuable points and share great insights. For example, Angela Antony, CEO of Scoutible - a game-based hiring app backed by Mark Cuban, as well as Amanda Bradford, CEO of a dating app called The League, both made really good points.
Both women mentioned that starting a company should begin with thorough research on the problem that founders want to identify and solve. Entrepreneurs must know how big the market is, what people need, how this specific problem is currently being solved, etc. Founders then need to gather data to test different thesis.
Yet patience and customer development are a few key starting factors that are often underestimated by founders. Ryan Baird from G-Startup Worldwide shared some advice, mentioning that startup founders must make sure they are teaming up with people who have complementary skill sets and whom you know well, as investors will evaluate the founding team first and then your business.
What goals do you want Valley Talks to accomplish in the coming year?
I'm really excited by the number of people from different countries whom are becoming inspired by Valley Talks. My goal is for Valley Talks to become a valuable resource for more and more founders around the world. I'm looking forward to the upcoming interviews I'll be featuring soon in Season 2.
Related
Popular in the Community