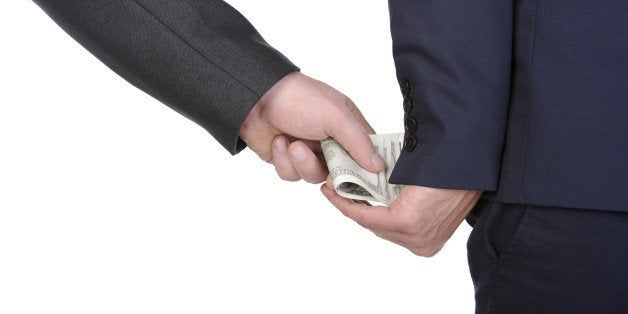 Two years ago this week, the IRS and the U.S. Treasury Department released proposed rules to clarify nonprofit political spending guidelines. Although imperfect, those proposed rules marked an important step forward toward reining in the amount of secret money that infects our politics. We all agree that democracy should work for all of us -- and that it does that best when the voices of everyday Americans are heard by our elected officials and the people's business is done on the public record.

New tax documents released last week confirm what we've known for years: sophisticated political operatives on the right and the left continue to use phony social welfare organizations to pump tens of millions of anonymous dollars into our elections. They are used solely because of the secrecy they provide to donors. This kind of money becomes a barrier to the sort of responsive government we deserve, and is made possible by lax enforcement of rules that are sorely in need of reform.
Patriot Majority USA, a "social welfare" 501(c)(4) organization that supports Democrats, spent 40 percent of its $34 million in expenditures influencing campaigns in 2014, according to an analysis last week by the Center for Public Integrity (CPI). It is one of the most flagrant spenders of secret political cash to influence campaigns. Half of its $30 million in total contributions in 2014 came from only five anonymous donors -- including one contributor who gave $8.25 million. Six others contributed $1 million or more each. Because labor unions are required to file certain disclosure forms with the Department of Labor about their spending, CPI could confirm that a handful of labor unions contributed hundreds of thousands of dollars to the organization. Still, most of Patriot Majority USA's millions came from undisclosed sources.
Meanwhile, Crossroads GPS -- a 501(c)(4) with close ties to Karl Rove -- reported to the Federal Election Commission that it spent more than $26 million on political expenditures in the 2014 midterms. The Huffington Post reported last week that 80 percent of the $69 million that it raised came from only 11 secret donors of $1 million or more. In fact, "the largest two donations to [Crossroads GPS] were $20.6 million and $14.5 million."
But its own political spending is only half of the story. According to Crossroads GPS's tax return, released last week, it granted an additional $13.6 million to other groups active in politics, including the National Rifle Association and the U.S. Chamber of Commerce. One grant in particular caught the eye of CPI: Crossroads GPS funneled $4.82 million to a social welfare organization in North Carolina called "Carolina Rising." That transfer of money accounted for 99 percent of the total that Carolina Rising raised, which it then spent almost entirely on broadcast ads backing the candidacy of now-Sen. Thom Tillis (R-N.C.), according to the Center for Responsive Politics.
What's the problem? Simple: Secret spending makes it harder to hold elected officials accountable to the public interest and responsive to voters instead of campaign spenders known only to them. They end up concerned more about wealthy special interests than the common good.
The law says that these social welfare groups are supposed to operate exclusively for the promotion of social welfare -- not on political campaign intervention. Yet a handful of groups, including the three discussed above, have exploited vague regulations to spend more than $470 million in election-related expenditures, funded by anonymous sources, since 2010. Political lawyers sometimes cited these rules, enacted over a half-century ago, to claim a loophole that allows secret spending so long as it's not an organization's primary purpose.
This conflict between the law and the regulations gave rise to the controversy concerning the IRS's bungled handling of applications for social welfare status, including some by Tea Party and progressive organizations.
As numerous independent investigations have confirmed -- most recently by the Department of Justice -- the controversy arose from the lack of bright lines concerning political spending and mismanagement, not because of any politically motivated vendettas. The vagueness of the current rules, coupled with a substantial increase in tax-exempt organization applications post-Citizens United, hobbled compliance and enforcement.
It is more important than ever that the IRS and Treasury Department write new rules that are consistent with the Internal Revenue Code, clarify what constitutes political activity under the tax laws, and clearly state that true social welfare groups can spend no more than an insubstantial amount of their resources on political activity. The rest of their political spending should be done through an entity that complies with democratic notions of transparency in government.
More than 6,500 Common Cause members filed formal comments with the IRS over the past few weeks to urge the IRS to continue with its ongoing rule-making in keeping with these principles. That's more than double the 3,000 comments that IRS Commissioner John Koskinen told the Senate that the IRS received in its initial comment period on the specific issue of how much campaign activity social welfare groups can do with money from undisclosed sources.
Both parties have worked together to bring more sunlight to our campaigns before, at both the federal and state levels. It's time we do that again. Two years after the IRS and Treasury Department's first attempt at reforming this system, we look forward to the next round of rules that we hope will restore transparency and accountability to our democracy.
This blog post originally appeared in The Hill.
Popular in the Community