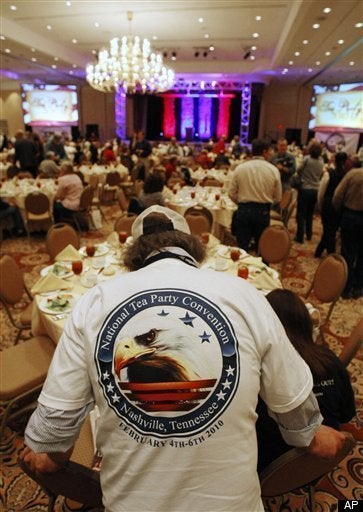 Tea Party Nation recently announced its decision to host a second Tea Party Convention, which will be more expensive than the last one.
Many Tea Party organizers viewed February's National Tea Party Convention as a farce, an usurpation of the Tea Party movement and an affront to its grass-roots nature. Standing in stark contrast to the fiscal conservatism central to the Tea Party movement, it was attacked for costs that ran far beyond the budget of the average activist. Held at the ritzy Gaylord Opryland Hotel in Nashville, Tennessee, the convention was criticized for its location, but more so for its cost -- $349 for a convention ticket, $549 if you also wanted to hear Sarah Palin speak. Not to mention the travel, accommodations and food costs. The event invoked further wrath when it was revealed that the convention was held as a for-profit by the Tea Party Nation.
Tea Party Nation's announcement of a new convention, one even more expensive than the one in February, seems to demonstrate that these complaints have fallen on deaf ears.
Tea Party Nation is now holding another event, "The National Tea Party Unity Convention." The cost this time around? $399. Held in Las Vegas, the convention is set to take place July 15-17 at the Palazzo Resort, a luxurious hotel-casino nestled between the Wynn and the Venetian on the famous Vegas Strip. Said to be the second-largest building in the western hemisphere, the Palazzo features a 20,000-square-foot Lamborghini showroom, decorated with Italian marble, as well as a 85,000-square-foot Barney's of New York.
Unless you live in Nevada, registering for the convention requires "confirmed three night hotel accommodations at the Palazzo." At the moment, a three-night stay at the Pallazo during the convention costs a minimum of $443. This means that, travel and food expenses aside, non-Nevadans must pay $843 just to register. Also, according to the convention website, canceling your reservations at Palazzo will result in "forfeiture of entire convention registrations fees." In other words, you can't even think about trying to stay anywhere else.
Popular in the Community