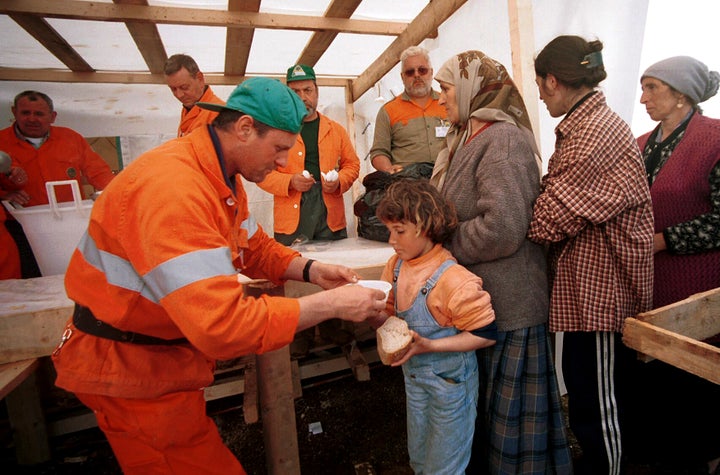 This Tuesday, June 20th marks the 17th annual observance of World Refugee Day, a day designated by the UN to recognize the struggle and contributions of men, women, and children around the world who have been forced from their homes. There are currently more than 65 million people who live as refugees or are displaced within their own country. This is the largest number since the UN Refugee Agency began recording this statistic in 1960.
While the count is daunting, there are reasons to be optimistic. Dedicated individuals and organizations are working to make life better for the world's refugees, and they deserve our praise, our recognition, and our support. Many of those actors are increasingly using emerging technologies to improve their ability to alleviate the suffering of displaced people. Private sector entrepreneurs and nonprofit organizations alike are turning to these kinds of solutions to combat an age-old problem with new intensity.
One organization that is using technology to make major changes in how they approach refugee aid is the International Rescue Committee, with whom we at Social Solutions are proud to partner. Using our ETO (Efforts to Outcomes) software, the IRC can leverage data analytics to identify the most effective ways to mobilize resources. Aid organizations face multiple cross-pressures in pursuing goals. Their actions must be effective and they have to be fast, all while making the most of limited resources. By highlighting what aid activities create the most good for refugees in the least time at the lowest cost, data analytics helps accomplish these goals that often seem to contradict one another. Using ETO, the IRC has turned data technology into a real difference maker in the struggle to make the world a more hopeful place for refugees.
Just last month, the United Nation's World Food Programme completed a trial using new technologies to ensure that displaced populations have access to resources that can help them rebuild their lives. Refugees often lack proper identification, and this makes opening a bank account or using other traditional financial tools impossible. The pilot program used the ethereum blockchain, a decentralized computing platform, to securely transfer electronic funds to refugees, and allowed participants to access their funds using ocular scanning technology to verify their identities. By creating a fraud-proof and theft-proof form of currency to use in refugee camps, the UN is leveraging technology to provide access to resources that was previously unavailable to many displaced people.
The recent wave of technological innovation around refugee aid has even produced an app, fittingly called the Refugee Aid App or RefAid for short. Designed by Shelley Taylor, an experienced Silicon Valley app developer, RefAid is used by more than 400 nonprofit organizations, including the Red Cross and Doctors Without Borders. The app uses geolocation to connect refugees and aid workers, and maps out places where people can find resources such as food or health care. This helps displaced people navigate an often disorienting new environment, and ensures anyone with access to the app can find the services they need.
Along with enabling aid organizations to improve their services, technology can contribute to the wellbeing of refugees in more unexpected ways. Even video games can affect positive change. A surprising new study from New York University found that refugee children who play the computer game Minecraft are significantly less likely to feel depressed than those who are not exposed to the game. Researchers attributed this improvement to the game's ability to give the children a sense of control and freedom which their displacement deprives them of. Organizations dedicate precious resources to improving the mental health of refugee children, but the volume of those who need help is staggering. And while Minecraft will never replace the attention of a mental health professional, it can efficiently and economically make a difference in millions of young lives.
Technology has changed the lives of billions around the world in recent years. With these and other innovations in the refugee aid space, many displaced people are no longer left on the margins. Apps, cybersecurity, and big data are making concrete differences in how aid organizations are helping refugees. This provides a measure of hope for a problem that is both heartbreaking and growing. As technology continues to advance, we can look to aid organizations and entrepreneurs to apply it to this worthy humanitarian cause.