The only job Wang Jing Wen could find was hundreds of miles away from his children and other family in Suyu, China. He didn't earn much and missed his wife and children, but he had no choice -- the family needed the income to survive. Then Wang heard about Opportunity International.
We gave Wang a loan to launch an agricultural business growing mushrooms. Today, he's not only home with his family, but earns more money than ever and employs more than 30 people from his community, including many older and disabled people who would otherwise have a difficult time finding jobs.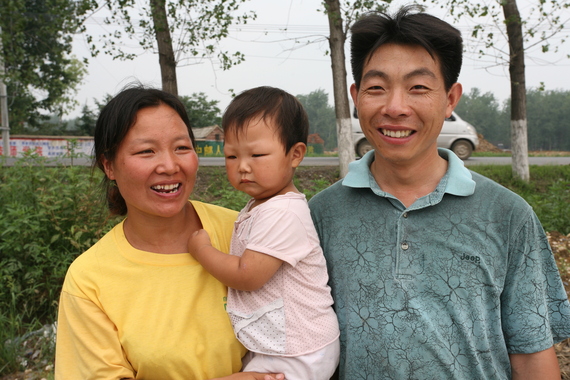 Pictured: Wang Jin Wen and his family in Suyu, China. Image courtesy of Opportunity International.

The challenges Wang faced are not unusual. A recent survey found that 87 million women, children and other family members are left behind in rural areas of China by migrant workers who must leave home to find work. Their children are often raised by their grandparents and only see their father, or both their parents, during Chinese New Year. Imagine if you lived in a country where getting a job meant seeing your children perhaps only once or twice a year.
Keeping families together is one of many reasons why it's so important to promote businesses in rural China. A thriving business environment reduces poverty and creates jobs in the community so no one is forced to leave home to find work.
I'm very excited about our new partnership with MetLife Foundation, which is as dedicated to increasing financial inclusion and improving lives as we are. The MetLife Foundation grant will allow us to invest in 4,200 small businesses in rural areas of China, which will create more than 20,000 new jobs.
And 20,000 jobs means 20,000 families will be able to stay together. Mothers and fathers will be there to help their children with their homework or read them a bedtime story. That's the power we have to transform lives together.
Like the Caterpillar Foundation, The MasterCard Foundation and many other organizations, MetLife Foundation knows that an investment in Opportunity International is an investment in transforming lives. Thank you to the MetLife Foundation for its confidence in our work. Click here to discover more about our partnership with MetLife.
Vicki Escarra is Global CEO of Opportunity International, which has set a goal of creating 20 million jobs by the year 2020, impacting 100 million lives around the world.
Related
Popular in the Community