"I chose to live. I withstood the pressure, the bad name-calling and jokes -- being called a 'fag.' I am a survivor... and today I try to educate others that taking your life is not the answer." --Josie, 21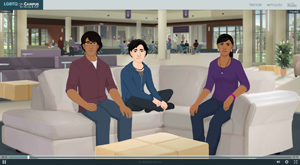 For those of us who know a lesbian, gay, bisexual, transgender, queer or questioning (LGBTQ) young person, we likely see a strong, empowered, motivated, creative and unique individual. However, 15 years after the brutal hate crime murder of Matthew Shepard at the University of Wyoming, there are still LGBTQ young people like Josie who struggle to find safety at college and in their community.
It is for vulnerable young people like Josie that The Trevor Project and Campus Pride exist -- and why we are releasing innovative training tools, in partnership with Kognito Interactive, to make campuses and communities safer for LGBTQ youth. These groundbreaking anti-bullying trainings, called "LGBTQ on Campus" for both students and staff in higher education, help more people build the skills they need to create safe higher education environments and improve outcomes for vulnerable students.
October is a critical time for young people, regardless of their sexual orientation or gender identity. It is a time of the academic year that tends to be more serious and demanding. Stressors seem to pile up as mid-terms and finals loom, grades are tallied, and clubs and organizations finalize their memberships, separating the "haves" from the "have-nots," and not everyone has a network of friends or family that they can lean on for support.
For LGBTQ youth, these feelings of isolation and lack of support can be even more troublesome. Nobody attempts suicide just because of their sexual orientation or their gender identity, but discrimination, fear and hate directed at vulnerable youth because they are LGBTQ can increase feelings of isolation, stress, anxiety and depression, putting them at higher risk of attempting suicide.
Studies show that a student's environment and sense of safety on campus impact academics, absenteeism and psychological well-being. But negative and unsupportive campuses can change, and together we can be part of creating positive environments that support and empower LGBTQ students and faculty in the classroom and in the community. That means meeting educators and young people where they are currently, and being active players in promoting respect, anti-bullying and suicide prevention from within the academic environment.
The strategic partnership among The Trevor Project, Campus Pride and Kognito focuses on moving upstream to identify solutions that can change the culture and dynamics in higher education. Both of the higher education trainings use virtual scenarios to help students and staff learn about LGBTQ students and the challenges they face, and how the choices we each make can positively or negatively impact a vulnerable student or peer. Programs like these online simulations can help change campus climate, reducing risk and improving outcomes for LGBTQ students, staff and faculty.
You can always count on The Trevor Project and Campus Pride to be there for young people in need. These programs are just another piece of how, together, we are making communities safer for LGBTQ young people.