Imagine you're walking down the street, minding your own business, when this joker pops up and offers you a free vacation. Well, if that joker happens to be comedian Bert Kreischer, you'd be wise to say "yes."
In the new Travel Channel series "Trip Flip," Kreischer (previously of "Bert the Conquerer") canvasses the streets of America looking for a random duo to take on a totally tricked out vacation. Everything the vacationers do on the show is a surprise to them, they just sit back, relax, and enjoy the ride.
We caught up with Kreischer and crew during filming for the New York City episode, as the group headed over to Tuesday morning's secret rendezvous.
"You'd be shocked how hard it is to find people," Kreischer told The Huffington Post. "From working in comedy, you learn how to size up a person -- I can look at someone and tell if they want to play or not."
It took Kreischer nearly two days to find willing participants in California. And when he finally picked up Tanya and Kirk at the Third Street Promenade in Santa Monica, it was actually the couple that spotted him first. Kirk had just finished up at the Foot Locker and wanted to take advantage of the free vacation being advertised by the TV guy at the mall.
"Tanya thought he was one of those crazy people who are usually on the Promenade," Kirk told us. "I saw [someone with] a Travel Channel notebook, so I knew it was legit."
It took some convincing on Kirk's part, but the two ended up jetting to New York where Kreischer and the crew had a few jam-packed days in store. And, it wasn't just your average trip to the Empire State Building.
First stop: Yankee Stadium. Some people may visit New York and take in a Yankees game, but who gets to spend the day at the stadium, meeting the players, stepping out on the diamond, chowing on steak at the ballpark and getting to hold Babe Ruth's bat? And, that was just day one. Day two's secret rendezvous turned out to be a visit to the set of "Good Morning America" for a backstage tour, followed by a Central Park bike ride with anchor Sam Champion. Later the couple got even more backstage access, this time at a Broadway musical, plus drinks with actor Willie Garson and too many other things to list.
Kreischer even admits to some selfish motivations when laying out the itinerary. For better or for worse, he quips, his fingerprints are on all the episodes. Like the trip to Carnegie Deli he was craving, which prompted the crew to squeeze in a visit to the iconic NYC restaurant. He also shared a desire to visit the Russian Bath House, which was still in production limbo. Guess we will have to watch the episode to see if they ever made it!
"Trip Flip" premieres Thursday at 9:00 p.m. Eastern on the Travel Channel.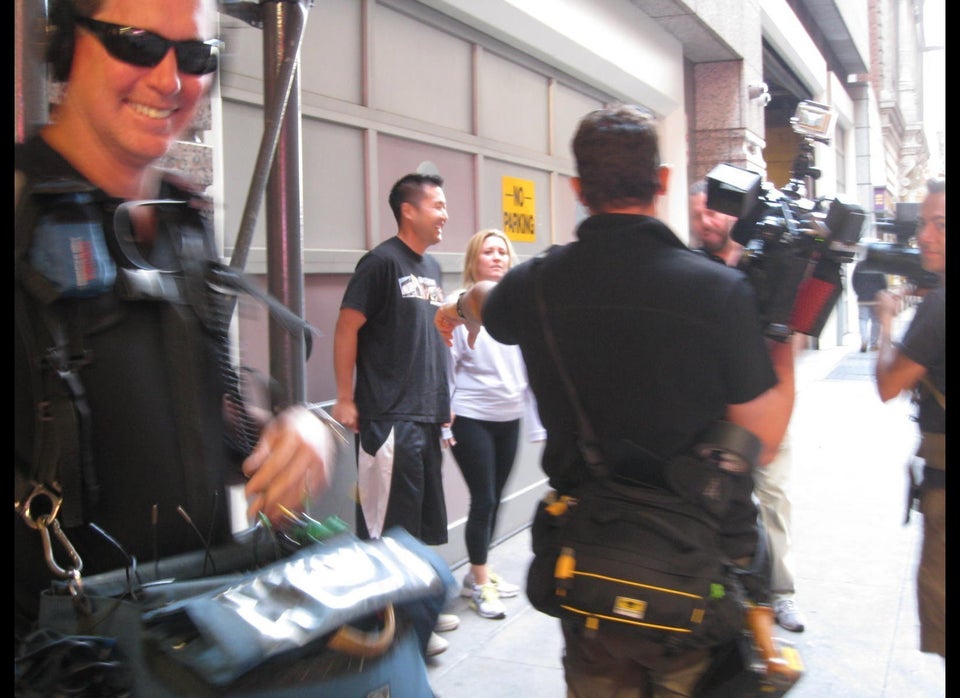 On The Set Of 'Trip Flip'