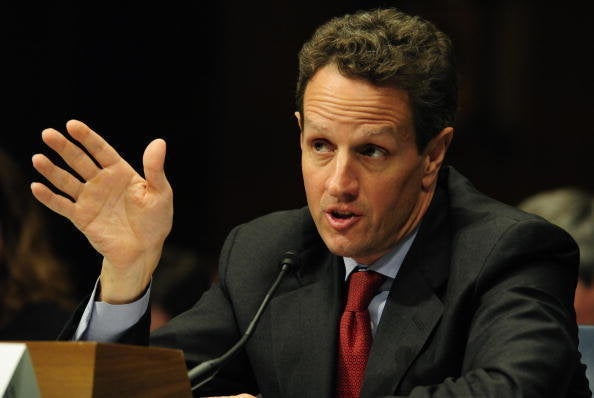 The financial plan announced today by Treasury Secretary Timothy Geithner appears to have accomplished, through a backdoor path, one of the top priorities of Wall Street bankers: ending so-called 'mark-to-market' accounting rules that many economists consider essential.
The debate over mark-to-market bubbled over into the White House over the last several weeks, said a source familiar with those discussions, with competing factions debating whether to abolish, keep or modify the requirement for the accounting practice.
(Mark-to-market accounting requires banks to value assets at current market prices, rather than by historical purchase price.)
Now, economists say, it appears that Wall Street has won out. Geithner's plan would give a federal guarantee to toxic assets. That guarantee increases their value, mitigating the relevance of mark-to-market.
"If the assets have an unlimited federal guarantee they cannot be impaired, so there is no need to recognize losses under existing accounting rules," said William Black, a senior banking regulator during the savings and loan crisis. Black is a former senior deputy chief Counsel with Office of Thrift Supervision and deputy director of the National Commission on Financial Institution Reform, Recovery and Enforcement.
Economists Dean Baker and James Galbraith said they concur with Black's analysis that the federal guarantees make mark-to-market less relevant. But even with the federal guarantee, assets could theoretically be considered to be worth less, which could bring the teeth of mark-to-market accounting back into play.
Mark-to-market accounting requires banks to value assets at current market prices. When assets are illiquid - unable to be sold - it's difficult to value them with clarity. Reducing those assets' values on banks' books has led to deep write-downs over the past year. The banks argue that the problem lies with the frozen market, not with the actual asset, and that they shouldn't be penalized with a write-down. Abolishing mark-to-market would improve the outlook of a bank's balance sheet without changing any of the underlying fundamentals. In other words, the bank would physically have no more or no fewer assets but would value itself at a higher dollar amount.
Abolishing mark-to-market was a top priority for House Republicans during the fall bailout debate and remains a key issue for the GOP.
Financial Services Committee Chairman Barney Frank (D-Mass.) "is not in favor of abandoning mark-to-market, and furthermore believes it would be a mistake for Congress to dictate accounting rules," said his spokesman Steven W. Adamske. Sen. Chris Dodd (D-Conn.), chairman of banking committee, earlier floated modifying the practice.
Black thinks the federal guarantees are a mistake. "By keeping bad management in place, hiding losses, and bailing out risk capital (the shareholders and subordinated debt holders that are supposed to receive nothing if the bank becomes insolvent) we cause hundreds of billions of dollars of unnecessary expenses to the taxpayers, maintain and intensify the perverse incentives on asset management/disposal, and create perverse incentives likely to produce future crises by maximizing moral hazard," he said in an e-mail.
But propping up banks on the backs of taxpayers is both costly and unnecessary, according to Nobel Prize-winning economist Joseph Stiglitz. "There is no equity, in some sense, in these banks, and so the whole objective here is to hide what is really going on," he said in an interview with Talking Points Memo.
"Banks have failed over and over again in the history of America, in the history of capitalism, and it's unfortunately an all-too-frequent event," Stiglitz noted, arguing that bankruptcy is the economically prudent path for such firms. "It has to be managed well... we have in some examples under the previous administration, the way the Lehman Bros was handled was an example of it being done badly. But, for instance, to mention some recent examples, Washington Mutual went into bankruptcy, a number of banks went into bankruptcy... and obviously some people lost some money, but it didn't lead to a fundamental systemic problem."
Calling all HuffPost superfans!
Sign up for membership to become a founding member and help shape HuffPost's next chapter