Having just come from the StreamMarket 2016 conference for the original online video industry, here is my list of shifts and trends in the digital creation and consumption arena and how it relates to traditional TV content, as discussed with digital execs from around the world. Some of this list will seem obvious and some will seem surprising.
1. Over The Top devices that allow for Netflix and other digital channels to exist alongside regular TV channels, like Apple TV, have forever changed the market place, as has on-demand streaming. Amazon and Netflix will pull the same weight as traditional networks going forward.
2. Content might be king, but branded content is what is really shaping the landscape and as more companies look to digital advertising and content creation to replace or work in tandem with linear television ads. More and more agencies are working on branded content that seamlessly interweaves product into the entertainment: either a product in a storyline of a scripted series or a product that is actually creating the excitement for a short YouTube video. Brands are major players in driving content and technology is creating the path to the consumer.
3. There isn't a respected company for tracking digital consumption and most of the metrics for videos are self-reported by the companies that produce the content. Thus, it is estimated that many of the numbers rating how well content performs is fraudulent, perhaps exaggerated up to 50%, according to Laura Martin, Senior Analyst of Entertainment and Internet at Needham & Company. This is one of the reasons that TV advertising, with its consistent rating system, remains attractive.
4. Despite a huge tick upwards in digital advertising, YouTube accounts for only 3 billion of the ad revenue in at 75 billion industry, per independent analyst Laura Martin.
5. Internet Influencers are getting large brand deals, often larger than major celebs with quotes of up to $3-5k per product per minute according to some agents. Considered the new celebs, influencers like Mikey Murphy are now turning up in TV series and movies, in an odd convergence of old and new platforms.
6. Facebook Live is expected to change everything. Live streaming, which was noteworthy before but not getting huge numbers given that appointment based viewing is out of favor, is expected to make large inroads, and Facebook is expected to dominate Periscope.
7. Snapchat remains an integral part of most media companies' strategy to connect with an audience. (I found this surprising.) The movie, Sickhouse, from Indigenous Media, was just released on this platform.
8. Desktop viewing is all but gone. Viewing on tablets is stable. Mobile viewing is up dramatically, per independent analyst Laura Martin. Her chart is below.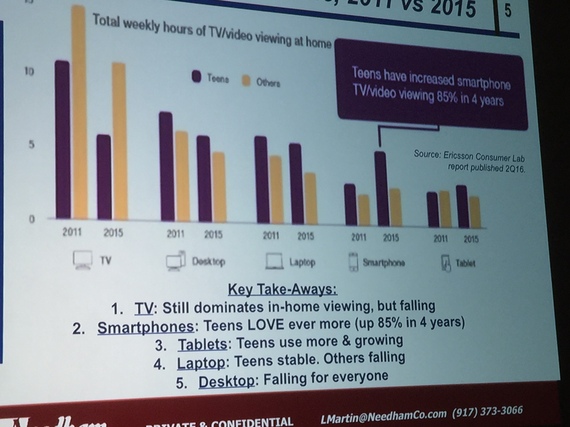 9. Most digital content creators feel that there is a need to create for the specific platform: Facebook vs. Snapchat vs. YouTube, and that it isn't enough to just edit one piece of content for all. Content + distribution + technology is the winning ticket.
10. As cable company subscriptions tank and unbundle, a re-bundling will occur. People will feel that they have too many choices and will go back to their trusted four or five favorite options, forming new bundles.
11. Esports, organized multi-player video game competitions, particularly between professional players before large crows, will continue to grow, as will the desire for Millennials to watch each other on-line do social media.
12. Media companies and influencers, which can be one and the same, are being rewarded for close relationships to the consumer and content that has cultural value. "Specific, niche content is universal and the sub-cultural is global," noted Antoine Disle of production house, Rockzeline.
13. Experience remains a key attractor for engaging audiences.
14. Fans and influencers work symbiotically on trust. As more influencers taking big bucks brand deals, it is unclear how this will unfold.
15. VR, VR, VR. With horrible buzz-word annoyance, virtually reality (VR) technology and content was dropped into almost every discussion and presentation. Given the cost and immediate hurdles of being tiring on the eye, how this will work long term has yet to be determined.
How the future will unfold is anyone's guess. Here are my predictions, some already forming: there will be a larger convergence of old and new media with more influencers crossing over to TV in an effort to bring younger audiences to the dying distribution platform. Many of the same practices will return, but with new players. For example, bundling of digital stream packages will emerge and Amazon, Netflix and YouTube Red will become the new TV stations, with more digital platforms becoming subscription based. Amazon will integrate product sales into their streaming and VR is still a long ways away.
Calling all HuffPost superfans!
Sign up for membership to become a founding member and help shape HuffPost's next chapter