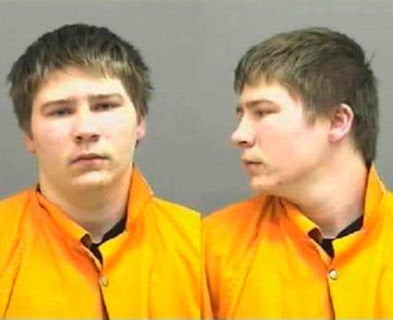 In a case featured in Netflix's documentary series "Making a Murderer," a federal court ruled Friday that Brendan Dassey's confession in the 2005 Wisconsin murder of Teresa Halbach was not coerced and denied him a new trial.
The 4-3 ruling from the U.S 7th Circuit Court of Appeals overturns a lower court's decision to overturn his conviction last year, ruling that Dassey's confession was involuntary.
Dassey was accused of helping his uncle rape and kill the 25-year-old photographer and dispose of her body in Manitowoc County, Wisconsin, when he was 16. The teen was sentenced to life in prison.
The appellate court acknowledged that some factors "tend to support" the finding that Dassey's confession was not voluntary ― "his youth, his limited intellectual ability, some suggestions by the interrogators, their broad assurances to a vulnerable suspect that honesty would produce leniency, and inconsistencies in Dassey's confession," the majority opinion, written by Judge David Hamilton, says.
But the court, based in Chicago, also said that "many other factors" pointed toward a finding that the confession was voluntary. Dassey, the court wrote, spoke with the interrogators "freely, after receiving and understanding Miranda warnings, and with his mother's consent." They said that the interrogation took place "in a comfortable setting, without any physical coercion or intimidation, without even raised voices, and over a relatively brief time." Further, the judges argue that Dassey provided "many of the most damning details himself in response to open‐ended questions" and that on a number of occasions "he resisted the interrogators' strong suggestions on particular details," the majority opinion reads.
However, the dissenting opinion from Chief Judge Diane Wood, who was joined by judges Ilena Rovner and Ann Williams, characterizes the majority's rejection of Dassey's petition for a new trial as a "travesty of justice."
"Psychological coercion, questions to which the police furnished the answers, and ghoulish games of '20 Questions,' in which Brendan Dassey guessed over and over again before he landed on the 'correct story' (i.e., the one the police wanted), led to the 'confession' that furnished the only serious evidence supporting his murder conviction in the Wisconsin court," Wood's blistering dissent reads. "His confession was coerced, and thus it should not have been admitted into evidence. Dassey will spend the rest of his life in prison because of the injustice this court has decided to leave unredressed."
Rovner also blasted the majority's ruling in her dissent.
"No reasonable state court, knowing what we now know about coercive interrogation techniques and viewing Dassey's interrogation in light of his age, intellectual deficits, and manipulability, could possibly have concluded that Dassey's confession was voluntarily given," she wrote. "His confession was not voluntary and his conviction should not stand, and yet an impaired teenager has been sentenced to life in prison. I view this as a profound miscarriage of justice."
In the documentary, Dassey appeared as a sympathetic character who seemed to have been coerced by investigators during his follow-up interviews. He was sentenced in 2007 on first-degree murder and second-degree sexual assault charges after he told detectives that he helped his uncle rape and kill Halbach.
Dassey's uncle, Steven Avery, who was convicted of sexual assault and attempted murder in 1985 but exonerated after serving 18 years in prison, was convicted two years after his 2003 release in Halbach's murder.
Dassey was just 16 at the time of his police interview, and he wasn't accompanied by a lawyer or parent. According to court records, he has an IQ of 69 to 73. An IQ of 70 is often considered the threshold for intellectual disability. The tape shows police posing detailed questions to Dassey, who replies with short, often one-word answers.
Saul Kassin, a psychology professor at the John Jay College of Criminal Justice, told HuffPost in an earlier interview that this controversial style of police interrogation has led to numerous situations in which an innocent person ends up confessing to a crime. Teens are especially susceptible, he said. Kassin's work is also cited in the 7th Circuit dissent.
In an analysis of more than 2,000 cases going back to 1989, false confessions were found to be one of the causes of wrongful convictions, according to the National Registry of Exonerations. Overall, about 12 percent of the wrongful conviction cases they track included a false confession. For homicide cases specifically, it was about 21 percent.
In a petition for his release, Dassey argued, among other issues, that his confession had been coerced by law enforcement and that he was given false promises by investigators. In 2016, U.S. Magistrate Judge William Duffin agreed, stating that investigators claimed to "already know what happened" when they interrogated the teen. Duffin rendered Dassey's confession involuntary under the Fifth and 14th Amendments at the time and overturned Dassey's conviction.
A three-judge panel from the 7th Circuit later agreed with Duffin's ruling, but the state asked for a review by the full court, which is what led to Friday's ruling.
Laura Nirider and Steven Drizin, Dassey's lawyers, said in a joint statement to HuffPost that they are "profoundly disappointed" by the four judges' decision.
"Like many around the globe, we share the view of the three judges who wrote, in dissent, that today's ruling represents a 'profound miscarriage of justice,'" the pair said in an emailed statement. They also said they intend to continue to fight for Dassey, including through petitioning the U.S. Supreme Court to review Friday's ruling.
"Today's ruling contravenes a fundamental and time-honored position of the United States Supreme Court: interrogation tactics that may not be coercive when applied to adults are coercive when applied to children and the mentally impaired," Nirider and Drizin said. "Indeed, when such tactics are applied to vulnerable populations, the risk of false confession grows intolerably. Unfortunately, this time-worn lesson was ignored today by four judges in the case of Brendan Dassey."