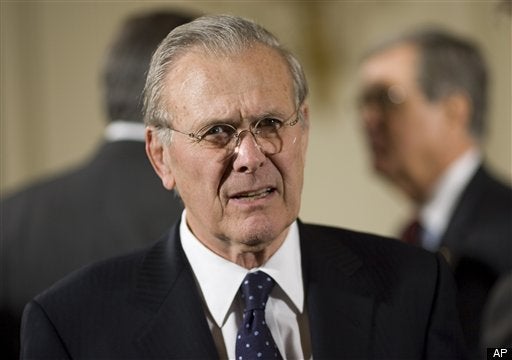 This week, New Trier High School in Winnetka released its "alumni Hall of Honor awards," where everyone from Rainn Wilson ("The Office") to former U.S. Secretary of Defense Donald Rumsfeld were lauded for their "inquiry, compassion and service." While some had concerns about those who were not honored (Rahm Emanuel, actress Ann-Margret), others were pretty upset about Rumsfeld's inclusion.
New Trier graduate Chad Topaz ('92) told Winnetka Talk that he was deeply disappointed in the school's decision to honor Rumsfeld, who he called an "architect of torture."
In a letter to New Trier, Topaz wrote: "Despite the glossy list of philanthropic activities in Rumsfeld's award citation, his career has done anything but serve community and humanity, and he has demonstrated a compassionless heart. His activities as an architect of torture of detainees in the United States' unjust Iraq war are anti-humanitarian, are despised around the globe, and have contributed to the degradation of our country's international standing."
"For someone who graduated from New Trier, it's kind of embarrassing for me to know that someone who took initiatives while he had power that had such negative consequences should be honored like that," Breida Martin, who graduated from New Trier in 2005, told HuffPost Chicago. "It's embarrassing not only for me as an alum, but for New Trier as a community."
Other high-profile honorees chosen by New Trier include Playboy executive Christie Hefner ('70), Nobel Prize-winning physicist Jack Steinberger ('38), former U.S. Ambassador Richard Williamson ('67), President of the Holocaust Memorial Foundation of Illinois Sam Harris ('54) and several others.
Winnetka Talks reports that the school stands by its decision to include Rumsfeld.
"Our honorees embody New Trier's mission to commit minds to inquiry, hearts to compassion and lives to the service of humanity," Susan Noyes, a former New Trier Board of Education member told the Pioneer Press. "Because not all the well-qualified nominees could be included in this first group, we are assured of outstanding honorees in future years, too."