Bright, subtle and with just the right splashes of color, "Trini" meets "N. 8th St", via the new Trinidadian themed Pearl's. Kicked to life by Fallon and John Seymour, the husband-wife duo behind Williamsburg's mainstay Pop's of Brooklyn, I found this isle-themed restaurant paying homage to traditional Trinidadian fare and the rich, fiery flavors of home-style cooking.
On one of the few cold, crisp and slightly overcast Saturdays back in December (as we remember, most of the Northeast was unseasonably mild during this past Christmas), John and Fallon doused open their new digs for a private tasting with myself and a few friends.
Entering the dimly lit but cozy venue, we were welcomed by the bright smile of Pearl's first lady herself, Fallon, and an island-inspired décor filled with coastal colors and vibrant beachside hues. Illuminated by a white fluorescent backdrop- a besprinkled a moonlit glow- and powering to life its refreshing Caribbean theme, the name "Pearl's" come script-written and mounted like a perfect canvas.
PHOTO GALLERY
Pearl's Williamsburg
With our eyes offset by a whirling wall of abstract waves, and embraced by staff that were just as amicable as they were intriguing, the mood set itself perfect for a hip afternoon lunch.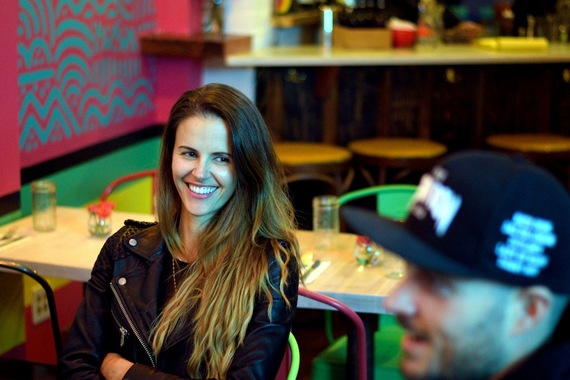 [Photo: An ode to Fallon's late grandmother, Pearl's theme pays homage to the traditional island cuisine that Fallon grew up cooking in San Fernando on Trinidad's southwest coast.]
Fallon Seymour, a former model and mother of 3, is excited to fuse her Trinidadian juices into the hipster-driven roots of Williamsburg's restaurant scene. It's truly a benefit to their other neighboring endeavors, as her husband John is also the main cat behind the growing Sweet Chick franchise, its main base only steps away on Bedford Ave.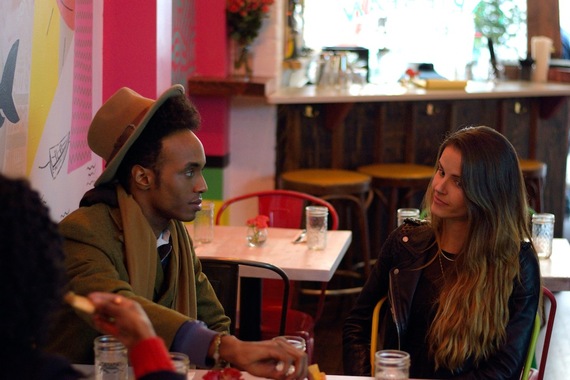 "And where exactly did Pearl's Trinidadian theme come from?" I initially asked Fallon in between bites of Calypso Guacamole and Vegetable Chips.
She paused and shot me a strange look, followed by a smile, "Well, I'm Trinidadian. You don't hear the accent?"
"I'm fair, but I'm 'Trini to de' bone." She added.
I hadn't noticed Fallon's accent at all. We were too absorbed into the restaurant's carnival of colors. With Trinidad as a melting pot of cultures, from Chinese, Syrian, African, and Indian descents, its diverse culture has clearly trickled down to its food style.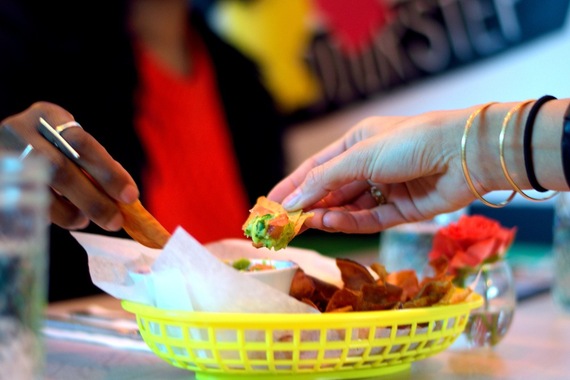 [Photo: Easy and traditional, Pearl's serve a classic mix of caribbean dishes such as the Calypso Guacamole and Vegetable Chips.]
Nestled seating continues through the main area of the restaurant, a space that transitions around the kitchen, and leads to an additional backyard dining domain. A luxury to the usual tight-lived, no space having venues in NYC, Pearl's brings an intimate homestyle spice for the winter, and a back yard that promises plenty of Trini style boozy brunch parties for Spring and Summer.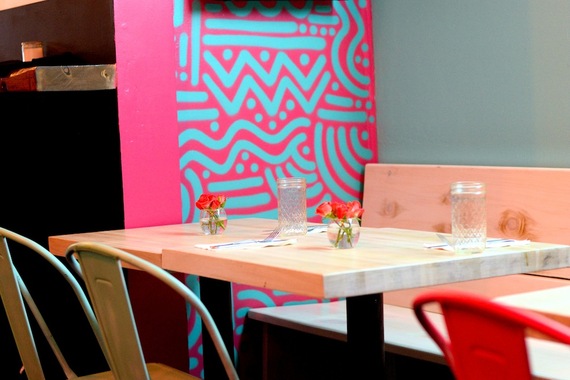 [Photo: Taking its cue from the menu, the new restaurant, Pearl's, is designed with a vibrant island-inspired décor filled with coastal colors and beachside hues.]
"I've always wanted to open up a restaurant, my grandmother "Pearl" taught me how to cook when I was as young as 4 years old. My earliest childhood memory was when I was standing on a stool in her kitchen rolling baked flying fish. So this is definitely an ode to her," Fallon declared.
"If she were still around, she'd definitely be happy and proud," Fallon assured us.
Dousing down traditional dishes that included Shark, Dumplings, Doubles, Jerk Chicken and Mango Chow, dining at Pearl's has allowed me to experience the truer side of an island that I've yet to step foot in.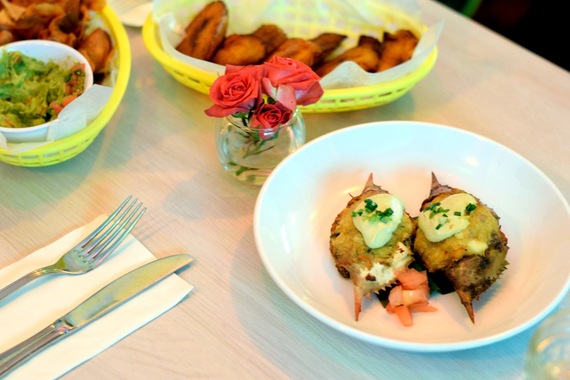 [Photo: Pearl's present's itself as a true homestyle experience, serving authentic delicacies that are perfect for the Caribbean eater.]
Personally, I can feel the spirit of an authentic Trini chow down sounding off at Pearl's. All in one safe, cross-cultural forkful.
REAL LIFE. REAL NEWS. REAL VOICES.
Help us tell more of the stories that matter from voices that too often remain unheard.