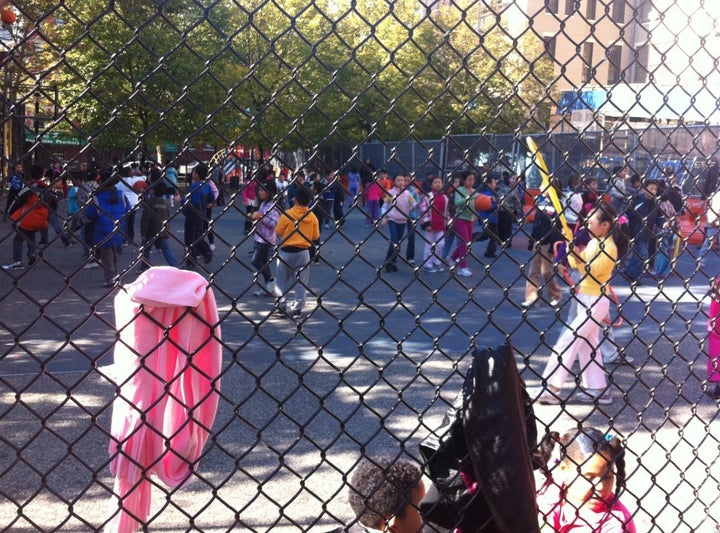 NEW YORK -- By the end of this year, Seung Lee, a science teacher at lower Manhattan's P.S. 1, expects to have spent $500 from his own pocket on school supplies.
"And that's a conservative estimate," said Lee, who has taught at P.S. 1 for nine years. "I'm afraid to tell my wife."
Lee's nine classes are exploding, some with 32 students. "Every desk is full. There's no space for anything," he said.
All this complicates the lab work he hoped to pursue. While his recent lesson on earthworms proceeded, he lost the ability to delve into the material. "With 32 kids, you spend a lot more time making sure everyone is doing it right, but not necessarily learning."
P.S. 1 is located in Chinatown, and serves many students who speak English as a second language. Over the last few years, though, its budget has been eroded to the point of harming kids, United Federation of Teachers President Michael Mulgrew argued outside the school on Tuesday.
"After three straight years of cuts, it's getting to the point where it's too much of a negative effect on the children," he said at the UFT press conference. "We are cut to the bone."
Mulgrew released the findings of a new UFT survey of 900 New York City schools that found P.S. 1's problems are shared citywide. According to the survey, three quarters of elementary schools, 61 percent of middle schools and 59 percent of high schools had increased class sizes. Slightly less than half of schools across the board reported having fewer teachers than in the previous year, with one quarter of those schools maintaining or increasing their student population.
"What we know is what we feared was happening," Mulgrew said. "Now, all 1 million of our students are ... having their education negatively affected by what has happened between the federal, state and city budgets."
In addition to budget cuts, all city agencies were recently warned that they would have to make a total of $2 billion cuts in aggregate for the next year.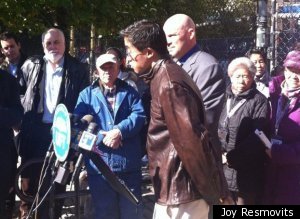 Science teacher Seung Lee describes the effects of budget cuts on P.S. 1 Tuesday.
The survey also comes shortly after the release of scores for the National Assessment of Educational Progress, a national exam that found that only New York state lost ground in fourth-grade math between 2009 and 2011.
These trends in New York City, with America's largest school system, are also evident throughout the recession-roiled country. According to the Center on Budget and Policy Priorities, at least 34 states have slashed their K-12 education budgets since 2008. Colorado reduced 2011 public school spending by five percent, or $260 million. Hawaii shortened the 2009-2010 school year by 17 days. Arizona slashed kindergarten funding in half and eliminated funding for books, computers and classroom supplies.
In Phoenix, Orange Wood Elementary fifth-grade teacher Stacy Darling said she feels the impact of the cuts. Though her school district implemented tax increases to try to plug budget holes, she said, "It still feels stressful."
Darling said her school's classes ballooned over the last few years. Two years ago, she had 37 kids in her class, and colleagues at her grade level had 36. It took six weeks before the district would hire a teacher to buffer the spill.
"In grades four to six, we have no one to help us, because they reallocated our reading specialists to do ELL [English language learner] work," Darling said. And like Lee, she estimates spending hundreds of her own dollars on school supplies. Just yesterday, she bought brown paper bags, wiggly eyes, string and ribbon so that her class could make little scarecrows. "Next, we're trying to make picture frames," she said.
In New York, according to the UFT survey, roughly one quarter of schools cited reduced special education services and English language learner support. About one quarter of schools also lost their art and music classes, while approximately the same amount of schools surveyed lost other programs, such as gym, AP classes and languages. More than half of all middle schools lost professional development, with 59 percent losing extracurriculars.
More than one third of schools cited having fewer textbooks, with I.S. 223 in Queens reporting that "we don't have enough textbooks for each child to have one." Two-thirds of schools reported having a diminished supply budget. P.S. 1's supply budget was nearly zero, with each teacher supplied only one oversized writing tablet. Overall, Mulgrew said, these cuts affect 91 percent of the city's students.
"If we have a fourth year of cuts, then we are all standing by, the elected officials at every level are saying, 'we're going to let children continue to suffer,'" Mulgrew said. "And that is just not acceptable."
Mulgrew said he timed his survey and news conference for November to get city and state officials riled up about constant cuts to education before the budget process begins in January.
"What we are hoping today is that all city, state and elected officials understand what these cuts are doing to the students," Mulgrew said.
While Mulgrew slammed politicians for cutting education funding, a city representative hit him back for keeping quiet on such matters in the past.
"We're glad Mr. Mulgrew now understands that budget cuts have a real impact on students, and we can only hope that this year, he makes a clear statement to Albany that they must not cut our education funding again," said Natalie Ravitz, a spokesperson for the New York City Department of Education. "Last year he stepped aside and remained silent, and the result was massive cuts in state and federal funding we couldn't fully cover, despite an additional $2 billion invested in education by the Mayor."
Jordan Howard contributed reporting.
Related
Popular in the Community