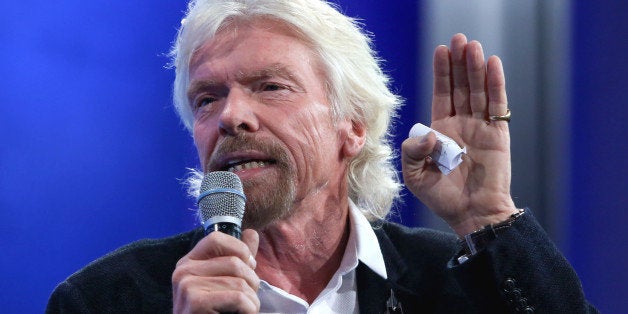 Should the United Nations support the decriminalization of drug use? This was the question raised last week by Richard Branson, a well-known entrepreneur and member of the Global Commission on Drug Policy, a private group. Branson made headlines with a claim that the main United Nations drug agency, the United Nations Office on Drugs and Crime (UNODC), was poised to call for governments to decriminalize the use and possession of all drugs. UNODC quickly denied the claims, suggesting a document circulated by Branson did not represent the body's official policy.
Branson's claim comes half a year before members of the United Nations will meet at a special session in New York to consider the state of global drug control efforts, known by its acronym UNGASS 2016. Our new policy report for the UN's own thinktank, the United Nations University (UNU), entitled What Comes After the War on Drugs? argues that UNGASS 2016 will largely confirm the current approach to drug control, despite growing calls for change. The report, based on a series of consultations involving over 50 Member States, 16 UN entities and 55 civil society organizations, considers the major political and policy trends leading into UNGASS 2016, and offers recommendations for strengthening global drug policy efforts at a time of deepening divisions.
Some states, particularly in the Americas, see UNGASS 2016 as an opportunity to rethink global drug control, turning a page on the War on Drugs. Other states in contrast see UNGASS 2016 as an opportunity to build flexibility into the current approach, and to adapt to new drugs and new trafficking patterns. States have not bridged this divide in preparing for UNGASS 2016, so What Comes After the War on Drugs? predicts that UNGASS 2016 will largely affirm the existing regime while adding positive references to the protection of public health and human rights.
We also predict support for the idea that states should have flexibility in implementing their existing drug control obligations. The United States, in particular, has championed the notion of flexibility since some U.S. states began to permit recreational use of cannabis -- something traditionally not permitted by the UN drug control system. The report cautions that states in different regions will use the notion of flexibility to do very different things. Some will certainly experiment with cannabis legalization and harm reduction, while others will see 'flexibility' as a green light for a more punitive approach, incarcerating users, forcing them into treatment options without sound medical supervision, and even executing drug traffickers. This will lead in time to policy fragmentation.
To avoid that outcome, Member States need to embed flexibility in a larger discussion of what actually works in drug policy, based on certain shared principles. We call this 'principled pluralism', and suggest that it is not currently achievable at the UN's global drug policy discussion forum in Vienna, the Commission on Narcotic Drugs, partly because most countries are not represented there. We argue that states should use the period until 2019, when a new UN Plan of Action is expected, to hold inclusive discussions in New York. This could take the recent process that designed the Sustainable Development Goals as a model, and be framed as an Open Working Group on Drug Policy, open to all states and to civil society, and guided by a Scientific Advisory Committee. This Open Working Group would work towards Global Drug Policy Goals, to be adopted in 2019. Creating shared goals has proven to be an effective way for states to define the key objectives of a regime, direct resources, and work towards a shared vision on a global issue. Global Drug Policy Goals would help ensure coherence in a drug control regime that is going to continue to be pulled in very different directions.
Whether or not that discussion happens in New York or Vienna, states should ensure that UNGASS 2016 explicitly recognizes four principles for future drug control discussions: 1) inclusiveness, 2) science-based decision-making, 3) protection of human rights, and 4) promoting human development. Without a commitment to these common principles, global drug control discussions risk rapid fragmentation in coming years.
But there are also more specific things that states could achieve at UNGASS 2016, and we offer five operational recommendations. First, states should use UNGASS 2016 to create a forum for sharing scientific evidence on the impacts of penal policy interventions. Second, UNGASS 2016 should establish an high-level, independent, expert commission to analyse global access to controlled medicines and report back on measures to improve it. Third, states should ask the Secretary-General to develop coherent, UN-system-wide guidance on drug treatment programming. Fourth, states should initiate a workstream in the UN Statistical Commission to develop new national statistics measuring the human development impacts of drugs and drug control policies. And fifth, states should ask the Secretary-General to develop UN-wide guidance on protection of human rights in drug programming.
In the end, the direction of global drug policy is up to Member States -- not UN agencies such as UNODC, or outside experts like Richard Branson. But unless all stakeholders work together to use UNGASS 2016 to take concrete steps, a golden opportunity to adapt the global drug control regime to present-day realities risks being squandered. If states, in particular, do not step up to the challenge, what comes after the War on Drugs may be, in some parts of the world, just as bad -- or even worse.
Dr. James Cockayne is Head of United Nations University's Office at the United Nations.
Ms Summer Walker manages United Nations University's global Drug Policy Project.
The United Nations University (UNU) is a think tank established by the UN General Assembly to contribute research to help resolve pressing global challenges.
Popular in the Community