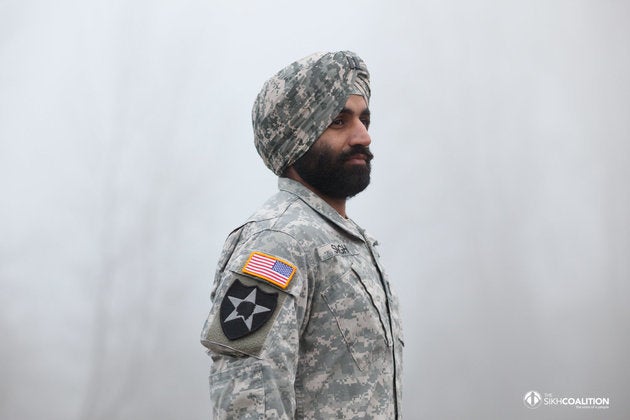 Just days into the new year, the U.S. Army has already handed a major victory to religious liberty advocates.
New Army regulations released on Tuesday state that servicemen and women at the brigade level will now be granted religious accommodations to wear turbans, beards, and hijabs in accordance with their faith. The move comes just days after the New York Police Department announced its decision to allow officers to wear turbans and grow beards for religious reasons.
"Based on the successful examples of Soldiers currently serving with these accommodations, I have determined that brigade-level commanders may approve requests for these accommodations," wrote Secretary of the Army Eric Fanning in a letter announcing the decision.
The new regulations will also permit religious bracelets, as well as dreadlocks for female soldiers.
Several lawsuits in recent years have pressured the Army to change its policies on grooming and dress. In April 2016, Bronze Star recipient Captain Simratpal Singh was granted a permanent accommodation to wear his turban and beard after he sued the military for discrimination. The ruling, however, applied only to Singh. A short video produced by Becket Law, one of the firms that has petitioned for Sikhs' right to serve in the military, explores the history of the Army's rulings on articles of faith:
Tuesday's decision ensures that brigade-level commanders will approve all requests for religious accommodations as long as the soldier demonstrates sincere faith observance and doing so would not present a "specific, concrete hazard."
The Army will continue testing for safety hazards posed by accommodating articles of faith, Fanning said. And for the time being, soldiers with religious accommodations to grow beards will be restricted from military schools and positions where proximity to toxic chemical agents may arise.
Military officers and religious liberty advocates celebrated the ruling, which could have far-reaching implications for people of faith serving in the Army.
"My turban and beard represent my commitment to pluralism and equality," said Major Kamaljeet Singh Kalsi, who was granted an accommodation in 2009. "This new policy change underscores the military's commitment to these values and is a sign of meaningful progress that will ensure the strength of our democracy."
Rep. Joe Crowley (D-N.Y.) applauded the Army's decision in a statement on his website, saying: "This is major progress, not just for the Sikh American community but for our nation's military. Sikh Americans love this country and want a fair chance to serve in our country on equal footing. Today's announcement will help do just that."
Related