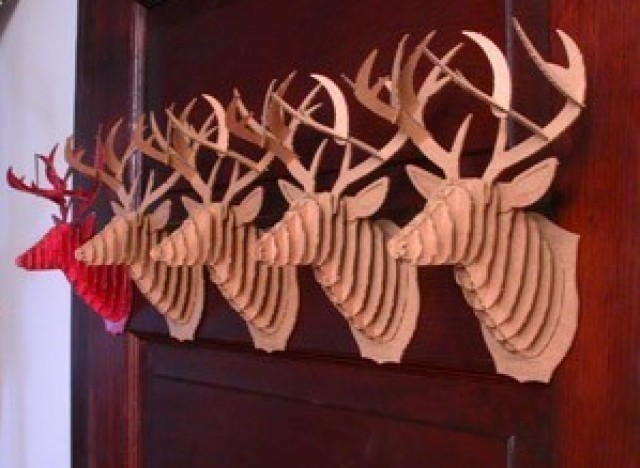 Etsy photo by Cardboard Safari
In Random Recast, I find new ways to look at the ordinary things in our lives. This week, it's all about cardboard.
Some home trends just feel old. That's not to say that they're bad or ugly. But looking at certain trends--those 'Keep Calm And Carry On' posters, wall decals, Louis Ghost chairs--will take you back in time to 2005.
Taxidermy is one of those trends.
I never got into the whole taxidermy thing because, well, I found it to be weird to mount dead animals in one's home. Animal head trophies kind of took off at bars for a while, but felt like a lame joke. Like, look at us, decorating like a Roosevelt. And once you've had a beer under the watchful gaze of a marble-eyed deer, the novelty wears off.
But this twist on the old trend did catch my eye. Etsy artisan Cardboard Safari creates "trophies" out of interlocked pieces of cardboard. The sculptural result is a lot more interesting than the real thing. I liked this particular photo (even though it prematurely reminds us of the holidays, I apologize for being part of the problem, not the solution) because it plays off of 'Rudolph The Red-Nosed Reindeer' with a red reindeer mixed in with a line-up of normal ones. Fun.
Related