Today's new Senate survey of interest comes from Washington, where the state's Elway Poll shows Democratic Senator Patty Murray leading Republican challenger Dino Rossi by a nine point margin (50% to 41%). The result is much better news for Murray than three other surveys conducted in late August and nudges Murray ahead of Rossi on our trend estimate by 3.7 percentage points (49.4% to 45.7%).
Does the new poll mean that Murray has gained ground in recent weeks, following a post August 17 primary "bump" for Rossi, (as our chart implies)? Not necessarily. What may be going on is a combination of timing and wide variation among pollsters that we have seen elsewhere this year: The most recent polls conducted using live interviewers show Murray doing better than those using an automated, recorded voice methodology.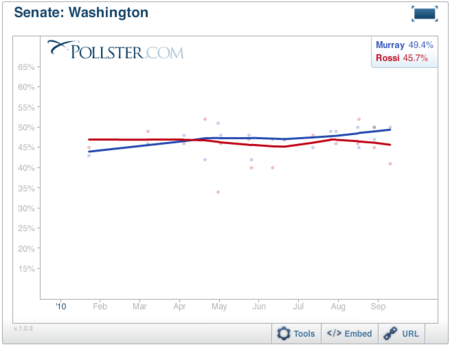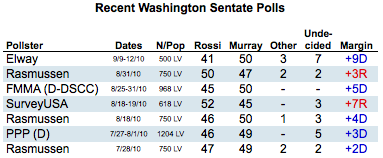 Less obvious from the table is that the variation in the recent polling is far greater for challenger Rossi's support (a 9 point range varying between 41% and 52%) than incumbent Murray's (a 5 point range varying between 45% and 50%). That pattern is similar to what we saw in last year's New Jersey governor's race, where surveys showed much less variation in support for incumbent Jon Corzine than challenger Chris Cristie, but where Christie's number was consistently higher on automated surveys. In New Jersey, the automated polls were closer to the final result.
In this case, the new Elway poll puts far more voters in the "other" and undecided categories (9% total) than the recent automated surveys (3%). That's a typical pattern, and hints that a harder push of the undecided may work against a Democratic incumbent like Murray, at least for now.
We will have to wait and see whether these pollster "house effects" persist into October, although it is also possible that the two automated surveys late August were an anomaly. Automated surveys earlier in the summer by Rasmussen and Public Policy Polling (PPP) showed Murray leading by a margin of 2 to 4 points that is more consistent with the 2.2 percentage point Murray margin we get (48.7% to 46.5%) when we use our chart's "smoothing" tool to pay less attention to recent variation and plot a smoother line.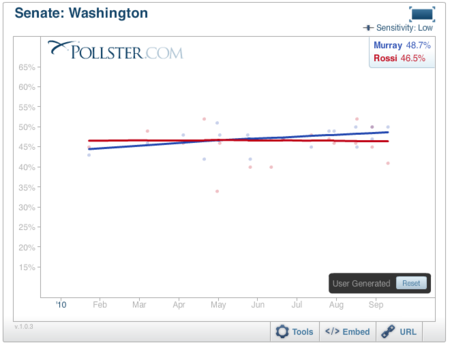 Either way, the Murray-Rossi race is shaping up to be one of the most competitive in the nation, so we will be watching it closely.
And this just in: Just as I'm about to post this update, my email inbox tells me that Quinnipiac University has released a new poll on the Connecticut Senate race showing Democrat Richard Blumenthal (no relation) leading Republican Linda McMahon by just six points. That margin is slightly closer than other recent polls in Connecticut.
Calling all HuffPost superfans!
Sign up for membership to become a founding member and help shape HuffPost's next chapter