While Isabella Huffington is visibly influenced by Yayoi Kusama, Jim Hodges, and the Pointillists, her inspirations reach deep into art history. She is enchanted by Indian tapestries, aboriginal art, and illuminated manuscripts. Witnessing the pouring of mandalas revealed a certain ideal of meditative concentration which she mirrors in creating her work.
A shy child, she was drawn to art as a way to retreat into her own world. One of her favored subjects, birds in flight, harkens back to this emotional origin. She is fascinated by the way flocks come together and break apart.
She fears we treat art as a luxury, and so it rarely reaches those who most need it. "There is a place in the world," she says, "just for beauty."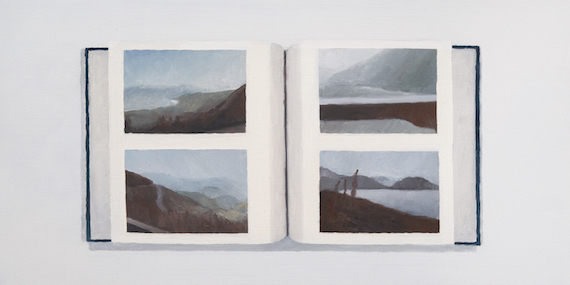 Cynthia Daignault, Phu Bai is All Right , 2013, Oil on linen,  Six parts: 12 x 24 inches each, Overall: 72 x 24 inches [Detail], Copyright Cynthia Daignault, Courtesy of the Artist.
Cynthia Daignault is interested in presence, memory, and vision. She often paints the natural world, or, more simply, light. Her influences include Beckett, Rothko and Morandi, whose essentialism, in its specificity, she admires.
After sitting before Monet's "Water Lilies" at L'Orangerie for hours, studying each stroke of paint, every individual color, she came back up into the Jardin des Tuileries, and felt the world had changed.
Whitman's poem, "Crossing Brooklyn Ferry", moved her deeply. He imagines every person who will stand in his place and see what he sees, seeking companionship in solitude. "No matter how many hours I spend by myself in the studio," she says, "I just don't want to be in this alone."
Attuned to the life of objects, Josephine Halvorson says they call out to her to be painted. She will finish a painting in a single sitting, but may spend years looking for a subject. Her practice centers on awareness, listening for what the object, once found, will reveal. "These are very active objects in the world," she says.
She paints old tools, weathered buildings, outdated machines, always attentive to how they work, why they are needed, and what role they play in the world. She is interested in history, time and mechanics, all of which can be found sunk into the sorts of things that filled her parents' Cape Cod blacksmith shop, where she spent countless hours as a child.
A self-proclaimed regional New England artist, she likens plein air painting to Thoreau's idea of farming as interpretive labor. Influenced by Roman frescoes and Chinese ink paintings, she is also taken with Manet's still lifes of flowers, made in his last months, when he could only work a few hours each day, seated, focused on what was directly before him.
Her work has been compared to trompe l'oeil, which she likes because it refuses allegory. The objects themselves are enough.
REAL LIFE. REAL NEWS. REAL VOICES.
Help us tell more of the stories that matter from voices that too often remain unheard.