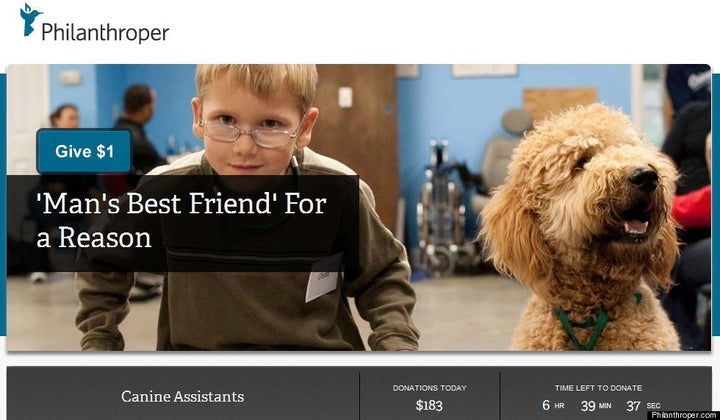 How far does a dollar go? Fledgling website, Philanthroper.com, wants to prove it can make all the difference for a nonprofit organization.
Exactly one week old, Philanthroper is a new idea in the constantly changing giving industry. The site, similar to well-known daily deal sites such as Groupon, uses featured deals to capture it's customers' attention.
Unlike other daily deal sites, Philanthroper is used solely for charitable purposes. Users can discover new causes without pressure -- the max daily donation for each user is just one buck, passed on through a one-click payment system.
The "deal of the day" features nonprofit organization from six categories: arts, education, animals, environment, human rights, and health, chosen from organizations with revenues of less than $1 million per year.
Ninety-nine percent of every dollar donated by philanthropists using Philanthroper goes directly to the featured nonprofit.
Mark Wilson, editor of tech site Gizmodo and founder of Philanthroper spoke with the Huffington Post about about his philanthropic new venture.
How did Philanthroper come about?
There's some misconception about my involvement with nonprofits. In reality, I'm pretty normal. I give money to my friends for walk-a-thons, big disasters, just like a lot of people do. But why don't people give every year, every month? Philanthroper stems from a really sincere self reflection. I thought of Philanthroper, and thought, I would use this.
A dollar is a powerful number. Look at the success of the dollar menu at McDonalds, look at the dollar store. It's a number that people can wrap their heads around, you'll never go broke giving a dollar.
What has been the response to Philanthroper from the nonprofit community?
Hundreds of nonprofits have already contacted us. We've been accepted by the industry. I worried that the nonprofits would be worried, that it would be an old boys club, and that they would be distrustful of what we are trying to do. But, we came across transparently enough and are now universally accepted.
How are featured nonprofits selected?
A compelling story is important. A nonprofit that's doing something a little different from other people.
Next, we look at their 990s (tax returns), we see how they're spending their money. Our standards are really universal with the rest of the industry, we are looking for people with really low overhead, no shady funding costs, that are diverse, with large boards, etc.
Then, if we're still enchanted, we reach out and talk to them. Ratings on charity sites, those are great, but there is nothing that quite replaces reaching out to the organization itself.
What's in future for Philanthroper?
I have never seen a site received like this, from Twitter to professional outlets. It's been an incredible week. I suspected the idea would work, now I know the idea is sticky and it's going to spread. Combing through the data from this week, repeat donations are very high -- leading the industry.
I don't doubt that one day, we can raise $100,000 a day even a million dollars a day. This was a market that was non-existent in this world two weeks ago.That's where I see us spreading and going...The money is one part of it, another part is the active group engaged, learning about a nonprofit a day.
Calling all HuffPost superfans!
Sign up for membership to become a founding member and help shape HuffPost's next chapter