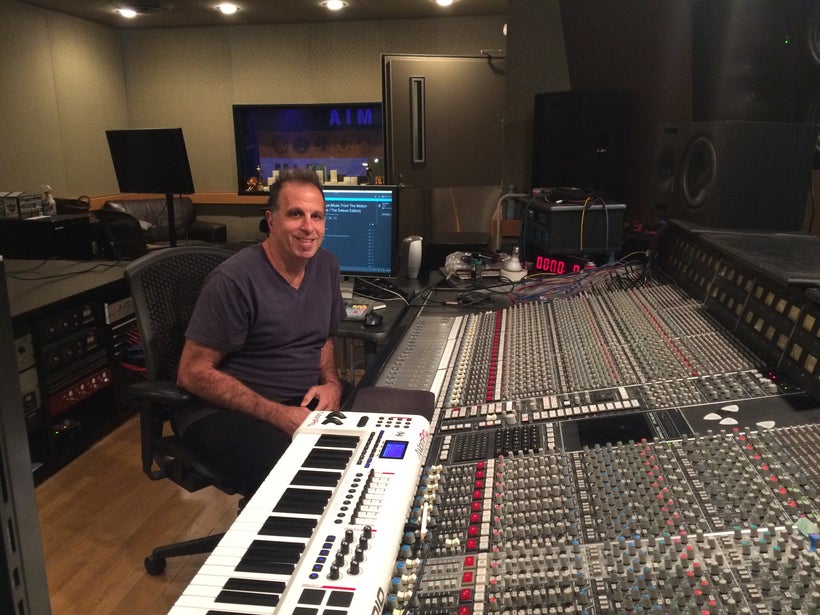 Turning 60, for Ira Antelis, presented a conundrum. He felt that he had a lot to say, more than he ever had to say, even as a straight-talking and loquacious music composer, record producer and studio owner. But fewer people were listening, he thought, and that simply didn't make sense.
"Strangely, I felt that my knowledge was devalued. People don't talk about being 60, and they don't feel great about it," says Antelis, who has written songs and scores for many major recording artists, composed four musicals and two solo piano albums, and directed music for Leo Burnett Advertising in Chicago. "I'm trying to give the age a voice."
He has just launched a website, 60.life, which he hopes will do just that. Antelis has created 14 musical pieces, each with a theme that is relevant to listeners in the age group--first love, loss of a parent, watching kids grow up, friendships. The intention is that visitors to the site will play the songs and be inspired to share thoughts about their lives, forming a sort of online journal.
"Everybody has music that changed them," says Antelis, who co-owns the music and sound design company, Jira Productions, in Chicago. "It was the Beatles for me. My hope is that people will hear the songs and share what they're feeling. It's a place to start."
Antelis has a wide-ranging musical vocabulary, having composed contemporary, classical and pop music during his 30 year career. The songs on 60.life draw from many genres and are performed by studio singers and musicians whom Antielis works with regularly. One piece, "Take Me Back to Brooklyn," is a childhood reminiscence. Another, "Alyson," remembers the whirlwind of first loves. "My Everything" celebrates children and how they impact lives. Each asks the listener questions..."How has raising children shaped you? Have your hopes and dreams changed over time? What anxieties do you have about your future in a relationship? They answer, in heartfelt and contemplative ways.
The site also features an eight-minute video in which people talk about their personal journeys--where they've been, where they're going, and how they are feeling about it all.
"Wherever I was, I know that that was exactly where I was supposed to be," says Kent Middleton, Executive Vice President/Executive Creative Director, Leo Burnett Advertising.
Others also mention the "potholes, twists and turns" of their paths to the present, as well as the commitment to a purposeful and happy future. Many talk about recognizing the team effort that helped them along their way, expressing gratitude for collaboration, friends and families.
"No one gets to be the way we are without our teachers, our villages," says Antelis.
For this enterprise, which took a year to complete, he enlisted the creative contributions of longstanding colleagues and even two childhood pals from Brooklyn, one of whom he ran into at an airport 10 years ago, after being out of touch for about 20. "Age and time really meant nothing--the memories and bond were still there. Brooklyn was a special place to grow up and I think instilled in all of us a true sense of lasting fellowship and love. I am blown away by Ira's passion and dedication to the 60 project. Such a gift to all of us, our families and kids," says Los Angeles photographer Andrew Bernstein, who met Antelis in the ninth grade at Hudde Junior High School.
In the site's opening essay, journalist Kevin Salwen, who met Bernstein in first grade and Antelis in junior high, views his new age as a springboard. He describes it as "a chance to build on experiences for a future full of possibility," while noting how the world has changed in so many ways.
For Antelis, part of the difference is how 60 seems to him, now living it, compared to how he viewed his parents at the same age. "People are having kids later, living and working longer. There's a lot more life in you now at this age than there was for our parents, though no one's really talking about it," he says. "Sixty is the new 60. Don't pretend it's 50. It's what it is, and it's still very much alive."
REAL LIFE. REAL NEWS. REAL VOICES.
Help us tell more of the stories that matter from voices that too often remain unheard.
This post was published on the now-closed HuffPost Contributor platform. Contributors control their own work and posted freely to our site. If you need to flag this entry as abusive,
send us an email
.