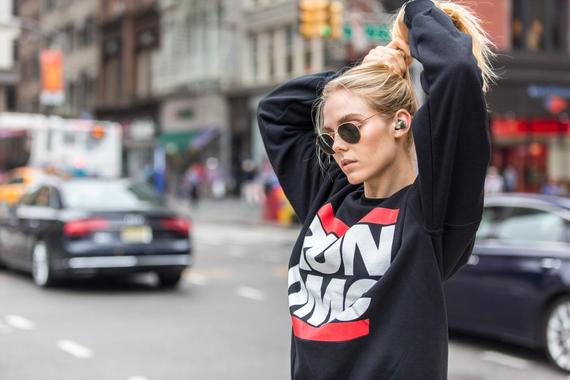 The design of wired earbuds has changed very little over the past few years. While there have been minor improvements made, they often go unnoticed to the untrained eye. Making their debut at Best Buys nationwide are Skybuds by Alpha Audiotronics, the latest in wireless earbuds. Though there are many on the market, few, if any, can rival these earbuds in sound quality, connectivity, and aesthetics. The secret behind their flawless connectivity is the use of seamless near-field magnetic induction, a technology that reigns supreme in the world of Bluetooth.
While the battery life is only at four hours, they come with a sleek and portable 'Skydock' which offers 24 hours of additional battery life and doubles as a carrying case. Ideal for the many people who are constantly in motion due to an active lifestyle, Skybuds can be used seamlessly between listening to music while working out and making important phone calls in your home, car or office. They are compatible with any Bluetooth enabled device across all operating systems and include a digital microphone and on-device button controls allowing the user to cater their headphones to any situation.
Another aspect that makes these earbuds unique is their use of passive noise cancellation. This technology naturally reduces external ambient noise but still allows external sound to pass into the headphone, ideal for those who run or ride bikes in busy metropolises. While sometimes we want to escape from the noise of city life, there are times when complete noise cancellation can be a safety hazard. It is necessary to be aware of your surroundings in a place where cars, bicycles and pedestrians must coexist and our sight and hearing are our first lines of defense. This technology boasts a safe listening experience without sacrificing a rich, high-quality sound. Whether you are listening to the warm mids of voices on a podcast or the deep lows of your favorite bass music, Skybuds will properly deliver each tone into your cerebral cortex.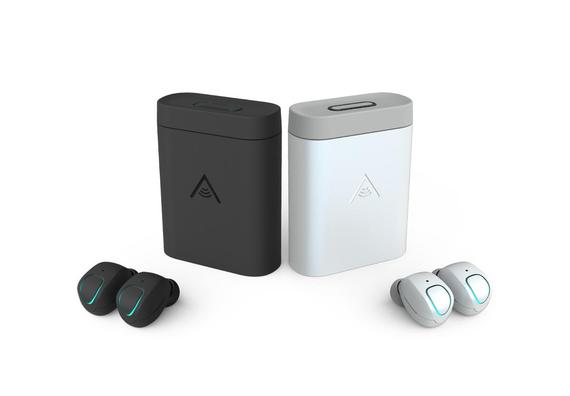 "Wireless earbuds have typically come with all kinds of tradeoffs and compromises," said Jamie Roberts Seltzer, CEO and co-founder, Alpha Audiotronics. "Skybuds let users have it all with powerful function, versatility and design, without sacrificing a premier listening experience. Every element of Skybuds' truly wireless earbuds was intentionally designed, so whether you're streaming music at the gym, joining a conference call or jumping on a plane, Skybuds fit wherever your life takes you. Our truly wireless technology not only show the evolution of audio experiences, but also the immersive and endless possibilities of combining audio and connectivity in your ear."
Designed to be as aesthetically pleasing as they are aurally pleasing, Skybuds come in three colors: nimbus, pearl and charcoal. They were engineered to sit comfortably within the intricate curves of the ear and were designed to look more like an accessory than a headphone. They also come with three fit tip options that provide an even more ergonomic fit. Though they have sound, connectivity, and comfort perfected, my initial concern with Skybuds was misplacing them, or worse, only one and forever being stuck listening to my music through one headphone. When I asked Seltzer in an interview about this problem, he explained that they formulated an app that can pinpoint the location of lost earbuds, something that I wish all the easy-to-lose things in my life came with.
It seems that most modern appliances and electronics are all making the leap toward wireless. From video game controllers to WiFi, life without cords has become the standard. We are no longer tethered to these items which creates a sort of freedom when using them. One thing I will not miss is the endless amount of time spent untangling headphones from the various objects found in the abyss of my purse. Skybuds have opened up a new way of enjoying sound and it is now hard to imagine it any other way.
Calling all HuffPost superfans!
Sign up for membership to become a founding member and help shape HuffPost's next chapter