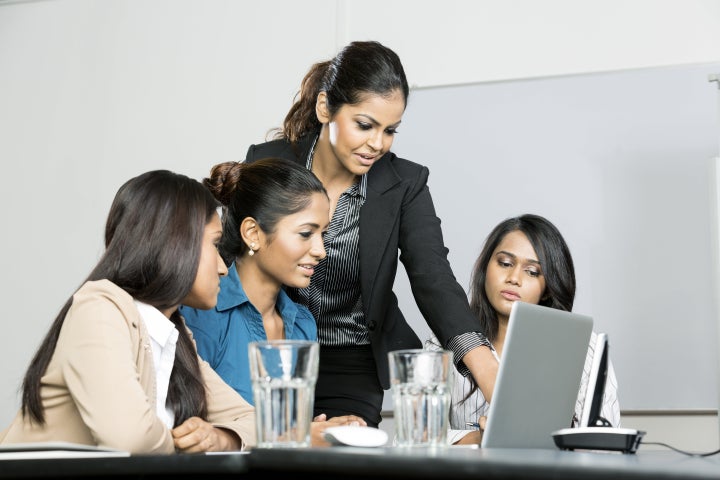 January always presents a fresh start to tackle old problems.
The Pew Report on Women and Leadership shows that the majority of the public sees little difference in the performance of women and men who hold top positions in business.
That's right. Women do just as good a job as men when given equal opportunities. In fact, women excel in areas such as mentoring; honesty and ethics; and fairness in providing pay and benefits, according to the Pew report, which is based on two nationwide surveys.
Despite all that, 43 percent of Americans agree that two things are holding women back: They are held to higher standards in top executive positions, and companies are just not ready to hire women leaders.
That's just sad. This isn't the 1960s, when I and other women were breaking our way into the all-men's club known as corporate America.
We should be doing better than this today.
Just as we make start-of-the-year resolutions to eat healthier or exercise more or treat our loved ones better, we -- both women and men -- need to resolve with this New Year to do more to address gender inequality in the workplace.
Here's how I would start:
We must insist that companies change their practices when it comes to promoting women into top jobs.
We should do this with our checkbooks, by refusing to buy the products -- or the stock -- of companies that don't treat women equally.
BE MORE PROACTIVE - AND CONFIDENT
Set a goal this year to be more proactive -- and confident you can make a change.
We can't make change happen by being shrinking violets or apologists. As Barri Rafferty, the (female!) CEO of Ketchum Inc. North America says, women need to carry themselves with more "swagger" and have the "confidence that men will listen and respond to." As she told the Dallas Morning News, she advises women who show up late for meetings, for instance, to enter with a bit of machismo -- and check their apologies at the door.
We also need to proactively set change in motion ourselves.
If your organization has a program to mentor or coach women and help them move up the managerial pipeline, get involved in it. Be a mentor and help women get promoted.
If your organization doesn't have such a program, convince your CEO to start one.
In order to get more women in executive ranks, we need to "fill the pipeline" with qualified women. We need to make sure that the pipeline is utilized. And we need to make sure top management, from the CEO down, are bought into the idea.
GET MEN ON BOARD
We always talk about how we need women to tackle the problem of gender inequality in corporate America. But as long as men control the top positions across so many of our companies, it's men that need to help drive change.
We need to make sure companies and their male CEOs and board members understand that gender equality is an operational benefit. Having more women in top positions make companies more appealing to a broader population. It encourages diversity and creativity in ideas and decision-making.
And as study after study has shown, having more women in top leadership positions helps a company's bottom-line. Those are results that any current CEO -- man or woman -- should want.
We also need to make sure our companies have specific gender equality goals -- just like financial goals.
Unless the current leaders in business -- men -- put more teeth into the process for ensuring gender equity in leadership teams, significant change will not happen. We need to get the current male leadership on board with change. We can do that by making sure male leaders know the bottom-line advantages to gender equality.
New Year's resolutions are never easy to keep. And as with any journey in life, we sometimes need to adjust our course as we go along in the months and years ahead.
But that doesn't mean that we should forget our goals or abandon our resolutions.
In 2015, we must continue to take steps in 2015 to improve gender equality in the workplace.
We must do this for ourselves, for our economy, for our society and for the daughters and granddaughters who will come after us.
REAL LIFE. REAL NEWS. REAL VOICES.
Help us tell more of the stories that matter from voices that too often remain unheard.