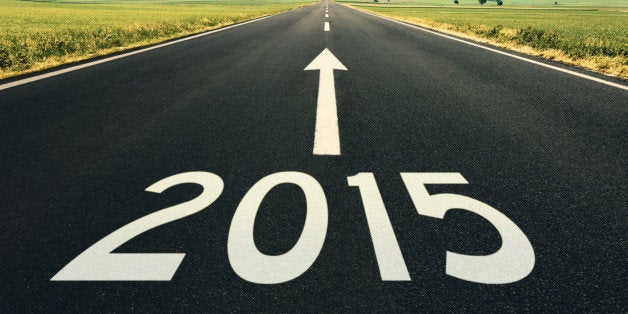 There is nothing like a fresh calendar year. A brand new 365 days. Aside of the excitement surrounding New Year's, rounding the corner to 2015 also brings a crop of new trends across life and style -- food, fashion, home and beauty. It kicks off with resort season as the holidays wind down and the last of celebrations take place, then goes full-course into spring and summer. It's no wonder this time of year is always exciting.
For the home, the trend of style in everything -- every room, every corner, every element of the house -- has been around for a few seasons and shows no signs of slowing this year. With the growth of home furnishings available online and affordable retailers to meet a broader range of demographics, fulfilling this trend is easier and more personal than ever. Watch for color explosion in the kitchen this year -- black which has been popular for a few years will return, but even more so will be color across the spectrum particularly in cabinets. Pastels, primary colors, bright, bold, you name it.
Color has already crossed into small kitchen appliances, and while it has turned up with the larger items like refrigerators and dishwashers, far more commonly seen is the popularity of large appliances mirroring the cabinet experience. It creates a smooth, streamlined and synergistic feel. Outside of the kitchen, the same attention to color continues -- walls in particular continue to see the play. The sky is truly the limit, so get creative with yours. With furniture and other furnishings, the same is on trend. Bright or rich jewel blue tones are particularly showing up, but pinks, yellows, greens, oranges, etc. are also in the mix again this year for furnishings. New exciting home decor retailers like Serena & Lily and Lulu & Georgia carry great items, while H&M and Zara both now offer online home options that are really great and budget friendly.
For fashion and style, 2015 is showing some fresh ideas and concepts as well. Sky-high wedges and flat forms in footwear are appearing across many designer collections in resort and spring previews this year, and if the shoe isn't one or the other, the wide heel is definitely making an arrival in all forms and formats. After years of tight-fitting skinny jeans and pants, skirts, etc. everything's loosening up in apparel -- soft, flowing fabrics, volume, etc. particularly in coats and pants. In jewelry, architectural and big statement continues to trend. For color, understated hues are here. They'll start to knock out pastels and big, pop colors in everything from apparel to footwear and handbags.
Lace details, floral prints, bows, gems and other trimmings will continue to play a popular role in accessories of all kinds -- handbags, shoes and jewelry. From a styling standpoint, outfits will have a slightly retro and late '70s vibe. Activewear is exploding in popularity -- nearly every brand now offers a collection. Newcomer retailers like Style Runner are growing for their chic curated offerings, but you can find great stuff virtually everywhere now including Net-a-Porter and H&M.
Beauty trends for the coming year are equally exciting. Black eyeliner was everywhere in runway shows and presentations, going beyond the traditional smokey and cat eye to all kinds of unique ideas and applications. With the eye making the stand, lip colors are corresponding accordingly. Nude tones and subtle colors are edging out bright reds, pinks and corals in this area. Matte foundation for spring and sun-kissed summer glow will provide the right base.
While the nails have been doing a lot of talking the past few years, nail art is starting to feel tired though don't expect detail on the digits to go anywhere just yet. For color, trends will likely follow the same route as the fashion hues -- muted tones, etc. A few new makeup favorites here include eyes, lips, face which boasts a great collection of affordable makeup items -- perfect for those who want to play with the year's makeup trends. The company is cruelty-free, which is also growing in popularity as mainstream beauty-lovers continue to buck unnecessary testing on animals.
A new year of fresh ideas doesn't leave out the foodie. Coconut cream is everywhere at the moment -- in desserts, dinners, you name it. There's also a trend of doing interesting things with items like rice and quinoa -- particularly in desserts. Upstart companies in the food category are continuing to boom and grow in popularity. Justin's nut butters, Mighty Rice, Fork in the Road meats, and so many others. You can find them at stores like Whole Foods or online with a bit of search by item or ingredient.
Cider beer is the drink lately, particularly from upstart and artisan brands. Colorado is home to a bunch of really good creators of this trendy item, but you can find many other types and tastes across the spectrum. Tea is always a popular item -- ginger tea is the 'it' item of the moment here. It's got a bit of a kick yet packs great benefits to the body. In coffee, there's been a huge boom in new coffee makers. Stumptown, from Portland, is a popular player in this arena.