So, you over indulged this holiday season. You've got a pooch. Your jeans are tight. You have discernible muffin top. Here's a tip: Don't hide out in sweats. Here are five tried and true styling tricks to slyly mask your post-holiday gut.
Tip #1
CAMOUFLAGE CLOTHING: Walk to your closet and think about non-binding pieces that will comfortably drape over your bulging belly. Look for loose pieces like tunic tops, button downs, wrap dresses and empire waist tops
TIP #2
STRETCHY BOTTOMS: Leggings are the most forgiving bottom. Soft, expansive and slimming, a black legging will impart a lean silhouette when paired with a top with volume. Another option is a jean with four-way stretch or compression.
TIP #3
TEST DRIVE SHAPEWEAR: By reconfiguring the old school girdle, these microfiber bulge busters compress excess body flab to deliver a sleeker you. Wearing compression underwear or a tank top under your clothing can whittle a thick waist, trim thighs, mash muffin top and smooth miscellaneous lumps and bumps.
TIP #4
COMPRESSION CLOTHING: Ready -to -wear clothing (meaning non-innerwear) like dresses, skirts, jeans and leggings have tapped into shapewear technology. The result is garments that can tame a protruding stomach, shape thighs and shave 10 pounds from a silhouette.
TIP #5
STRATEGICALLY PLACED ACCESSORIES: After getting dressed, take five minutes to "lean out" your silhouette with accessories. A dangly eye catching scarf will slyly cover your bloated belly. And create verticality which will make you look longer and leaner. Long earrings will elongate your neck and visually draw attention (away from your butt) to your face. An easy-to-wear ankle bootie will lengthen your leg and-literally-lift you out of the frump and dumps.
Voila! A sleeker, slimmer you.

P.S. Hotshot nutritionist Lauren Slayton's new book The Little Book of Thin serves up a bevy of user friendly weight loss and workout tips to get and stay trim.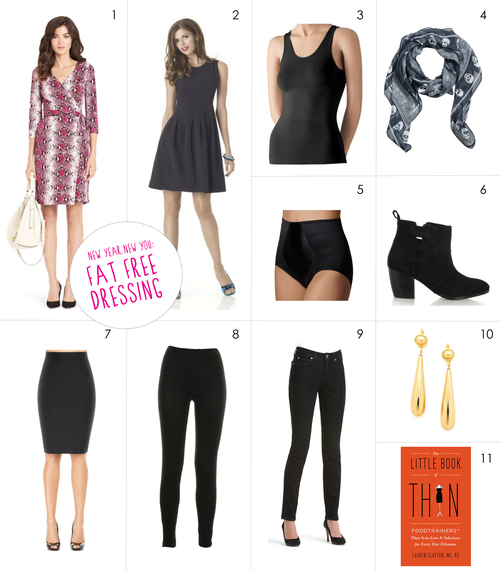 Popular in the Community