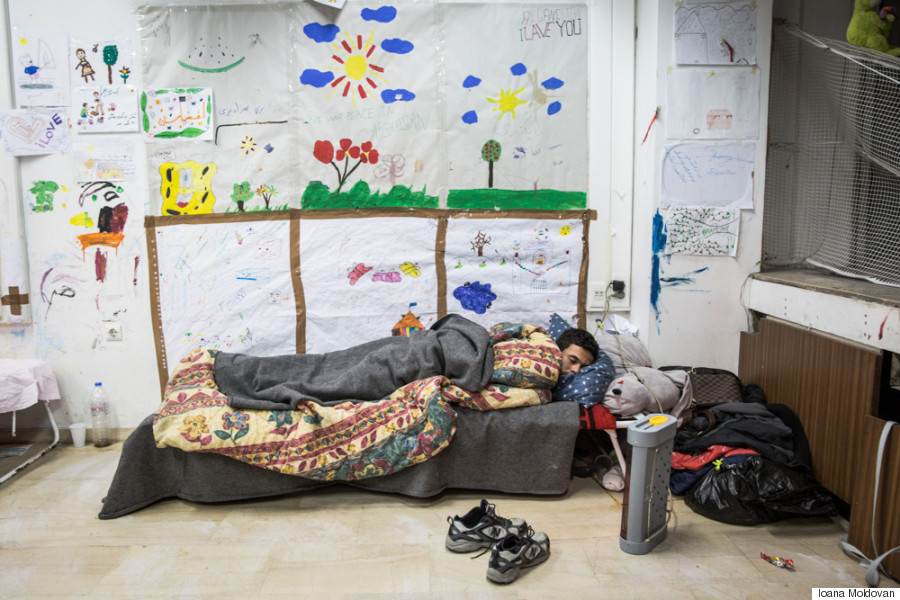 ATHENS, Greece -- The clock strikes midnight on New Year's Eve, and the room on the ground floor of this former tax administration building is filled with people chatting and laughing. Persian dance music on YouTube blasts from the speakers of the laptop sitting on a table, surrounded by cookies and glasses.
Mehdi's* eyes are stuck on his mobile phone. He stands out in the crowd, hardly a smile on his face. He waits for news from his family. He hasn't spoken to them in four days.
As Balkan border crossings closed for refugees not coming from Syria, Iraq or Afghanistan, many others found themselves stuck in Greece. They are the unwanted who got to spend the new year in Athens, and some found refuge in this building.
Mehdi is from Tehran. Back home he faces an eight-month jail time sentence for installing satellite dishes.
"I had two jobs. One was selling rice in the grand bazaar, the other one is illegal only in my country," Mehdi says.
After the intelligence services raided his home for the third time, he decided to take his family and leave Iran. From Greece they tried to cross the border to Macedonia with fake documents pretending they were Afghans. His wife, daughter and son managed to pass and are now in Germany. Mehdi was rejected and sent back to Athens. His fingers keep touching the screen of his mobile phone. The fingertips on his right hand are abnormally curbed. They were broken by Iranian police, Mehdi says.
For more than 10 days now, Mehdi has been a regular at "Notara." That's the name the former administration building goes by these days. It comes from its address, 26 Notara Street, in Athens' graffiti-daubed neighborhood, Exarchia. Exarchia is somewhat of an independent republic within the Greek capital, home to anarchists and leftists. It is almost impossible to find a clean centimeter on its buildings' walls that does not carry a political slogan or drawing. Even more impossible is to see policemen patrolling the area. They would get beaten up and their cars would get torched, say locals.
It is here that some of the refugees found a home in a building squatted by anarchists on Notara Street. It hosts around 110 to 130 people, but newcomers arrive every day and now very few of them manage to move forward on their journey further West. Most of them are from Iran. There are also Syrian and Afghan refugees who either have problems with their documents or ran out of money and are waiting for a transfer from their relatives back home. Others still are Moroccans and Algerians.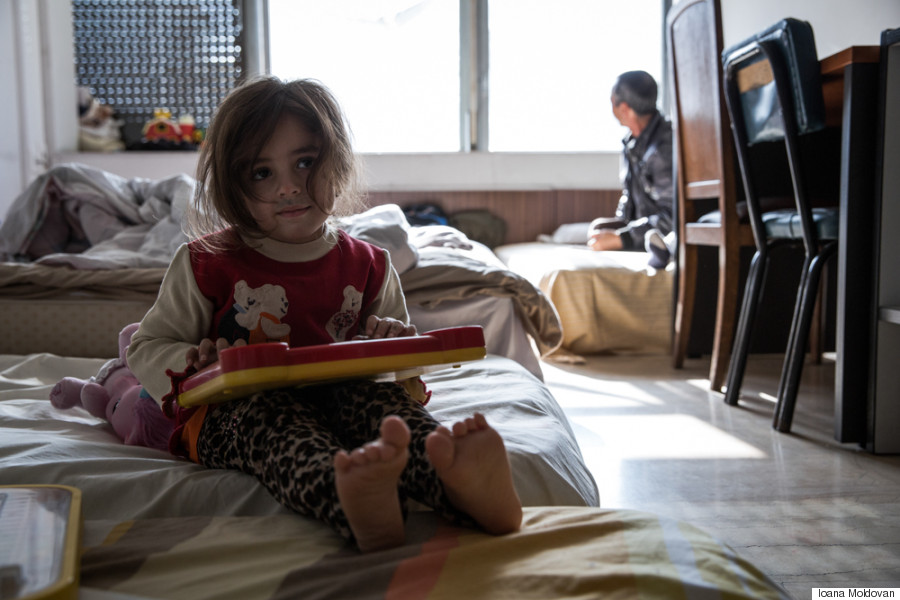 Mohamed, 42, from Afghanistan and his daughter in their room at Notara solidarity center.
"I met a guy at a kiosk, I think it was one of the anarchists," Jalal, a 54-year-old man from Iran says. "He took pity on me, gave me some money for the cab and a piece of paper with the address to this place."
The guy at the kiosk wrote "Notara 6" on the note, so the taxi took Jalal there. Another man took the Iranian to the right address. That was 20 days ago. Jalal tried to cross into Macedonia two times since then. Each time he got sent back to Athens and ended up again in the squatted building. Now, he helps around Notara, doing some cleaning and helping with translation. Between 1976 and 1982 he lived in the United Kingdom. He left the country in the wake of immigration reformation. He would like to go back now.
"I left my spirit in England," Jalal says.
It is hard not to notice Jalal around Notara. Grey-haired, wearing his green lozenged sweater, he is always doing something. He's upstairs mopping the floor on one of the building's four stories, then he's downstairs at the entrance helping bring in supplies.
The news about the existence of this place spread by word of mouth. Some of Notara's residents often go to Victoria Square, where refugees still sleep in the freezing winter air, to see if they can find relatives and friends and bring them here. Iman, 31, and his 6-year-old daughter Hadis, came to Notara one week ago.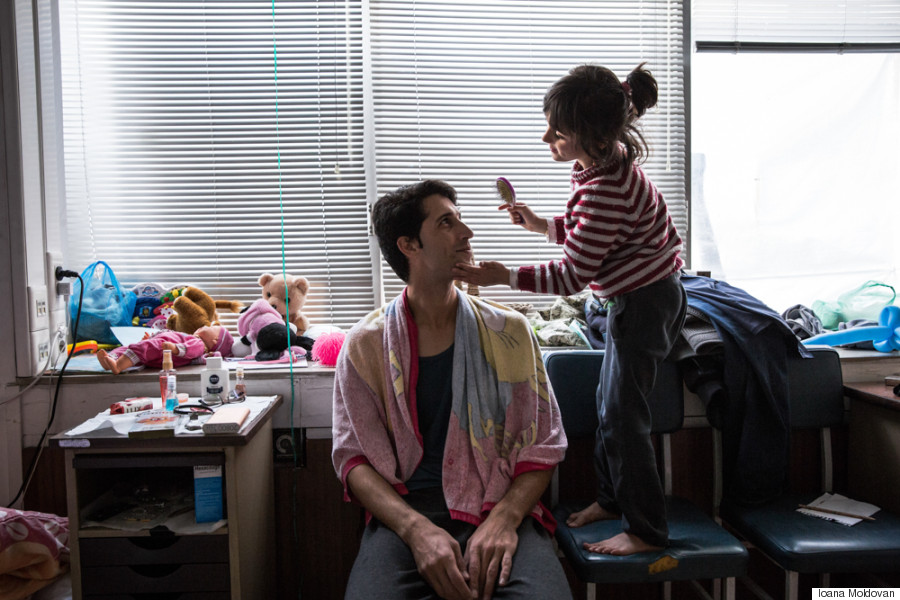 Hadis, 6, brushing her father's hair on New Year's Eve in their bedroom in Notara.
"I found out about it in church. A friend from Iran who has been living in Greece for 15 years told me to come to Notara," Iman says.
The family left Iran because they are Christians and freedom of religious expression is just one of the human rights not granted in Iran. They arrived in Greece one month ago. The borders closing changed Iman's plans. He wanted to go to Finland where his sister lives. Now, he is going to apply for asylum in Greece. He wants his daughter to go to school, but he just doesn't know where or how.
Hadis is brushing her father's hair, this year's last rays of sun illuminating their improvised bedroom. They sleep on a large mattress on top of wooden pallets in one of the offices where taxes were previously collected. Plush toys and a plastic doll guard the window sill. An electric heater keeps them warm. In Iran, for Nowruz, marking the equinox and the beginning of the year in the Persian calendar, families go to visit other families. Iman wants to celebrate New Year's like Europeans now, so they are planning to go to Victoria or Syntagma Square at midnight.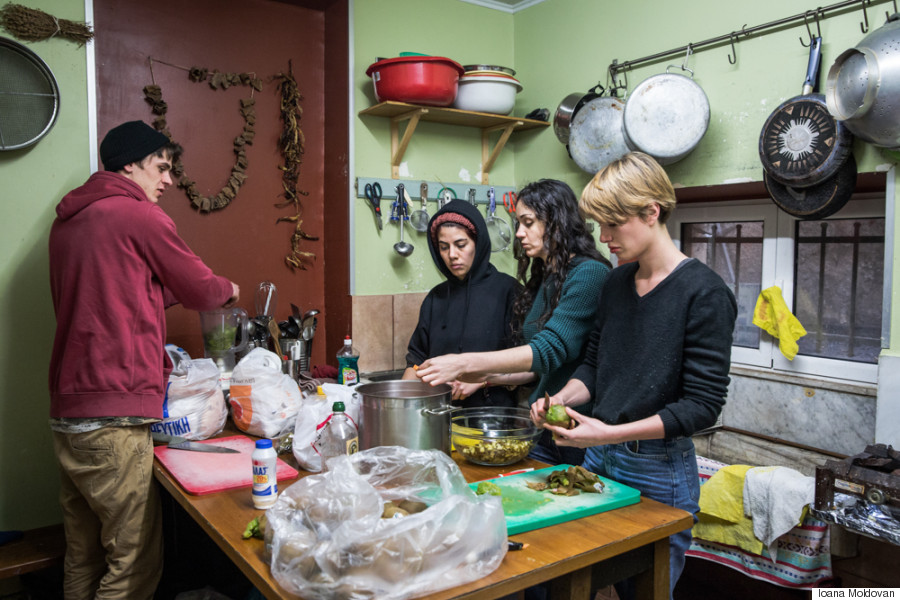 Nina (center right) and other volunteers cooking for refugees on New Year's Eve.
Steam coming out the boiling pots fills the air in the little green-painted kitchen. Nina, a 34- year-old with long, dark hair, is cooking olive salad from an Iranian recipe. She and other volunteers came from across Europe to cook for refugees in Athens. Nina's parents were Iranian political refugees that moved to Sweden when she was 12. She went to London to study politics and stayed there. Nina, Max and Zaid, two other volunteers, all came from England by bus to get involved in the solidarity movement.
The kitchen, established in a squatted house on one small alley leading to Exarchia Square, is run by EL CHEf, a food collective established by activists in 2008. Its original purpose was to feed the local homeless and the hungry, but with the growing number of refugees in Greece, the focus has shifted.
Nina and her friends borrow the kitchen from EL CHEf when they want to cook for refugees. The dish tonight is special -- it's New Year's -- and preparing it has its funny moments. Like when the British recipe for mayonnaise is in pints and the Greek measuring can is in liters.
"Convert it on Internet." Zaid finds the solution and pulls out his smartphone.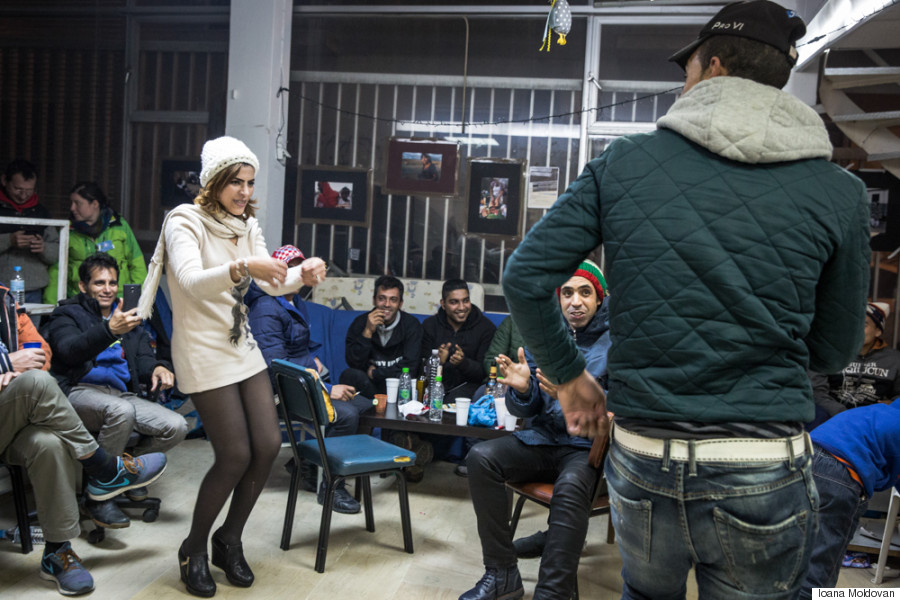 Small New Year's party for refugees in the Notara center in Athens.
Wall to wall with the kitchen is the migrants social center, Steki Metanaston. Steki in Greek means a place where you go often, where you feel safe. Nasim sits in his office on the first floor, smoking Marlboro Lights and drinking coffee from the café across the alley. Despite seven smoking ban laws, Exarchia is the place where you can smoke anywhere. The small office is crowded by a large filing cabinet and a desk with printers. Posters cover the walls. One belongs to the Boats4People organization and says "Freedom not Frontex."
Nasim is from Afghanistan. He came to Greece 15 years ago, long before the current refugee crisis. He crossed from Turkey by boat. Nasim did not want to stay in Greece, but he could not go anywhere else. Now, he loves it here.
"Greece does not have a heavy European culture. There's a little chaos and nothing is perfect. I love it," he says.
He did not become a Greek citizen, did not care for that and having an Afghan passport still makes him miss a lot of flights due to security controls, he sourly jokes.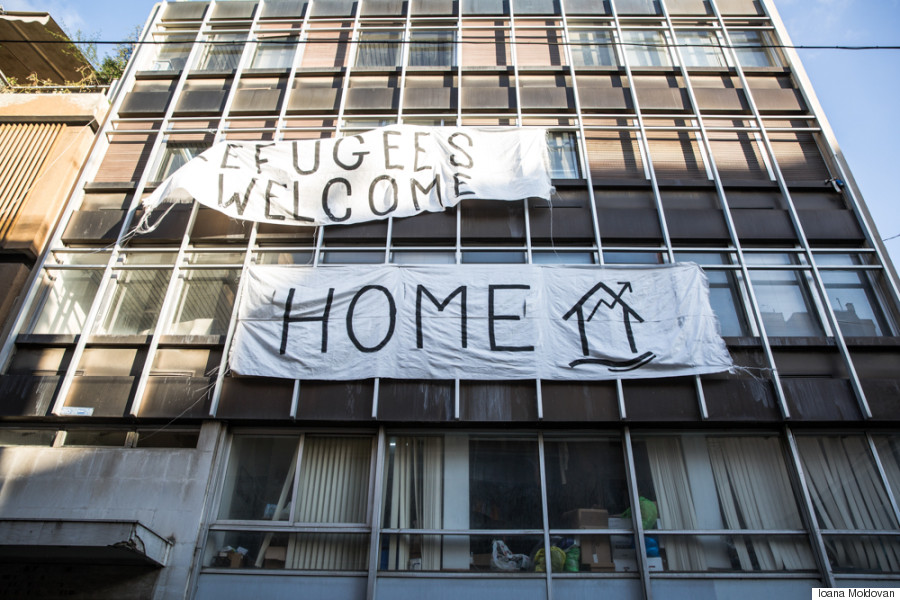 Banner welcoming refugees is hanging on the façade of the Notara center.
Nasim is part of Diktyo, the Network for Social Support to Immigrants and Refugees. It was created in March 1995, in a period when mass immigration towards Greece was starting, mainly from the Balkan countries.
"This initiative is not about charity," Nasim says. "It is about politicalizing the solidarity. We need to make demands. We have to put pressure on the government for better conditions for refugees, for better asylum for those who would want to stay."
In the network, a refugee or a migrant can find legal and general advice on social rights, help in cases of bureaucracy, illegal detentions or deportation, lessons of Greek language and computer skills. In the social center, they organize meetings that gather people from different countries and cultures. They can discuss and communicate.
"It's a sort of laboratory," Nasim says, "one that practices acceptance. Maybe we cannot change a law, but we can change the way we connect to people around us."
After the summer, a lot of refugees did not have a place to stay. Many of them did not want to stay in the refugee camps and were sleeping on the streets of Athens. Victoria Square became a transit center for the refugees and an open market for smugglers. Activists came with the idea to squat some houses to give shelter to refugees. According to Nasim, there are over 4,000 empty buildings in Athens. That's how Notara solidarity center came to exist in September, and the former tax administration building, now boasting a huge banner stating "Refugees welcome," became a temporary home for refugees in Athens.
"The ministry came to cut the electricity in Notara," Nasim remembers. "But we [the activists] made some noise, so they came to reconnect."
The lights go out at 00:00 in Notara. People gathered at the ground floor of the solidarity center start applauding. It's 2016. They don't know what the new year has in store for them, but refugees, volunteers and activists hug, shake hands and wish each other "A Happy New Year." The atmosphere is close to festive. There's even some dancing for a short moment.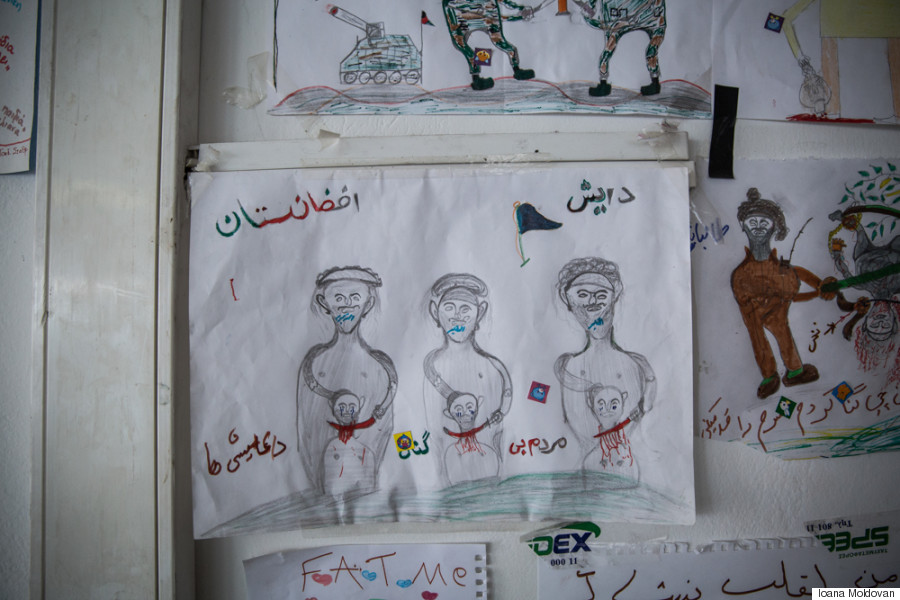 Children's drawings on the walls in Notara.
Children roam around the room riding plastic horses or playing ball. Their current happy times are in deep contrast with some of their drawings on the walls of Notara. Their crayons sketched beheadings, beatings and blood, a testimony to the terrible life they try to leave behind.
Mohamed's little daughter had color stains on her face the whole day. She is constantly looking for someone to play with. Mohamed, 42, and his family are from Afghanistan. They arrived in Greece 35 days ago and cannot move forward because they have no money left. Until Mohamed's brother back home manages to send them some money, they are living in Notara. But as soon as the money comes they plan to move on towards Germany, where they have other relatives. At least for now, they are together, in a safe place.
Mehdi takes a folded piece of paper out of his jacket pocket. He keeps looking at it. It bears some text in Greek and a photo taken of him somewhere around Victoria Square. It is his fake Afghan document and probably the most expensive piece of paper he ever held. He just bought it this afternoon for 100 euros. It is the cheaper version one can buy. But if he doesn't get to cross, there's no refund. There are others that cost 200 euros. If they don't pass, refugees get 150 euros back. Mehdi plans to try again the first day of the new year. Once more, he will take the evening bus from Victoria Square, armed with a fake piece of paper and the little hope he has left to hold his family close again soon.
* Mehdi's name was changed to protect his identity.
Calling all HuffPost superfans!
Sign up for membership to become a founding member and help shape HuffPost's next chapter