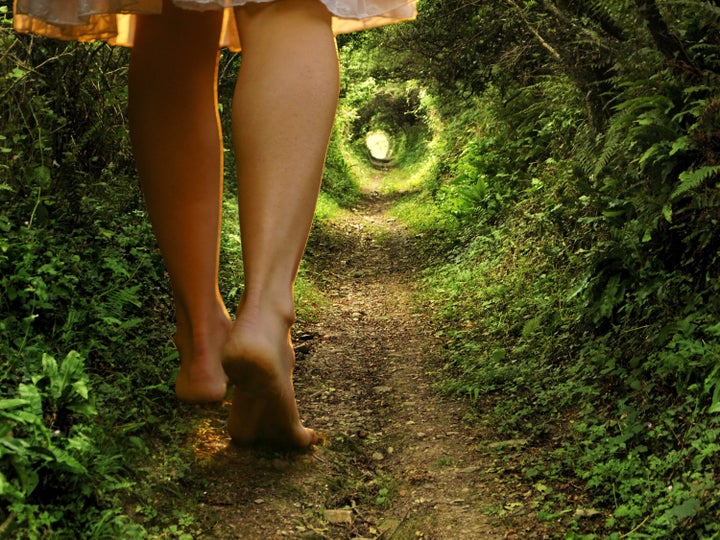 How well did 2012 turn out for you? How would you like to see 2013 go? What can you do about it? These are amongst my favorite questions, the answers to which can be best summed up with this simple paraphrasing from Alice in Wonderland and a debt of gratitude to the Cheshire Cat: If you don't know where you're going, any road will do. As Alice was wandering around Wonderland, confused about which way to go, the dialogue went this way:
"Would you tell me, please, which way I ought to go from here?" asked Alice.

"That depends a good deal on where you want to get to," said the cat.

"I don't much care where," said Alice.

"Then it doesn't matter which way you go," said the cat.

-- Lewis Carroll, Alice's Adventures in Wonderland
Alice went on to say that she would be happy as long as she got somewhere. Ever the wise master, the Cheshire Cat replied, "Oh, you're sure to do that... if you only walk long enough." It sure seems to me that there are plenty of people walking around hoping to get "somewhere" but without many wise cats to help out along the way.
Where the heck did this come from?
Do you ever find yourself grumbling something along the order of "Where the heck did this come from?" If so, then you may have come across a fork in the road somewhere along the line and, unsure about which road to take, either flipped a coin or let someone else do the choosing, all the while hoping you would wind up somewhere that you liked. Indeed, as the cat suggested to Alice, while you surely did wind up somewhere, you may also have come up a bit short on the part about hoping you would like the outcome.
Surely, you have experienced frustration or disappointment somewhere along the journey we call life, and you may have turned to someone else for advice, hoping they had something better to offer. I know I have, and I have learned there's a huge problem with most advice: While advice may have worked for the other person, that doesn't mean it will work for you.
Paradoxically, if this is you, then I have a bit of advice that works most every time. The advice? Just answer the following question: "Where would you like to go in your life?" While this may seem a bit like another wiseass wisecrack on first glance, the wisdom contained in the question can be profound.
First of all, the question does not suggest, imply or otherwise direct you anywhere other than right back inside of your own self -- after all, you are the one going through your life, and you are going to be the best judge of what it is that you want to experience.
Neither does the question suggest any kind of preferred route, best practice, or specific next steps -- it simply asks you to consider what it is that you value. Notice the "what you value" piece is hidden a bit from view. "Where would you like to go in your life?" asks you to dig a little deeper than the next job, promotion, relationship or bank account. This simple little question is asking you to look deeper within and begin to assess the kinds of life experiences you have had to date -- the good, the bad and the indifferent -- and from there, to begin identifying which experiences are most meaningful to you.
I'll bet you won't have to think too long and hard in order to come up with something you really, really wanted in life, busted your chops to get, and then wound up wondering why the heck you wanted it in the first place. Sound familiar? I know this refrain has echoed in my life, and I'm pretty sure it's there for you as well.
The secret in all of this has less to do with getting it all right before you set out on your journey and more to do with paying attention to your experience along the way. You may start out thinking you want that promotion and start sacrificing things like family and friends so you can work even harder, ever longer to show that you're the person for the job. Even if you get the promotion, you may discover that all you wind up with is even more work to do, with even higher expectations about your performance.
However, if you look deeper into who you truly are, into what I call your Soul-Talk, you may start to realize that it wasn't the promotion that mattered as much as being recognized for your hard work, dedication or contribution. From there, you might begin to notice that your greater source of personal satisfaction has little to do with recognition from others and more to do with your own self-recognition and acknowledgment that comes from knowing you are making a contribution, that you are making a difference. And if you can make even a small difference in a way that matters to you, you may wind up gaining more value than any job title, pay raise, or level of authority could ever provide.
Some practical tips for greater clarity
So take some time to think about this time next year. What would you like to find yourself saying about how 2013 went for you? My advice (yup, advice) is to consider your answers in two columns: On the left-hand side, list what you would like to have accomplished (earn a certain income, land a new job, lose weight, etc.) and in the right-hand column, list what you would like to experience along the way (satisfaction, fulfillment, inner peace, greater loving, self-confidence, etc.)
The left-hand side may be the more familiar to you and certainly is the one that can be tracked with goals, projects and next actions. The right-had side may be more difficult to measure and yet may prove to more obvious and durable, even though it's on the "soft" side of the equation.
If you want to try a really simple experiment, take this one on for at least a week, preferably a month or more. When you find yourself ready for bed, ask yourself three simple questions:
Did I do anything today that caused me to feel bad about myself? If so, try forgiving yourself for having let yourself down.
Did I do anything today that caused me to feel good about myself? If so, simply acknowledge yourself, even right out loud. "Today I did this, which made me feel really good about who I am."
Based on what I observed about myself today, what would I like to do more of tomorrow? Let yourself go to sleep thinking about that bit of positive experience you had today while seeding for an even more positive experience tomorrow.
Next week, we will dig farther into this deceptively simple process, distinguishing between what happens to you and what you choose to do about it.
I would love to hear from you about your experience with this approach to life. What have you been able to accomplish or experience as a result of gaining more clarity about where you are headed in your life? Please do leave a comment here or drop me an email at Russell (at) russellbishop(dot)com.
PS: If you would like a deeper, more spiritually-focused experience of this approach to life, please join me for the first in a free, two-part tele-workshop series, The Power of Intention. Part I will be held on Wednesday, Jan. 16, 5:30 p.m. - 7 p.m. PST, and Part II will be held on Wednesday, Feb. 20, 5:30 p.m. - 7 p.m. PST. To register for Part 1, go to http://www.msia.org/info/tele23 and for Part 2, go to http://www.msia.org/info/tele24. Looking forward to having you join me!
For more by Russell Bishop, click here.
For more on GPS for the Soul, click here.
Russell Bishop is an educational psychologist, author, executive coach and management consultant based in Santa Barbara, Calif. You can learn more about my work by visiting my website at www.RussellBishop.com. You can contact me by e-mail at Russell (at) russellbishop (dot) com.