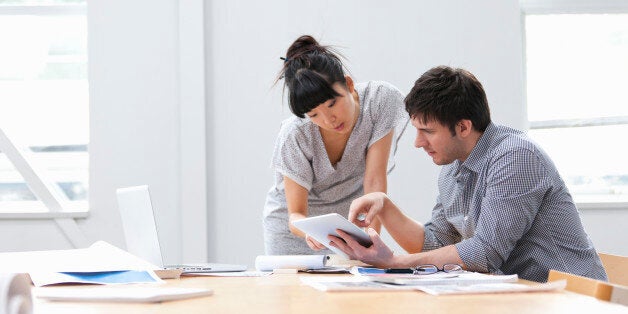 The ball has dropped, the bubbly has been popped, and people everywhere are trying to stumble their way through singing "Auld Lang Syne." Many will also have a list of resolutions in place -- promises they made to themselves that they hope to stick to after the alluring glow of self-improvement fades into the harsh reality of having to get up at 5 a.m. every morning to make it to the gym before work. But if you run a business, sticking to a set of New Year's resolutions that you've made for the company is actually a great idea because many of the best changes you can make for your business don't take up much time and don't require you to sip your coffee while running on a treadmill. To help you on the path towards business-betterment, here are the best resolutions to make and keep in 2014.
1. File all of that legal paperwork.
There is probably a hefty stack of half-filled LLC formation certificates, EIN applications, and trademark registration forms sitting on your desk. A lot of the small business owners I talk to are, at first, really gung-ho about finally forming an LLC or getting their business its own EIN number. After all, a LLC helps surround you, your family and your personal assets with a bubble of protection against your LLC's debts, and an EIN is needed the minute you decide to hire employees. But that initial enthusiasm soon peters out and they are stuck with a drawer full of time consuming paperwork they'd rather forget about than finish. Take advantage of the fresh start that comes with the New Year to make your way through that stack of paperwork and finish what you've started.
I run my own business, so I understand how easy it is to get comfortable running things a certain way, even if that way isn't exactly cost-effective anymore. Every year or so, it is important to go over the major operations of your business and figure out what can be updated to provide the best possible return on investment for your business. Are you spending a lot of money on radio marketing and not seeing much of a return? Try focusing more resources on social marketing, and analyze where your customers are spending most of their free time. Is IT spending weeks repairing failing computers? Maybe it's time to look into buying a new system. While these changes can have a hefty initial investment, they will pay out more in the long run than if you just kept to the old ways.
3. Get your estimated tax payment in.
Anyone that runs a small business is likely to pay a quarterly estimated tax since waiting until April to pay your taxes is a quick way to find yourself in serious debt to the IRS. This quarter's EST payment is due on January 15, so you only have about two weeks after the New Year begins to get through December's receipts and send in what you owe to the government. However, if, for example, you run a store and have a pile of Christmas-related shopping receipts to get through, the IRS does have an extension in place so you have until January 31 to pay what you owe.
And I don't just mean just by creating a Facebook account. Facebook is an important part of any solid social marketing campaign, but it isn't the only site out there. In fact, they recently changed their news feed algorithm, so it has become really difficult to market on Facebook without buying promoted posts. Studies are predicting a 44 percent decrease in organic reach from branded news feed posts, so now is the time to start looking at other social media sites. Play around with Google+, give Tumblr a shot, and see if you can crack into Pinterest. Remember that it takes time to build a social following, so don't give up if you aren't overnight Tumblr famous!
In a consumer survey sponsored by GE Capital Retail Bank, 81 percent of respondents said that they researched companies online before making any major purchase. That means that a majority of your potential customers have looked your business up online before buying anything. Take a look at your website -- does it present an image of your business that you want 81 percent of your potential market to see? Hopefully it does, but if it is starting to look a bit obsolete, consider giving your site a facelift. And, while you are at it, make sure you have a mobile version of your site available. While the National Small Business Association found that 82 percent of the small businesses it surveyed reported having a website, only 18 percent had a mobile version of that site, even though smartphone and tablet users are more likely to visit eCommerce sites than a desktop user.
2014 is poised to be a great year for small business. The economic recovery is expected to continue and, all in all, the world is looking a bit brighter. And while, come February, you may find yourself unable to crawl out of bed for another early morning trek to the gym, these five business resolutions are easy to follow and can really help your company stay up-to-date and ready to go in 2014.
Related