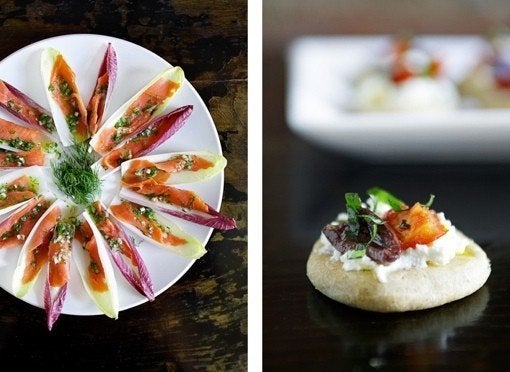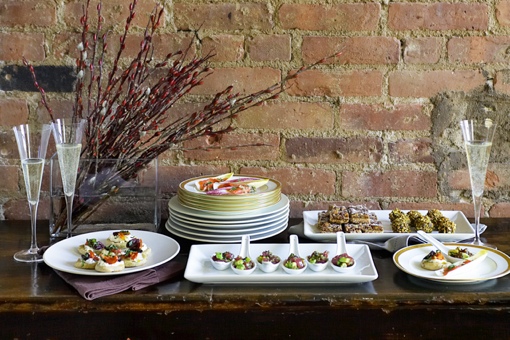 Photo by Signe Birck

I've never quite understood the hype of New Year's Eve. Why is there such pressure for the last night of the year to be epic on every level? Frankly, I've never liked going out on the 31st. The roads are bad, the restaurants are over-priced, and I don't really like the idea of ringing in the New Year with strangers. Maybe I'm getting old, but there's nowhere I'd rather be than at home, surrounded by good friends.
So this year -- if you're anything like me -- why not host your own impromptu party? No need to go crazy: invite a few friends, make up some tasty bites (recipes below!), and serve plenty of bubbly. Actually, make it even easier on yourself and have your friends each bring a bottle. That way you get to try different types of sparkling wine, and you won't break the bank ordering a case of Champagne. (For recommendations on my favorite budget bubblies, click here.)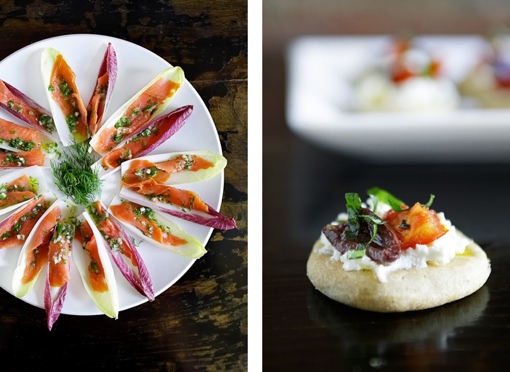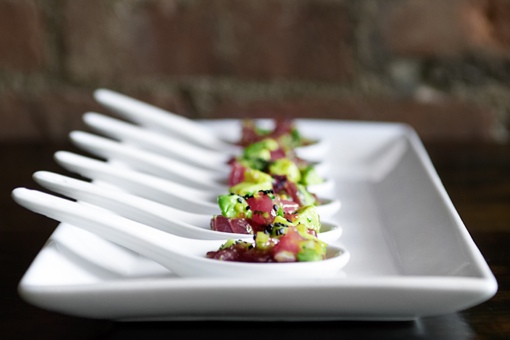 After all the heavy meals over the holidays, on New Year's Eve I love creating a bunch of elegant, brightly flavored, bite-size hors d'oeuvres. I like to do a mixture of sweet and savory bites -- ideally things that can be made in advance -- served cool or at room temperature. Though I love being in the kitchen, New Year's Eve is not the time to be slaving over a hot stove. It's a time to enjoy friends and celebrate 2012, with all its trials and triumphs, and toast the year to come.
For this year's celebration, I've created a festive menu with four savory and two sweet items. All of the recipes (click on the links below) include tips for making things ahead and time-saving shortcuts when possible.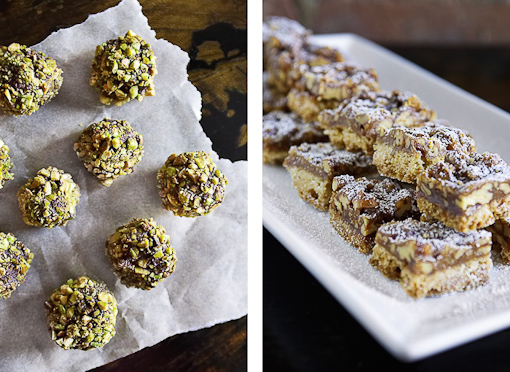 Photos by Signe Birck
The most important thing is to have a game plan. Do the shopping two days in advance, make desserts and prep other recipes one day in advance, and leave the day of to setting up and arranging platters. Also, on the day of the party, have a friend come an hour or two early to help with last minute stuff -- it will save your sanity and make the evening much more enjoyable. Which, ultimately, is the goal. There's no point hosting a New Year's Eve party unless you get to have as much fun as everybody else. Cheers!
TWO DAYS IN ADVANCE:
-Do the grocery shopping (minus the tuna)
-Make a music playlist
-Stock up on candles
-Buy a few bottles of bubbly
-Buy flutes or plastic cups
-Make sure to have a few non-alcoholic drink options
ONE DAY IN ADVANCE:
-Make the desserts
-Make the lemon vinaigrette
-Thaw the pizza dough (or make the dough if you plan to prepare it from scratch)
-Roast the tomatoes
-Clean the house
-Set out platters
MORNING OF:
-Buy sashimi-grade tuna
-Prepare flowers, if you are using any
-Set out platters, plates, napkins, flutes
-Chill the bubbly if you haven't already
-Wrap and stuff dates (chill until ready to use)
-Assemble endive spears (chill until ready to use)
A FEW HOURS BEFORE:
-Bake pizzette rounds (keep at room temp afterwards)
-Prepare tuna avocado poke (chill until ready to use)
-Last-minute cleaning
-Get yourself ready!
JUST BEFORE PARTY:
**Have a friend/spouse/boyfriend/girlfriend help with last-minute assembling!
-Bake the bacon-wrapped dates
-Place desserts on platters
-Assemble pizzas
-Drizzle endive spears with vinaigrette
-Place tuna avocado poke in spoons (just put out a few at a time so they stay chilled)
-Arrange dates on platter
-Pour yourself a glass of bubbly -- you deserve it!