At least nobody could complain that they weren't invited.
Maria Menounos married Keven Undergaro, her beau of about 20 years, during the live broadcast she was hosting of Fox's New Year's Eve special from Times Square in New York City. Her co-host, talk-show and game-show king Steve Harvey, officiated.
Menounos, 39, didn't let the icy temps prevent her from wearing a strapless gown under a sheer lace coat. Undergaro, 51, remained in a winter overcoat as the two shared a post-"I do" kiss that perhaps warmed them up for a few moments.
The idea for the on-air ceremony came just two weeks ago when a producer mentioned to Menounos that she had hoped for an on-air wedding of a different couple, unless she and Undergaro wanted to finally get hitched, People magazine reported. So Menounos texted Undergaro, and the ceremony became a go.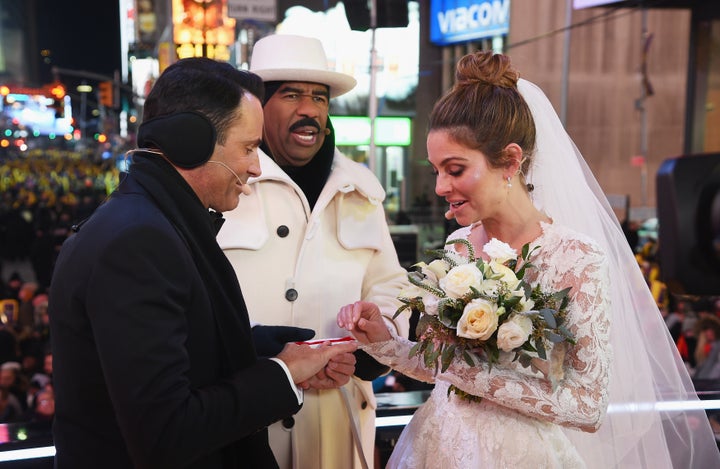 The two were engaged on Howard Stern's radio show in 2016 and Undergaro had actually been in talks about tying the knot there, People noted. But it all worked out Sunday night.
The guest list included her parents, Constantine and Litsa Menounos, who has stage 4 brain cancer, and the many people in Times Square and in TV land.
Menounos took to social media a little earlier to warn viewers of tears ahead.