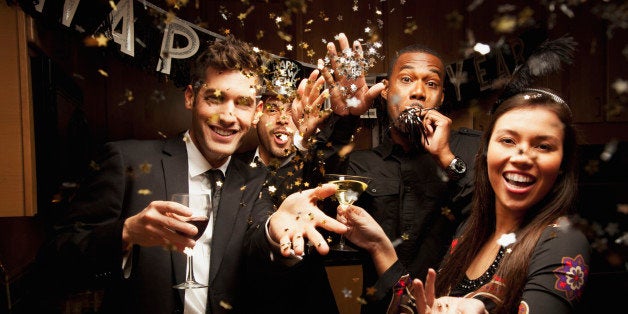 For the first time in my life, I actually stuck to my New Year's resolution for 2013. My friends did too and we're already discussing what we're going to focus on for 2014. What sparked the change?
1.We commit to 12 one-month resolutions. Instead of trying to maintain one lofty goal for 365 days, we allow ourselves the opportunity to switch it up every month (in January, I committed to being a vegan; in February, I committed to reading four books).
Interestingly, some of these monthly resolutions end up becoming habits because we are so intently focused on doing just that one thing for a month. Twenty-one days to make a habit? Maybe. Thirty days? More likely.
2.We make it social. Our resolution-of-the-month club started last January among three friends. Now, we have 15 members, not all of whom know each other. It doesn't matter who joins or when someone joins (our most recent addition joined in November). We only have one requirement: You email the group on the first of every month with an update on last month's resolution and your commitment for this month.
3.We track our progress. We keep track of our resolutions and progress to date in Google Docs. Seeing everything that we accomplish, both individually and collectively, month after month is incredibly motivating. The fear of having to write the email, "Last month didn't go so well," to the group is also just as motivating.
And the result? Aside from the fact that I have proof of what I accomplished this past year, I actually feel like I am a more interesting person to talk to, whether at dinner with friends or at the water cooler with coworkers. People now know I am working on some area of my life at any given point in the year, and so the question of "How's this month's resolution coming along?" has replaced the trite "How are you?"
Above all, I am inspired by and amazed at all of our resolutions. We have become each other's biggest cheerleaders, particularly when our resolutions have evolved from "no alcohol" to "finalize creating a website and send the link to the group when it's done." Our tracker shows a progression of us getting bolder and more creative with our resolutions over time. Not only have we delved into the standard resolutions (exercising more, eating healthily or getting our finances together), we have also managed to audition for TEDx, write a business plan, learn new dance choreography or start guitar lessons, just to name a few. We are more vulnerable and courageous, and we are taking more risks with each other's support.
Ultimately, it doesn't matter what the resolutions are; what is more telling is our reflection on how our previous month's commitment went and why. The toughest lesson I learned about myself came with my June resolution, when I resolved to unplug from all technology (no Internet, no TV, no phone and no email) for every Saturday in June. Though I successfully unplugged for all Saturdays except one, I resolved to make up that one day in July, in addition to a new resolution. When the unplugged day didn't happen in July, I rolled it over to August. When it didn't happen in August, I rolled it over to September. Embarrassingly, I wasn't able to unplug fully until one day in November (read: on Thanksgiving). That lingering incomplete resolution was a wake-up call for me. Luckily, because this group had seen my struggles in finding a day to unplug, no explanation was necessary when I sought their advice.
And my favorite resolution? Hands down it was my November one, when I decided to mail handwritten cards expressing my gratitude to 30 individuals, one for each day of the month. The response from the recipients was overwhelming, from a friend's handwritten response (who doesn't love receiving snail mail?) to multiple phone calls expressing how receiving such a gesture moved them to tears. My mentor emailed me recently to say that it inspired her to do something similar in 2014. Certainly, resolutions can become even more powerful when we commit to doing something for someone else, not just for improving our own self.
Not surprisingly, our conversations as of late are focused on what we're each thinking of focusing on in January. We're continuing in 2014 what we started in 2013.
For 2014, I encourage you to rethink your New Year's resolution. Shift the year-long mindset and ask yourself: What do I really want to accomplish this month? Put it in an email and tell your friends. Start your own resolution-of-the-month club for 2014. You won't regret it.
Miho Kubagawa is a Birmingham, AL native working in the ed sector in NYC. Her resolution for this month is to read The Creative Habit and to complete the 32 exercises listed in the book. You can follow her at @MSKubs.

This post first appeared on Medium.com
Popular in the Community